Brandeis Alumni, Family and Friends
For This Year's Kamm Prize Winner, It's All About Giving Back
July 18, 2022
Nathalie Vieux-Gresham '23, this year's Linda Heller Kamm '61 Prize winner, advances social justice causes by making an impact on her community.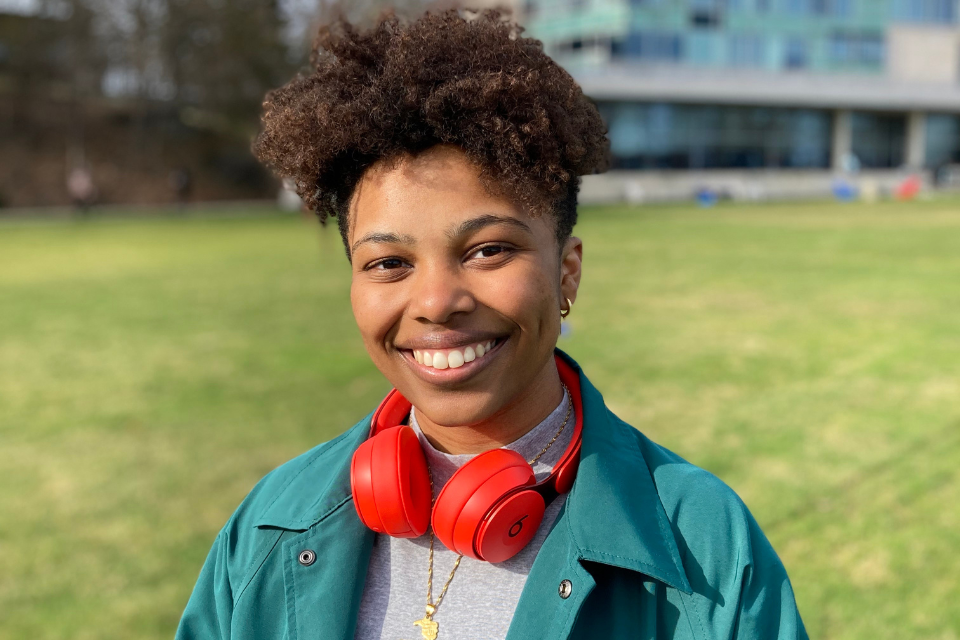 Neuroscience major Nathalie Vieux-Gresham '23 is this year's recipient of the Linda Heller Kamm '61 Prize, awarded to student leaders in social justice.
Linda Heller Kamm '61, a member of the Brandeis Board of Trustees, created the prize through a gift to the university on the occasion of her 50th Reunion in 2011. "I want to see people pursue careers in public advocacy," Kamm told Brandeis Magazine on establishing the prize. "In every era, there are important issues of social justice that need to be addressed, never more prominently than now."
Vieux-Gresham was first introduced to Brandeis through the Posse Scholars, a competitive national scholarship program that awards students who have diverse backgrounds four-year, full-tuition leadership scholarships. 
Grateful for the financial support and abundance of resources she received as a Posse Scholar, Vieux-Gresham pays it forward by serving as a resource to those in her community and encourages others to do the same.
Outside of class, she is a Brandeis Community Advisor as part of the Community Living Team, a Roosevelt Fellow Peer Advisor in academics, a peer health educator on the Bridge to Wellness team and a Neuroscience Undergraduate Department Representative. She also conducts research in the Birren lab, studying satellite glial cells and neuronal synaptic plasticity. 
We recently spoke with Vieux-Gresham, who shared both gratitude and inspiration for others.
"Because I received academic support, I became a Roosevelt Fellow; because people care for my health and well-being, I became a Bridge to Wellness peer health educator; because I was well connected with the community, I became a Community Advisor," Vieux-Gresham said. "These positions are outlets that allow me to impact others in the way that I have been impacted; it is all about giving back to the community."
If Vieux-Gresham were to describe Brandeis in one word, it would be authentic.
"Brandeis emphasizes that we do everything we can to express ourselves and grow as authentically as possible through community engagement and self-exploration. That then becomes our ability to advocate for ourselves and others, and tap into our sense of responsibility, social justice and community."
After graduation, Vieux-Gresham is looking to take a gap year so she can gain clinical experience and apply to medical school. She also plans to explore her newfound interest in immunology and to find ways to integrate STEM education – specifically for underrepresented BIPOC – into her career path during this time.
She is also looking to remain involved with the Posse Foundation as an active alumna.
"I have a lot of gratitude towards the Posse," she said, "and the many Posse scholars on campus, as we uplift each other and the many members of the Brandeis community in innumerous ways. I want to specifically thank my Posse, Brandeis STEM Posse 12 – Devon, Sophia, Carmen, Jovana, Jacob, Janice, Hamza, Dariel, Jordy and Fatim for always encouraging me, and all who know them, to do our best."
About the Author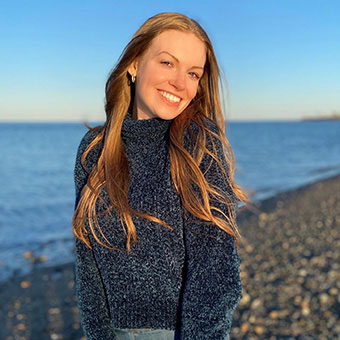 Abby Frisoli is the communications coordinator on the advancement communications team at Brandeis. Prior to Brandeis, Abby graduated with her master's in strategic communication and public relations from Sacred Heart University, where she wrote various stories and press releases as a graduate assistant for the central communications office. During her undergraduate studies, she wrote for Sacred Heart's campus newspaper The Spectrum.