Brandeis Alumni, Family and Friends
Brandeis Women's Network
The Brandeis Women's Network fosters connections among Brandeis women, both on a personal and professional level. We bring together aspiring and inspiring Brandeis alumnae and friends to share ideas, insights and experiences. 
Members of the Brandeis Women's Network enjoy:
Events with engaging featured speakers - both online and in person 
Professional development workshops
Cooking classes
Book discussions
Online networking opportunities through the Women's Network Facebook Group, Linkedin Group and B Connect Group
Much more! 
The Brandeis Women's Network currently has two regional networks in NYC and in Boston. We are in the process of developing additional regional networks that will offer both in-person and virtual programming in the near future. If you're interested in starting a regional network, contact us at brandeiswomennyc-group@brandeis.edu.
Leadership Team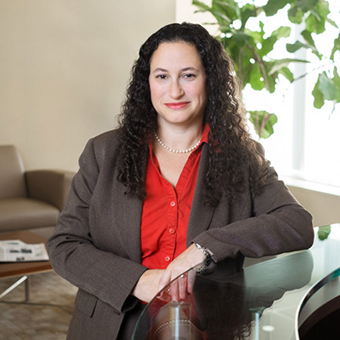 Favorite Brandeis Professor: Antony Polonsky
Favorite Place on Campus: Woods next to Sachar International Center - so beautiful in the Fall!
Favorite Brandeis Memory: Cheerleading at basketball games - especially when the Men's Team won the ECAC tournament in 1992.
I volunteer because I recognize that my Brandeis education and extracurricular activities while I was a student, impacted the person I am today. My father taught me the value of giving back to your college both with your time and your pocketbook. By volunteering, I am able to maintain my connection with Brandeis and see how Brandeis continues to grow and evolve. I love connecting alumni to each other and to the school. By doing so, they can also build their networks and see the amazing things that are happening on campus. Once a cheerleader - always a cheerleader!
Talee Zur Potter '97
Brandeis Women's Network, Co-Chair
Pronouns: She/Her/Hers
Head of People and Employment Law at Axoni
Favorite Brandeis Professor: Prof. Keller
Favorite Place on Campus: SSB
Favorite Brandeis Memory: Meeting my husband at SSB
I volunteer because I owe my education, career, and family to Brandeis.