Brandeis Alumni, Family and Friends
Alumni Association Board of Directors
The Brandeis University Alumni Association, a vibrant community with more than 60,000 members strong, offers lifelong opportunities for alumni to stay connected to each other and to Brandeis. All Brandeis graduates are automatically members of the Alumni Association and entitled to a range of benefits and services.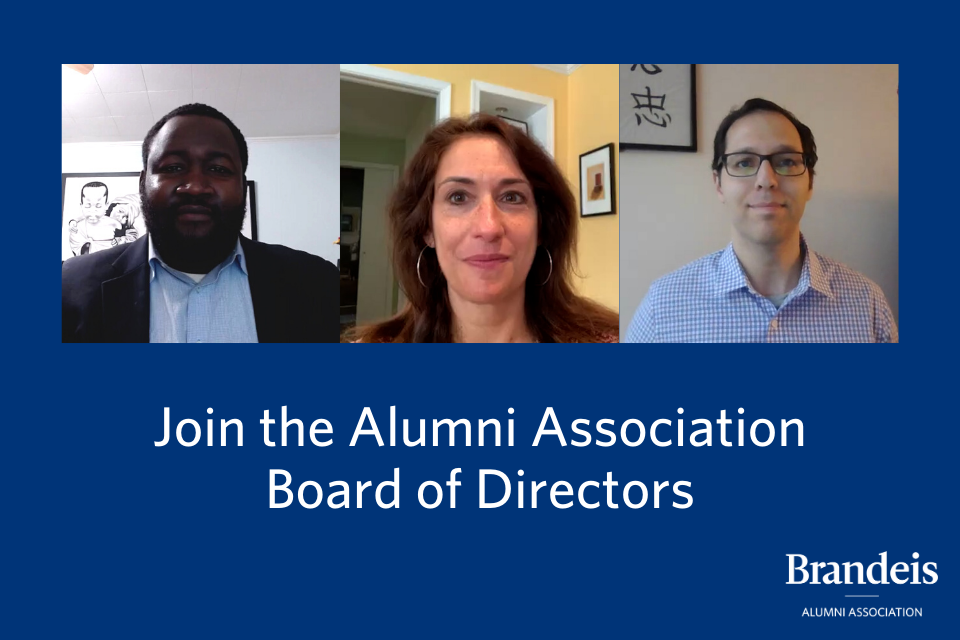 The Board of Directors guides the Alumni Association in the creation, resourcing, and promotion of a range of programs for alumni of all ages and at all stages. The board consists of a president, the immediate past president, four vice-presidents, 20 members-at-large, and representatives and club presidents from regions across the United States and around the world.
While the board does not set policy for the university, it does play an important role in advancing the interests of alumni by communicating views and opinions to the university's administration and helping to set strategic goals to meet the needs of all alumni.
Board Nominations
Nominations for the 2020-2021 cycle are now closed. The Alumni Board holds an open nomination period from December 1-January 15 of every year.
Eligibility Requirements
Ideal candidates are alumni who seek to lead engagement efforts in support of Brandeis's mission and priorities. Principal factors taken into consideration by the nominating committee include:
A history of leadership engagement with the Alumni Association;
Consistent financial support for the university.
Committed to representing the diversity of the alumni population, the board welcomes members of all backgrounds.
Term of Office and Duties
Members-at-large serve two-year terms and are expected to fulfill the following responsibilities:
Attend board meetings twice a year and participate in three board calls in between meetings. Meetings are currently being held remotely.
Actively participate in at least one board committee.
Attend university activities and programs on campus and in the board member's community.
Contribute financially to the university on an annual basis as generously as their personal circumstances allow.
Be a recognized spokesperson and ambassador for the Alumni Association and the university.
Identify and recruit other alumni for leadership in the Alumni Association and the university.
Uphold and reflect Brandeis' tradition of excellence and ethical values in their work on behalf of the Alumni Association and the university.