Brandeis Alumni, Family and Friends
Marta Kauffman '78 Endows Professorship in African and African American Studies
June 16, 2022
The co-creator of the hit sitcoms "Friends" and "Grace and Frankie" has pledged $4 million to establish the first endowed chair in the department's 50-year history.
Marta Kauffman '78, H'20, co-creator of the hit sitcom "Friends," has pledged $4 million to establish an endowed professorship in the African and African American Studies Department at Brandeis University.
The Marta F. Kauffman '78 Professorship in African and African American Studies will support a distinguished scholar with a concentration in the study of the peoples and cultures of Africa and the African diaspora. 
The gift will also help the department to recruit more expert scholars and teachers, map long-term academic and research priorities and provide new opportunities for students to engage in interdisciplinary scholarship. 
"This professorship is so meaningful to both our African and African American Studies Department and to the university," said President Ron Liebowitz. " It is the first endowed professorship in the program, which means it will ensure the study of African and African American culture, history, and politics for generations of Brandeis students—something more critical than ever.  We are so grateful to Marta for her generosity and vision."
Chad Williams, the Samuel J. and Augusta Spector Professor of History and African and African American Studies, added the professorship is key to placing Brandeis in a leadership role in the broader academic community and public sphere. 
"We're at a time in this country's history where students are looking for opportunities to expand their intellectual and political horizons, and looking for places where they can articulate what it means to be a young person in a time of incredible change and upheaval, particularly as it relates to race," he said. "Brandeis needs to embrace that and recognize there's an opportunity to lead with our department at the forefront."
"Brandeis is where I learned to be a human being"
For Kauffman, the investment follows a period of self-examination, a time informed by her own experiences and current events.
In her professional life, she has spoken about her regrets regarding the lack of diversity on her hit show "Friends," on camera and behind the scenes. She was also deeply affected by the 2020 murder of George Floyd, a Black man, at the hands of Minneapolis police, and the nationwide protests against racist police violence that followed. 
"It took me a long time to begin to understand how I internalized systemic racism," Kauffman said. "I've been working really hard to become an ally, an anti-racist. And this seemed to me to be a way that I could participate in the conversation from a white woman's perspective." 
She added the reason she's supporting Brandeis' AAAS department, in particular, is larger than the mere fact that it belongs to her alma mater. Kauffman said she came to Brandeis in the first place in search of "liberation" from the antisemitism she experienced in childhood. And it was while at Brandeis, she said, that she began to think more intentionally about other "people who aren't liberated."
"Brandeis is where I learned to be a human being," she said. "This is where my eyes were opened – at least, the beginning of that, they weren't completely open, I had a lot to learn, but it was the beginning of that. It was the beginning of caring about things beyond my sphere and I credit Brandeis for that."
Now, she hopes her gift will help current and future students have the same learning experiences she had about the plight of others, adding the true value of her support exists in "the chance of really transforming, not only the school, but students' lives." 
"These professors are teaching these students who then go out into the world and they do good work, and they run for office, and they teach other people," she said. "You're giving not only for the health and longevity of the department, but also for the future." 
Photo Credit: Robert D. Farber University Archives and Special Collections Department, Brandeis

Photo Credit: Robert D. Farber University Archives and Special Collections Department, Brandeis
What it means for AAAS and the university
The endowed professorship will support the AAAS department in a number of ways. 
In addition to aligning with the university's larger Framework for the Future, the chair will enable the department to recruit and retain high-caliber scholars and faculty for continued leadership in the field, allow for continued growth and investment in areas of critical need, provide a public platform for faculty leaders and attract and retain more students with scholarship and civic participation opportunities. 
"This endowed professorship means a lot to me and my fellow alums of color. The academic rigor, the global culture that I experienced at Brandeis, as well as the foundation of social justice, those are three things I've carried through my professional career, and that's why I feel this is a very significant, watershed moment." - Curtis Tearte '73, Brandeis Trustee and AAAS graduate 
Jose Perez '75, chair of the Alumni of Color Network, added that, as the rate of hate crimes against Black people has risen in recent years, it's more critical than ever that Brandeis live up to its commitments to social justice by investing in this field of study. 
"We need to maintain and expand research about the plight of oppressed people and people at risk," he said. "That's part of the commitment at Brandeis, to social justice." 
The professorship also builds on the historic partnerships between African American and Jewish communities on causes related to social justice, according to university trustee and AAAS graduate Curtis Tearte '73, who noted that Jewish support has played an important role in the advancement of the civil rights movement.
"Brandeis is uniquely positioned to lead here because there's a shared legacy between Black Americans and Jewish Americans, dating back to the early 1900s to the formation of the NAACP," he said. "That really distinguishes Brandeis." 
Photo Credit: Mike Lovett

Photo Credit: Mike Lovett
A victory more than 50 years in the making
For the AAAS department, the establishment of an endowed professorship is also the result of more than a half century of student, alumni and faculty-led advocacy work. 
Most notably, this work traces back to January 1969, when upwards of 75 Black and Latino students occupied Ford Hall, Brandeis' main academic and communications center at the time. Among other things, they were demanding the "creation of an Afro American and African Studies Department with the right to hire and fire." 
The 11-day occupation led to the establishment of the Department of African and African American Studies, making Brandeis' one of the oldest such departments in the country. However, the university did not install an endowed chair, something activists had been hoping for. 
Fast forward to November 2015. Lending their efforts a more modern flare with the hashtag #FordHall2015, students once again took over a building, this time Bernstein-Marcus, with demands for making Brandeis more racially diverse and inclusive. "We paid homage to [the protesters who occupied Ford Hall in 1969] to show that the fight continues and that it's not post-racial," Queen White '16 told Brandeis Magazine at the time. 
Then in 2019, as the department was readying to celebrate its 50th anniversary, momentum to establish an endowed professorship again began to build, though the effort was once again slowed, this time by the pandemic. 
Given that history, and all the starts and stops, Williams said the establishment of an endowed professorship at long last has him now feeling "reinvigorated to continue to push to grow the department."
"To have this actually happen really speaks to the remarkable history of this department, of its students, of its faculty, of its alumni," he continued. "The work we do matters. Even if it's slow, even if the rewards come decades later. The work that we do matters and it pays off."
About the Author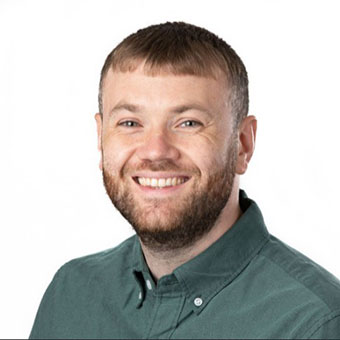 Dave Eisenberg is the integrated marketing and content strategy manager with Brandeis University's Institutional Advancement team. Prior to joining Brandeis, he worked as a content specialist at Perkins School for the Blind, and before that, as a journalist. Outside of work, he enjoys playing guitar and is an avid runner.