Brandeis Alumni, Family and Friends
Lighting the Way Ceremony Highlights Alumni Generosity, Student Success
April 13, 2023
This year's award honors Detlev Suderow '70, P'05, a scholarship recipient who gave back in droves.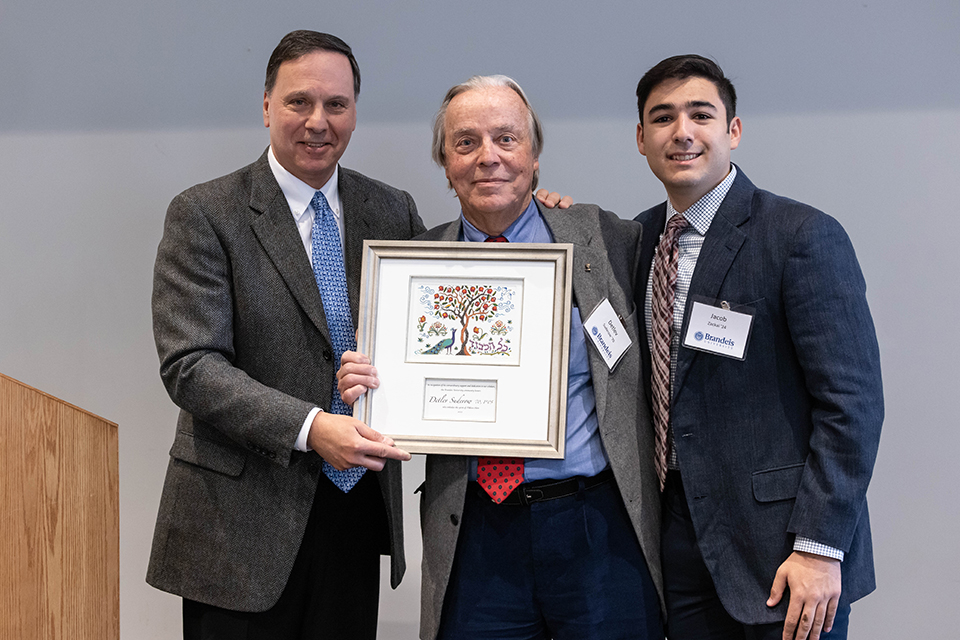 This spring, Brandeis President Ron Liebowitz and his wife Jessica presented Detlev Suderow '70, P'05, with the Lighting the Way award, a recognition of Suderow's numerous contributions to the Brandeis community, including his part in endowing two scholarships.
Given annually since 2020, the award is bestowed on benefactors that show a strong commitment to expanding scholarships and mentoring for Brandeis students. The award itself is named for the words of university namesake Louis Brandeis, who said, "If we would guide by the light of reason, we must let our minds be bold." 
At a packed luncheon ceremony in Sherman Function Hall, President Liebowitz praised Suderow and other benefactors, saying their giving illustrated the university's founding principles of access, inclusivity, and tolerance.
"I hope you take pride in knowing that your exemplary generosity has made innumerable achievements by our students and alumni possible," Liebowitz said.
An inspirational story that motivated giving 
Suderow came to the U.S. from Germany at 13 and grew up outside Boston. His widowed mother worked a minimum-wage job, leaving the family to face many daily challenges and hardships with little help. 
The only skill he had when he arrived, Suderow said, was a knack for soccer. That talent, though, would change the course of his future. With the help of a high school soccer coach, he was admitted to Brandeis on a "life-changing" full-ride scholarship.
"I finally felt I had a future that I had hardly dared to imagine," Suderow said.
His student experience at Brandeis would also change his life, personally and professionally. He met his wife, Ellen Beth Lande '73, P'05, while attending an anti-war rally on campus. His son, Alexander Suderow '05, would also go on to attend Brandeis. Both wife and son were on hand to see him receive the honor, with Alexander traveling to Waltham from Washington, D.C.
After graduating in 1970, Suderow led a successful career, first as a public school psychologist, then as a corporate human resources specialist.
He later returned to Brandeis as a senior lecturer at the International Business School. And along with endowing the Suderow Family Scholarship and working with his class to endow the Class of 1970 Scholarship, he also serves on the Board of Fellows and as a Vice President of the Alumni Association Board of Directors, among other roles.
"My admission to Brandeis and the full scholarship I received was a transformative experience that greatly changed my life at a critical stage," said Suderow. "I will be forever grateful."
A recipient of Suderow's generosity had the honor of introducing him: Jacob Zackai '24 praised his benefactor's kindness and service to Brandeis. 
"Detlev has dedicated his life to giving back as an alumnus, as he truly sees that Brandeis is what saved him," said Zackai, this year's recipient of the Suderow Family Scholarship.
Suderow is the third recipient of the award and the first to be recognized at an in-person ceremony since the honor was established in 2020. The inaugural award went to Robin and Perry Traquina '78, H'19. Last year, the award was presented to Isabel and Peter Malkin, along with Dinny and Lester Morse.

Students' lives changed
At the luncheon, Brandeis students who have benefited from scholarship support, made possible by Suderow and countless others, had the opportunity to share their stories and how the power of giving can change the trajectory of others' lives.
Ava Faria '24 is the recipient of the Stephen B. Kay Family Endowed Scholarship and a Health: Science, Society, and Policy major with a minor in African and African American studies.
She said she has been struck by the spirit of generosity at Brandeis and the "melting pot" of various cultures represented on campus. As a first-generation college student, she said her work as a community advisor allows her to help students adapt to the college environment. She looks forward to continuing her studies and is planning to pursue a master's degree at the Heller School after returning from studying in Morocco and The Netherlands.
"I always felt that receiving a degree in higher education was paramount to my future," Faria said. "And I never expected to find an institution like Brandeis."
Ariel Schultz '25, the recipient of the Lillian and Bernard Bard Endowed Scholarship plans to major in American Studies and Theater with a minor in Legal Studies. 
He emphasized the spirit of kindness that flourishes at Brandeis. For him, it began when he first toured the campus. Inquiring where the dining hall was, a fellow student didn't just show him, but sat down with him for over an hour to answer questions about their university experience.  
Schultz has since starred in multiple plays on campus, including two held concurrently last spring. While the workload was difficult, he said the head of the undergraduate theater collective had confidence in him, which kept him going.
"By offering scholarships to students here at Brandeis, all of you are telling students like me that you believe in us," Schultz said.
Guests also heard from a past graduate. Dr. Ria Roberts '10 is a clinical geriatric fellow at Harvard Medical School, where she specializes in treating older adults with neurocognitive disorders and mobility issues. She studied for her medical degree at George Washington University before performing her residency at Yale University.
Roberts first aspired to be a doctor as a child living in the small Caribbean nation of St. Vincent and the Grenadines. After arriving in the U.S. with her family at 16, she enrolled at Brandeis, becoming the first recipient of the Minority Alumni Network Diversity Scholarship. She also served as a one-on-one mentor to students who needed to overcome challenges to attend college.
She lauded attendee Joseph Perkins '66 who organized the Minority Alumni Network Scholarship and subsequently became a close friend. He even came to her wedding and graduation.
"I came from very humble beginnings," Roberts told the crowd. "Because of the generosity of selfless donors and life-changers like yourselves, my far-reaching dream of one day becoming a medical doctor has been realized."
Create possibilities for students by giving to student scholarships. Visit our giving page and select "General Scholarships" as the designation.
About the Author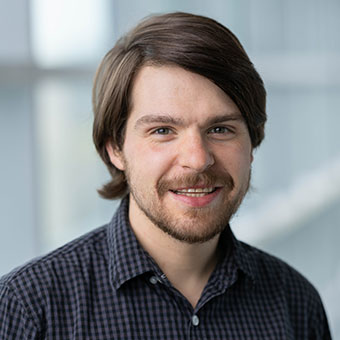 David Marino Jr. spent years reporting across Maine for The Bangor Daily News before returning to Brandeis University, his graduate school alma mater, to become the communications coordinator for the Institutional Advancement division.