Brandeis Alumni, Family and Friends
Giving and Gratitude Shine Forth
May 20, 2022
Brandeisian scholars and visionary donors honored at annual award luncheon.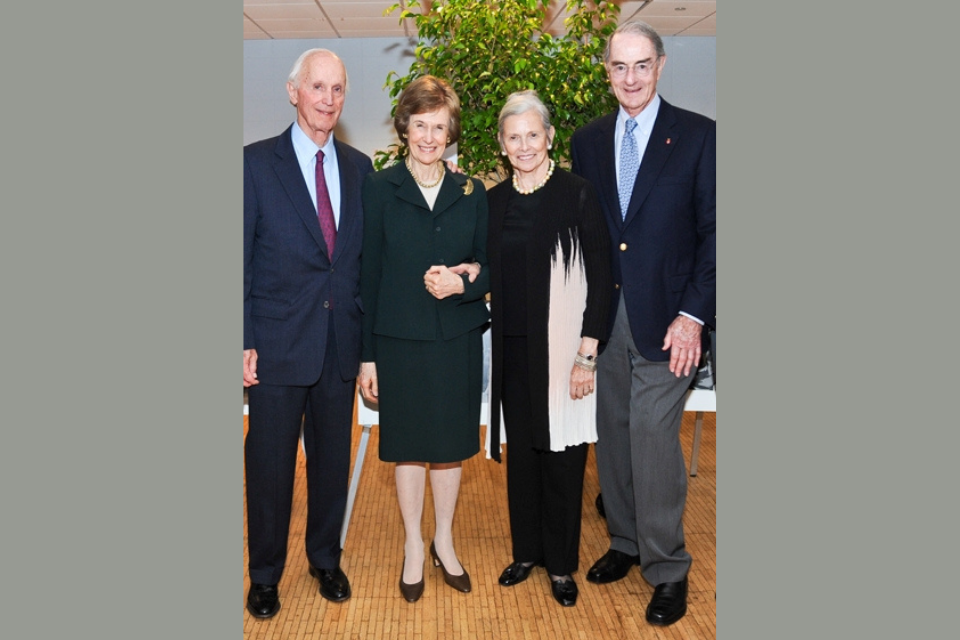 This spring, President Ron Liebowitz and his wife Jessica hosted a well-attended and wonderfully convivial virtual gathering to recognize a remarkable family that has been supporting scholarship and fellowship at Brandeis for over 60 years, as well as the students who benefit from their immense generosity.
This year's annual scholarship and fellowship luncheon was all about connection, which was reflected in the president's presentation, donor remarks, recipients' thanks and the ensuing discussion. President Liebowitz opened the proceedings by saying a few words about Peter and Isabel Malkin and Lester and Enid "Dinny" Morse, this year's recipients of the second annual Lighting the Way Award, which recognizes Brandeis supporters who extend extraordinary generosity of spirit to students through generous giving, mentorship and/or engagement. 
The president thanked the Malkins and the Morses for their "generational family philanthropy," which established the Wien International Scholarship Program (WISP) at Brandeis. Since its inception in 1958, WISP has brought approximately 1,000 scholars from over 115 countries to Brandeis, and its graduates continue to be committed to the university and to improving the world as alumni. 
"Supporting the Wien Scholars on their Brandeis journey is one of the great pleasures and honors for the International Students and Scholars Office (ISSO) advising team. They are lively, engaging, caring, intellectual and, in every way, Brandesian," says Jodi Hanelt, executive director of the ISSO.
Many Wien scholars have gone on to receive Brandeis' prestigious Alumni Achievement Award, which recognizes alumni who have made distinguished contributions to their professions or chosen fields of endeavor. Their beginnings as Wien scholars is further evidence that WISP attracts exceptional students, who often ultimately have a major impact in the world. These distinguished scholars are renowned global leaders in business, academia and government, including CEOs, professors – even a prime minister.
Isabel and Dinny are daughters of the late Mae and Lawrence "Larry" Wien, H'62, who established the first global scholarship program at Brandeis that bears their name. Larry Wien is also known for serving as chair of Brandeis' board of trustees and providing critical leadership and support during the university's earliest years. 
"Mr. Wien was a visionary partner of Brandeis," said President Liebowitz, "and we are so grateful to know that we can continue to rely on the support of his family. The Lighting the Way Award recognizes benefactors who have demonstrated a passionate commitment to expanding scholarship opportunities for Brandeis students. Peter and Isabel Malkin and Lester and Dinny Morse have not only sought to honor Mr. Wien's support of Brandeis by continuing to engage with the university as philanthropists but they have illuminated the very best aspects of his legacy by animating his mission to support future leaders, scholars and public servants."
"Brandeis not only benefits from the intellectual strengths our scholarship recipients bring to the university," he continued, "but it is an infinitely richer and more vibrant community when we are able to welcome those who come from different countries, economic backgrounds, beliefs and cultures." - President Ron Liebowitz
Scholars who soar
In addition to bestowing the Lighting the Way Award, the luncheon was an opportunity for student scholars and the donors of the named scholarships they receive to connect with one another. Student scholars attending the luncheon were deeply moved by the support they receive to attend Brandeis and enthusiastically shared their gratitude. Sharon Nelson '22, a recipient of the Nancy Kolack Winship Endowed Scholarship, is studying neuroscience and biology and expressed her thanks to Brandeis supporters "for all that you do and for making it possible for students like me to continue their academic pursuits and achieve their dreams.
"Personally, my ambition is to become one who can help people heal," she explained. "Brandeis is a transformative place to learn. Looking forward to what the future holds in medicine, I will remember the help I was given by you and others like you."
Samuel Greene '23, the Marie and Ted Bonda Scholarship recipient, is a junior on the pre-med track, majoring in biology and minoring in anthropology, and he concurred wholeheartedly. "Only after reflecting on my experiences and accomplishments at Brandeis," he shared, "have I been able to put my scholarship into perspective. It is an affirmation from the university that they are confident in me that I can make a difference. It is the vote of confidence that every student needs to become a go-getter and, for that, all I can say is thank you."
Alyssa Fu '22, the beneficiary of the Thomas Anthony Pappas Endowed Scholarship, is majoring in psychology and politics with a minor in legal studies, and shared her peers' abiding gratitude. "My scholarships have allowed me to explore my academic interests," she reflected, "and I hope to use my interdisciplinary background in the social sciences to make a difference in society. I thank you for the contributions that we, as students, receive to help us follow our ambitions and achieve our goals. We all greatly appreciate your generosity."
Mohit Gourisaria '09, a former Wien scholar, joined in the celebration. "It is no exaggeration to say that the education I received at Brandeis changed my life," he attested. Gourisaria, now a federal prosecutor in the U.S. Department of Justice, went on to earn his Master of Law from the London School of Economics and his JD at Columbia Law School. "Brandeis allowed me to become a lawyer, work that infused a sense of deep purpose in my daily life. Seldom a day goes by when I don't feel grateful for the privilege of education. I thank Brandeis, once more, for giving me that great gift."
Empowering bold minds
Before going to breakout conversations, in which scholars from varying class years shared cross-generational veneration, fond memories of life on campus and the ways their scholarship has changed their lives, President Liebowitz formally presented the Lighting the Way Award to the Malkins and the Morses.
"The Lighting the Way Award recognizes benefactors who have demonstrated a passionate commitment to expanding scholarship opportunities for Brandeis students," he said. "The name of the award was inspired by the words of Justice Louis Brandeis: 'If we would guide by the light of reason, we must let our minds be bold.'
"Peter, Isabel, Lester and Dinny, your championship of deserving students is not just limited to philanthropy. With an uncommon spirit of kindness and generosity, you have dedicated yourselves to offering your enthusiastic support to all of your scholars. I can think of few as deserving of this award as you."  
Peter Malkin expressed heartfelt gratitude for the award. "On behalf of the entire Wien family, we are delighted to be able to celebrate over 60 years of the Wien [International] Scholars Program," he said. "Brandeis is a very special university and a special part of our lives. We thank you for honoring us and Mae and Larry Wien, and we look forward to many more years of the Wien International Scholars Program."
Check out the full list of current 25 Wien scholars, who hail from 23 countries around the globe, as well as the WISP leadership team. The Wien Alumni Network also keeps graduates of the Wien International Scholarship Program connected with Brandeis and with each other.
About the Author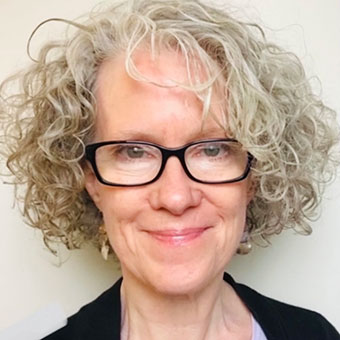 Annie is senior development writer in advancement communications. Before joining Brandeis in January 2022, she was a writer at Dartmouth College. As a longtime freelance journalist and radio commentator, she has covered art, culture, travel, and education for the New York Times, the Washington Post, the Boston Globe, Art in America, Art New England, NPR, and many other outlets. She is the lucky mom of two great kids.