Brandeis Alumni, Family and Friends
Toshizo "Tom" Watanabe '73 Receives Alumni Achievement Award at Wien Anniversary
March 12, 2019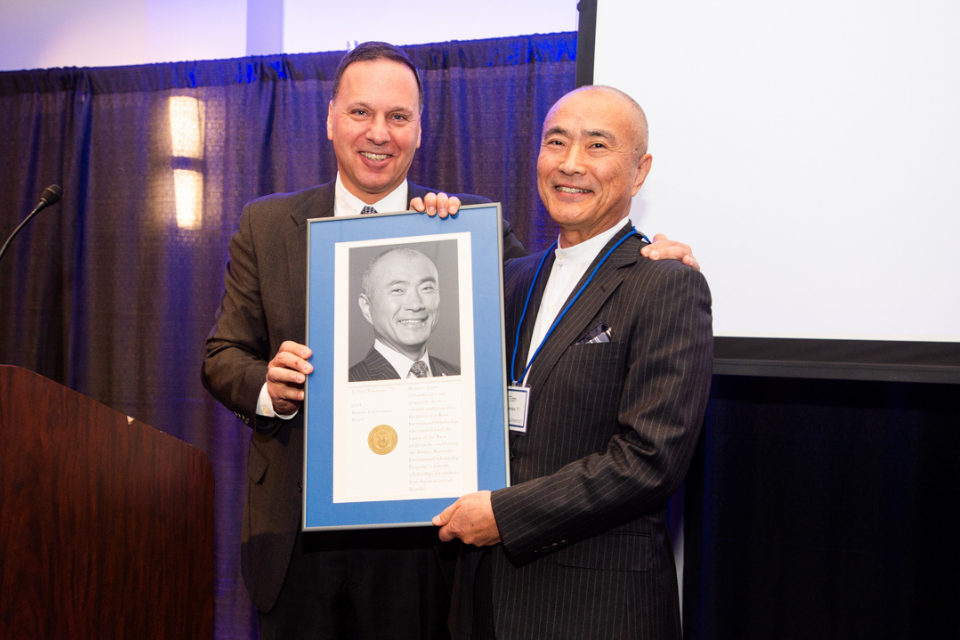 Photo Credit: Ashley McCabe
Toshizo "Tom" Watanabe '73, a Japanese entrepreneur and philanthropist, has been honored with the Brandeis University Alumni Achievement Award. President Ron Liebowitz presented the award at a gala celebrating the 60th anniversary of the Wien International Scholarship Program held on campus March 9.
In presenting the award, President Liebowitz praised Watanabe, a former Wien scholar, as a "proponent of cross-cultural understanding" who carried forth the legacy of the Wien program by providing scholarships for students from Japan to attend Brandeis.
In November, Watanabe generously donated $10 million to his alma mater to establish the Toshizo Watanabe International Scholarship Program. The gift was the single largest that Brandeis has ever received from an international graduate.
"The [program] will not only enable us to welcome deserving students, it will also further diversify our campus, add new perspectives to our classroom discussions, and emphasize our university as a global institution," said President Liebowitz of the scholarship program.
Watanabe credits scholarship support with making his career success possible. The Wien program, which to date has brought nearly 900 scholars from more than 110 countries to study at the university, gave the native of Kamakura, Japan, the financial resources that enabled him to study at Brandeis, where he earned a bachelor's in politics.
Today, Watanabe is president of the Toshizo Watanabe Foundation and chair emeritus and former president and CEO of Nikken Global, an international home wellness products company.
In receiving the award, Watanabe reflected on the power of education. "We never know the path our lives will take, however we do know that the education from life itself, and formally, makes us rich both in our minds and in our souls…I hope that all of us take the wealth of our education, knowledge and experience, and go out into the world and live a life that matters."
His remarks echoed those of the late Lawrence Wien from the program's 30th anniversary celebration when Watanabe was first inspired to "give the gift of education to others."
"[Mr. Wien] spoke from the bottom of his heart with tears in his eyes. His speech made an indelible impression on me," Watanabe said. "That very day I decided to establish a similar program in the future."
He continued, "My goal for the rest of my life is to support students who would not be able to receive a decent education without financial aid. To me, this is what matters."
First presented in 1988, the Alumni Achievement Award recognizes alumni who have made distinguished contributions to their professions or chosen fields of endeavor. Geir Haarde '73, Iceland's ambassador to the U.S., the former prime minister of Iceland, and Watanabe's Brandeis roommate and lifelong friend, is an Alumni Achievement Award recipient. Additional Wien alumni who have received the award include: Devika Mahadevan '00, a leader of Indian NGOs focused on helping empower children and women; the late George Saitoti '67, Kenya's longest-serving vice president; Seung-il Shin '64, PhD'69, a scientist who has helped promote vaccine programs in developing countries; and Shen Tong '91, a student leader during the 1989 protest in Tiananmen Square who is now a social entrepreneur and activist.