Brandeis Alumni, Family and Friends
Scientist Standing Tall: Deborah Berebichez '96 in Unique Smithsonian Exhibit
Honored for her achievements as a physicist, Dr. Deborah Berebichez '96 is part of a new Smithsonian exhibit featuring her 3-D printed likeness.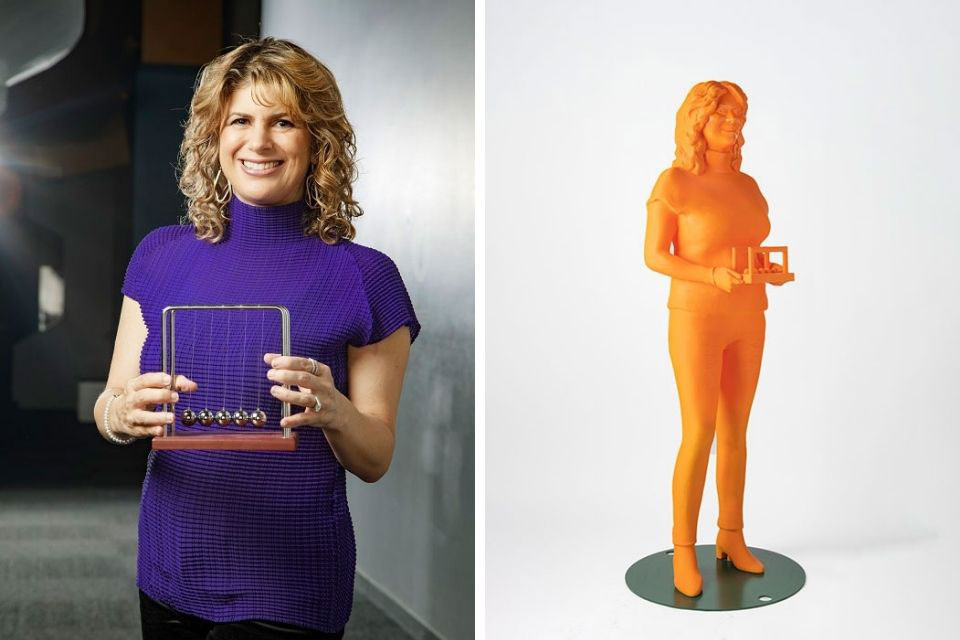 It's fair to say grass doesn't grow under the feet of Dr. Deborah Berebichez '96, energetic and well-traveled as she is, and yet she'll soon be standing on the lawn of the Smithsonian for three full weeks, as part of a Women's History Month exhibit. That is, a life-size statue of her will be there, in a record-setting display of 120 statues of women scientists, and Berebichez is thrilled to be included.
During a recent, very lively conversation with Berebichez, who currently lives in Finland with her husband and two kids, it is immediately clear that this high-achieving scientist has been in perpetual motion during what has been a remarkably productive career as a physicist, speaker, educator and inspiration to future female scientists everywhere. In addition to serving as lead scientist in quantum computing at VTT, one of Europe's leading research institutions, Berebichez delivers absorbing TED Talks, is a frequent keynote speaker at conferences, has appeared on more than a dozen television networks, including National Geographic, Discovery, Travel and Science, CNN and PBS, and has co-hosted creative TV shows like "Outrageous Acts of Science," "Humanly Impossible" and "Monumental Mysteries."
Berebichez is now being recognized for her leadership in science by this innovative project – entitled #IfThenSheCan – The Exhibit – in the form of a bright orange, 3D-printed statue of her holding a pendulum. The exhibit celebrates a diverse coalition of contemporary female innovators and role models in science, technology, engineering and math who are leaders in a broad range of fields, from astronomy and medicine to environmental sustainability and media technology.
Pathway to a passion 
The first Mexican woman to earn a PhD in physics at Stanford, Berebichez, who is also Jewish, double-majored in physics and philosophy at Brandeis; studied for a masters in physics at the Universidad Nacional Autónoma de México; and completed postdoctoral fellowships at Columbia University's Applied Math and Physics Department and at NYU's Courant Institute for Mathematical Sciences. 
Berebichez has also become a go-to science-media rockstar who helps audiences experience the world through her perspective as a proponent of "cool physics," as she likes to put it. She explains everyday occurrences – such as how light bends when it moves from cold air to warm, causing unusual visual effects, and why high-frequency soundwaves are heard by some ears and not others – in ways that are not only fun and fascinating but comprehensible to the average person. 
Berebichez's path to science was a circuitous one that was ultimately paved by Brandeis, where her inner scientist finally found a home. Having been raised by traditional Lithuanian immigrant parents, who thought girls should only aspire to become wives and mothers, Berebichez learned early on that she would have to staunchly defend her intellectual passions and potential.
"My mother grew up in a conservative family," says Berebichez, "and advised me not to tell boys that I liked math and physics." 
Despite being discouraged from pursuing science, Berebichez was well-educated in other ways within the Jewish-Mexican culture of her community. "At two years old, I was already learning Yiddish and Spanish and, at six, I started learning Hebrew. It was only in the last three years of high school that we learned English."
A place of support and mentorship
In terms of her dreams of becoming a physicist, Berebichez says "Brandeis was the place that made it all happen." Coming to campus through the Wien International Scholarship Program, initially to study philosophy, she found that, in addition to excellent faculty and programs, Brandeis provided her with specialized scholarly assistance to achieve particular academic goals. "I wanted to write my honors' thesis on Jewish French philosopher Emmanuel Levinas," she explains, "and they found a professor with specific knowledge about him at Princeton to come help me do that." 
Her first mentor at Brandeis was one of the original female Wien scholars – astronomer Janet Mattei, from Turkey, who helped Berebichez take her first formal steps into the world of science. 
"She taught me to believe in myself, to be courageous and to go for it,'' reflects Berebichez. "She gave me my first job, when I was terrified of doing physics. We would analyze sky observations, like binary stars and clusters. And I went for walks with her through flower gardens, which she loved. She said flowers are the stars of the earth and that stars are the flowers of the universe. She also told me what a privilege it was for me to come to the U.S. with this wonderful scholarship and that this opportunity came with responsibility. She said I should communicate my expertise as a woman in science and inspire other women like me, who were attracted to science but for some reason felt they couldn't fulfill their dreams."
Breaking the mold 
At Stanford, Berebichez was one of only two women in a doctorate program with 32 male students, which illustrated the challenges she would face in motivating other women to honor their interests in STEM. One of her colleagues at Stanford called her a warrior, and she concurs.
"I'm a fighter," she asserts. "I'm brave and I know I'm going to reach my goals, no matter what people say. I believe all women should be proud of where they get and to remember to calculate the distance between where they started and how far they go. This makes me a good mentor for all women, young and not so young." Case in point, she creates initiatives to inspire young women to consider studying and working in STEM, and she is currently developing a program to support women who already have STEM careers underway.
As for being celebrated in the biggest collection of statues of women ever organized, Berebichez sees this, too, as a way to engage and encourage aspiring female scientists. It was Michaelangelo who said that every block of stone has a statue inside it and it is the task of the sculptor to discover it. Likewise, Berebichez believes that every young woman has a potential scientist inside of her and it is the task of society to help her find it. 
"This exhibit serves as a platform for us, which we can take back to our organizations and institutions and say, look at this amazing achievement! It means more visibility and allows us to reach more future female scientists – to make a lot of noise and have an impact on women around the world."
About the Author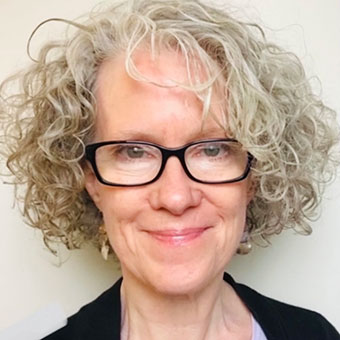 Annie is senior development writer in advancement communications. Before joining Brandeis in January 2022, she was a writer at Dartmouth College. As a longtime freelance journalist and radio commentator, she has covered art, culture, travel, and education for the New York Times, the Washington Post, the Boston Globe, Art in America, Art New England, NPR, and many other outlets. She is the lucky mom of two great kids.