Brandeis Alumni, Family and Friends
Brandeis Scholarship Benefactors Robin and Perry Traquina '78, H'19, Receive Inaugural Lighting the Way Award
November 12, 2020
Robin and Perry Traquina '78, H'19, have been named recipients of Brandeis' first Lighting the Way Award. Thanks to the couple's generosity, more than 30 young people have received scholarships to Brandeis.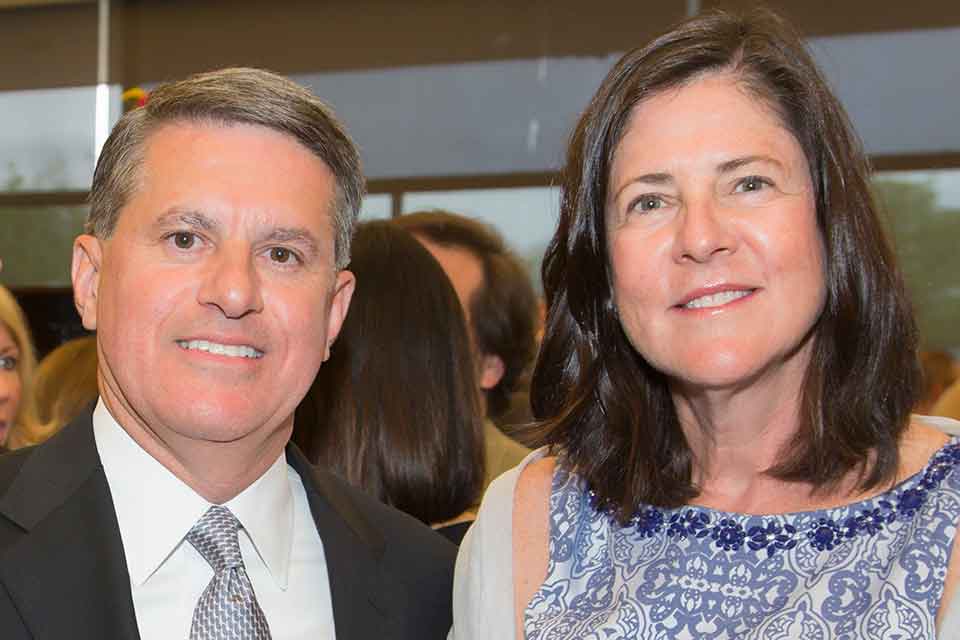 The award was presented by President Ron and Jessica Liebowitz at the Scholarship and Fellowship Virtual Celebration on Oct. 28. 
Perry Traquina, a former chairman of the Brandeis Board of Trustees, is an immigrants' son who himself attended Brandeis thanks to financial aid. For nearly 20 years, the endowed scholarships he and his wife created have been helping deserving students access a Brandeis education.
Creating Opportunities and Forging Relationships 
The Lighting the Way Award recognizes benefactors who have demonstrated a passionate commitment to expanding scholarship opportunities for Brandeis students. The name of the award was inspired by the words of Justice Louis Brandeis: "If we would guide by the light of reason, we must let our minds be bold."
Liebowitz said: "Those words are meaningful to this community, and it seemed appropriate to name this award in recognition of those who lit the path for our students with not only reason, but also generosity and graciousness."
The connections the Traquinas have forged with their scholars are "extraordinary," Liebowitz said. "Perry and Robin have developed lasting relationships with all of their scholars, offering support, guidance, and enthusiasm for all their endeavors while they were students, as well as in their post-Brandeis pursuits," he said. "Their personal encouragement exemplifies the spirit of supporting our students."
A Path to Transformation 
Perry Traquina grew up in Chicopee, Massachusetts, the son of Portuguese immigrants who worked factory jobs and stressed to their children the importance of education to get ahead.
Traquina said: "My parents immigrated to this country in the early 1940s. Like most immigrants, they came here in search of a better life. My father's formal education never went beyond the third grade. My mother couldn't read or write. They were blue-collar workers and through hard work, some luck and a scholarship to Brandeis University, I was able to go to college.
"The whole experience at Brandeis really changed the arc of my life," he said. "That's why when we thought about giving back, about paying it forward, it just seemed the right thing for us to do to help others like me get a phenomenal education at Brandeis."-Perry Traquina '78, H'19
Robin Traquina said: "I am very grateful for the opportunity to be a link in a chain of helping someone in hopes that they will feel gratitude and a responsibility to then reach out and help someone else."
Arlenys Reyes '19, MA'20, of New York City, a former Traquina Family Endowed Scholar who soon will be starting a position with the global accounting firm PricewaterhouseCoopers (PWC), recalls the impact of the Traquinas' support.
"Perry and Robin Traquina were always willing to lend a helping hand beyond the scholarship bounds," Reyes said. "They made time to connect with me outside of the yearly scholarship luncheons, always listening to my experience and giving great guidance. I was even able to make further connections at different companies because of Perry's introduction. 
"One of the goals I distinctly remember sharing with them was completing my master's degree as well as my bachelor's degree through the BA/MA Program at the Brandeis International Business School," she said. "Just like Perry's, my parents immigrated to the United States and did not have the opportunity to finish primary or secondary school, let alone go to college. Thus, I do not take higher education for granted, and I am always pushing for more. 
"In a short couple of months, I will be starting my career at PwC in the Advisory Services Practice," Reyes said. "I hope to continue to inspire others to reach their utmost potential."
Perry Traquina is a retired chairman and CEO of Wellington Management Company, a global investment management firm, and currently serves on the boards of eBay and Morgan Stanley. He joined the Brandeis Trustees in 2002, served as chair from 2013 to 2016 and now is an emeritus member. The Traquinas have three children and live in Wayland, Massachusetts.
Students' Dreams Realized 
The inaugural presentation of the Lighting the Way Award was a highlight of the Oct. 28 Zoom event, which took the place of the annual Scholarship and Fellowship Luncheon postponed this past spring.
The event featured remarks from three current scholarship recipients and, for the first time, an alumnus.
Student speakers were Priya Iyengar '21, recipient of the Max and Sadie Friedman Endowed Scholarship; Jonathan Kelly '23, recipient of the Gwen Goldstein Freishtat Endowed Scholarship; and Mariah Lewis '22, recipient of the Mindy Schneider '75 Endowed Scholarship. 
Iyengar, from Westford, Massachusetts, is studying Health: Science, Society, Policy as well as biology on a pre-med track. She immigrated from India and speaks five languages: English, Hindi, Tamil, Kannada and Latin. On campus she is a teaching assistant in introductory biology and physiology and an undergraduate researcher in University Professor Eve Marder's lab. 
Kelly, from Shrewsbury, Massachusetts, is a double major in international and global studies and in creative writing, with a minor in French. He plays in musical ensembles, is a stock keeper in the Theater Department, and supports student accessibility on campus. 
Lewis, from Williamstown, Massachusetts, is double-majoring in psychology and sociology with a minor in legal studies. She is a Big Sibling through the Waltham Group and a member of the a capella group Rather Be Giraffes. Born in Romania and adopted into an American Jewish family, she is interested in working in the field of adoption. 
Nikhil Agarwal '08, an associate professor of economics at the Massachusetts Institute of Technology who attended Brandeis as a Wien Scholar, was the alumnus speaker.
"My family could hardly afford to send me to college in India, let alone college in the United States," said Agarwal, who grew up in Kolkata (Calcutta). "Brandeis, and the Wein International Scholarship Program, made my dream of pursuing a liberal arts education possible by offering me a full scholarship, for which I will be forever grateful.
"My path to worldliness, which I'm still traveling on, began at Brandeis," he said. "I credit the uniquely passionate and diverse student body for much of this transformation. In my first few months at Brandeis, I spent my time amazed at not just the breadth and depth of knowledge of my fellow Brandeisians, but also the breadth and depth of their passion.
"Fellow alumni, I hope you are also able to trace a bright line from Brandeis to where you are right now. As a professor, I see time and time again how support from alumni and friends – whether financial or otherwise – directly influences the lives of students and allows them to grow." 
—Mark Sullivan