Brandeis Alumni, Family and Friends
Scholarship Spotlight: Jonathan Kelly '23
Meet Jonathan Kelly '23, a double major in international and global studies and in creative writing, with a minor in French. He plays in musical ensembles, is a stock keeper in the Theater Department and supports student accessibility initiatives on campus.
A recipient of the Gwen Goldstein Freishtat Endowed Scholarship, Jonathan spoke at the Scholarship and Fellowship Virtual Celebration on Oct. 28 about the impact of financial aid. His remarks are excerpted below.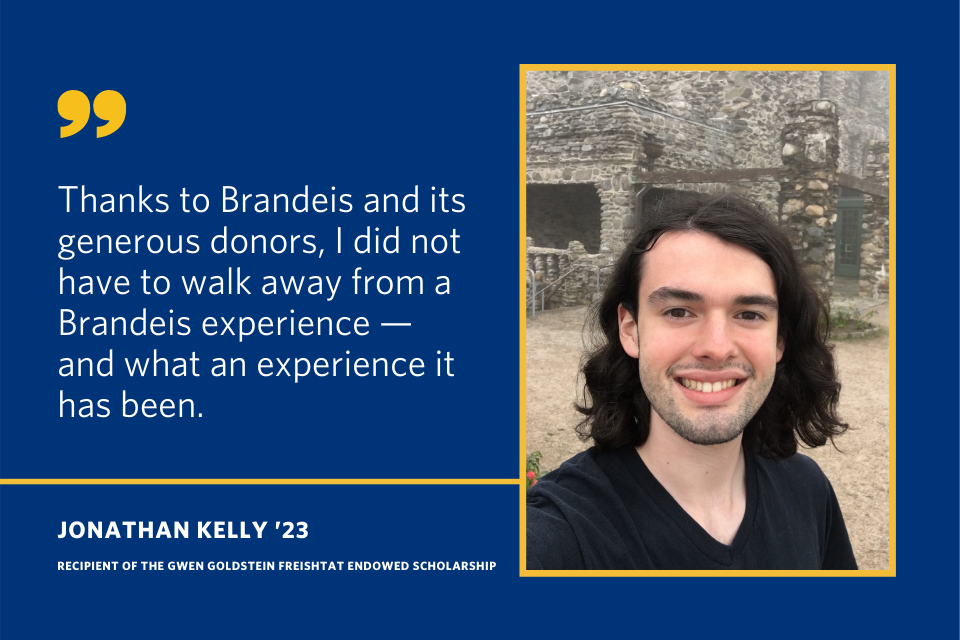 When touring Brandeis for the first time, I distinctly remember noting the passion and pride with which my tour guide talked about Brandeis, adoring the scenic campus, and truly getting a feel for how supportive the Brandeis community Brandeis is. There was one other thing that was in my thoughts: the price tag. Finances were carefully considered by my family throughout my college selection process, which meant that I might have to make some tough decisions when it came time to accept an offer. 
Thanks to Brandeis and its generous donors, I did not have to walk away from a Brandeis experience — and what an experience it has been. During my time at Brandeis so far, I've been able to play viola in the Brandeis-Wellesley Orchestra and Brandeis chamber music groups, and serve as an undergraduate fellow for Student Accessibility Support, in addition to my academics covering a wide range of subjects, from African American studies to Yiddish to economics. All of these curricular and co-curricular endeavors have been immensely enriching and have affirmed my desire to pursue a career in sustainable international development. 
As an individual with a neurological learning disability called Nonverbal Learning Disorder, this scholarship gave me a very necessary vote of confidence going into my college experience.. This disorder is characterized by an imbalance of strength between the left and right hemispheres of my brain, with the left being the stronger of the two. I don't express this to attract sympathy or pity, or to set up an unreasonable story of overcoming my disability, but I say this to emphasize the fact that I was especially uncertain of how I would fare academically and socially in a brand new college environment. 
In high school, I had a number of academic and social struggles related to my disability, and I imagined college would be even harder. Having received not only a letter of acceptance from Brandeis but additionally a scholarship, I was immediately grateful for what that would mean in terms of affordability; I also saw it as Brandeis validating my experience and guaranteeing my potential to succeed in this environment. While there were inevitably some bumps along the way, I have enjoyed numerous academic and social successes here at Brandeis thanks to our accepting faculty, incredible accessibility services department and my open-minded peers. 
While I'm only a year-and-a-half into my Brandeis experience, I already know that I have made the right decision in terms of my post-secondary career.
Brandeis is home to a uniquely supportive community that embraces individuals from all walks of life and allows them to flourish. I encourage my fellow students to take full advantage of this. This may be the only time in our lives that we are in an environment where we are encouraged to experiment and grow, and we are incredibly lucky to have this. So take that class about that thing that you've always wanted to learn more about, join that club that you've been thinking about even if it might make you a bit nervous, and just do what makes you happy, because that's what all of us here at Brandeis want for you.
Published On: November 12, 2020