Brandeis Alumni, Family and Friends
Scholarship Spotlight: Mariah Lewis '22
Meet Brandeis junior Mariah Lewis '22 who is double-majoring in psychology and sociology with a minor in legal studies. She is a Big Sibling through the Waltham Group and a member of the a capella group Rather Be Giraffes. Born in Romania and adopted into an American Jewish family, she is interested in working in the field of adoption.
A recipient of the Mindy Schneider '75 Endowed Scholarship, Mariah spoke at the Oct. 28 Scholarship and Fellowship Virtual Celebration about the impact of financial aid. Her remarks are excerpted below.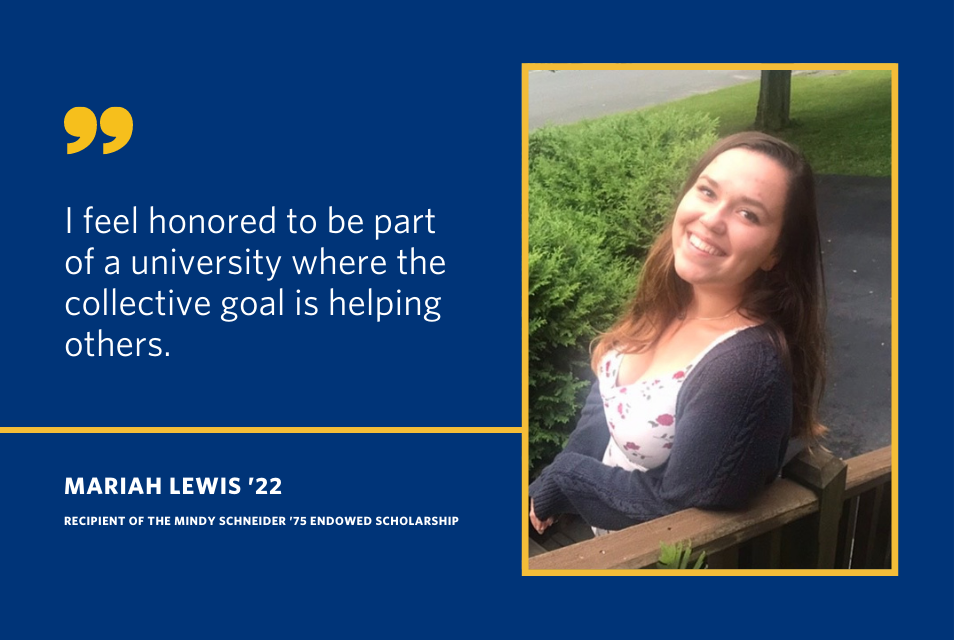 What makes Brandeis Brandeis is the community we cultivate together. While I treasure its homey feel, late night C-store runs, and yes, even East Quad, my love for Brandeis truly comes from the experiences I have had with faculty, staff and peers. As I mentioned, I really enjoy and miss the C-store because I am currently at home. Yet what I miss the most is Milly, one of the lovely hardworking staff members who would always say hello to me and ask me about my day. One time she brought me a hand-picked apple because she had gone to an orchard, and honestly, it made my entire week. 
The fall of my sophomore year I took a course that changed my life — Daniel Breen's Introduction to Law class. I am someone who really benefits from going to office hours, and each of the teaching fellows from Professor Breen's class were practicing lawyers which made me even more excited to go. Over the course of that semester I connected on a personal level with my TA, which is a relationship I will always cherish. Not only did she attend one of my a cappella concerts, but she was generous enough to take me out to dinner and also introduce me to her family. Connections like these are what make me feel so fortunate to attend Brandeis University, because I have forged bonds with students and staff alike that will be with me long after I graduate. 
Junior year has been quite the year of surprises for me. I am taking five classes for the first time, TA'ing for the first time, living at home for the first time since 9th grade and also taking an independent study for the first time. Last semester, I took courses on research methods in both psychology and sociology. I never would have imagined that I would be integrated into these fields so soon. This summer, I was invited to be part of a research team doing a qualitative study of the experiences of front-line providers who served in the ICUs of a major Boston hospital during the first wave of the COVID-19 pandemic. We plan to publish several articles in peer-reviewed journals and hope that our findings will support healthcare providers facing the ongoing challenges of COVID-19. 
I feel honored to be part of a university where the collective goal is helping others. 
To the donors, thank you. Thank you for helping us to become leaders, activists, entrepreneurs, researchers, artists and both community-oriented and global citizens. We could not do it without your support, time, generosity and benevolence. If there's one thing I've learned from my time at Brandeis, it's that we all hope to give back and add to both the spaces we've had the privilege of calling home as well as the destinations and people we haven't met yet. This willingness to not just understand the world, but to have the courage to change it is so essential given these difficult social, economic and environmental times. Thank you for providing us with the foundation to better as many lives and situations as possible.
Published On: November 12, 2020