Brandeis Alumni, Family and Friends
Scholarship Spotlight: Priya Iyengar '21
Meet Priya Iyengar '21, a Brandeis senior on the pre-med track who is studying Health: Science, Society, Policy as well as biology. She immigrated from India and speaks five languages: English, Hindi, Tamil, Kannada and Latin. She is a teaching assistant in introductory biology and physiology and an undergraduate researcher in University Professor Eve Marder's lab, and has participated in five different dance groups on campus.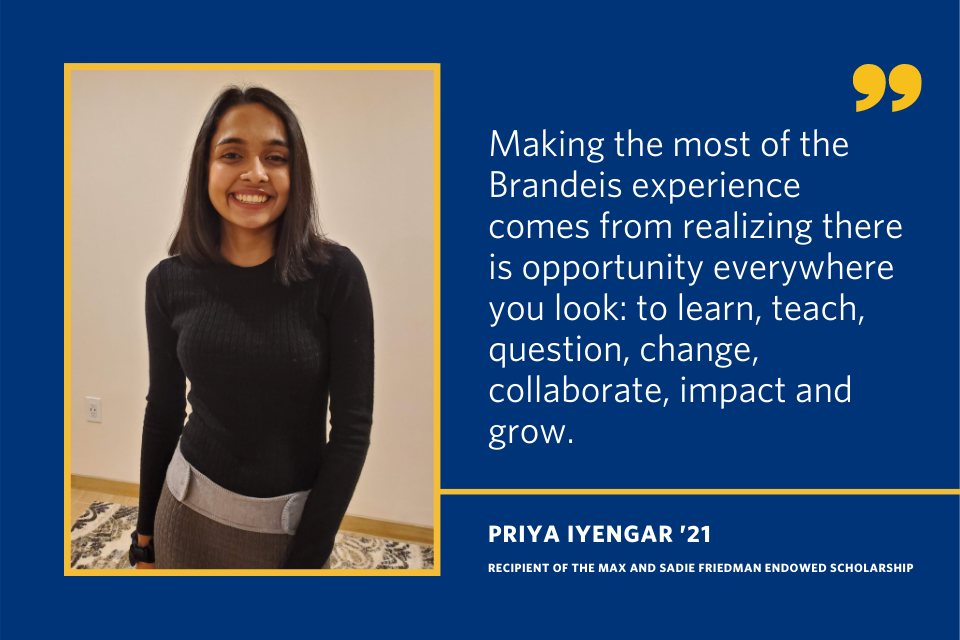 A recipient of the Max and Sadie Friedman Endowed Scholarship, Priya spoke at the Scholarship and Fellowship Virtual Celebration on Oct. 28 about the impact of financial aid. Her remarks are excerpted below. 
From very early on in life, my family taught me that getting a good education and making the most of it would be among the most fascinating and important things I could do in life. My parents and grandparents come from very humble beginnings in South India. It is an emotional experience to realize that me being here at Brandeis, getting a world-class education, studying anything I want to study under the sun, was probably beyond their wildest dreams. 
I picked Brandeis for its research opportunities, close location to family and its strong premedical community – all at a price that my family could surprisingly afford. Generous scholarships at Brandeis have made it possible for me to continue studying no matter what life has thrown my family's way and provide financial stability that has allowed me to focus my efforts and energy on making the most of my time here.
My Brandeis experience has looked something like this: realizing that my curious nature is best satiated by a major like HSSP that explores science, public health and medicine from an interdisciplinary lens. Learning how to dissect an entire nervous system out of a crab. My projects in the lab becoming scientific posters that hang in the Gzang hallway and bringing the widest smile to my grandma's proud face. Being one of the first friends that many nervous first years made on campus in the role of an orientation leader. Being a source of support, as a teaching assistant, to students who are struggling in ways that I too had, so that they come out of the class with better learning habits and a stronger foundation in science. Developing wonderful bonds with my professors who believe in me more than I believe in myself, pushing me to be my best version and fostering my passion for learning to the fullest extent.
Making the most of the Brandeis experience comes from realizing that there is opportunity everywhere you look: to learn, teach, question, change, collaborate, impact and grow.
As I look forward to graduation in 2021, I have realized that I am not coming out of Brandeis with answers about life, but more so with new questions that I never knew I had about myself, the kind of role I want to play in society (particularly as a future physician and a mentor to young students in STEM) and how life works.
Published On: November 12, 2020