Brandeis Alumni, Family and Friends
Inaugural Volunteer Leadership Convocation Celebrates the Power of Alumni Giving Back
September 1, 2022
The winners of this year's alumni volunteer leadership awards share an enduring commitment to supporting Brandeis and its students.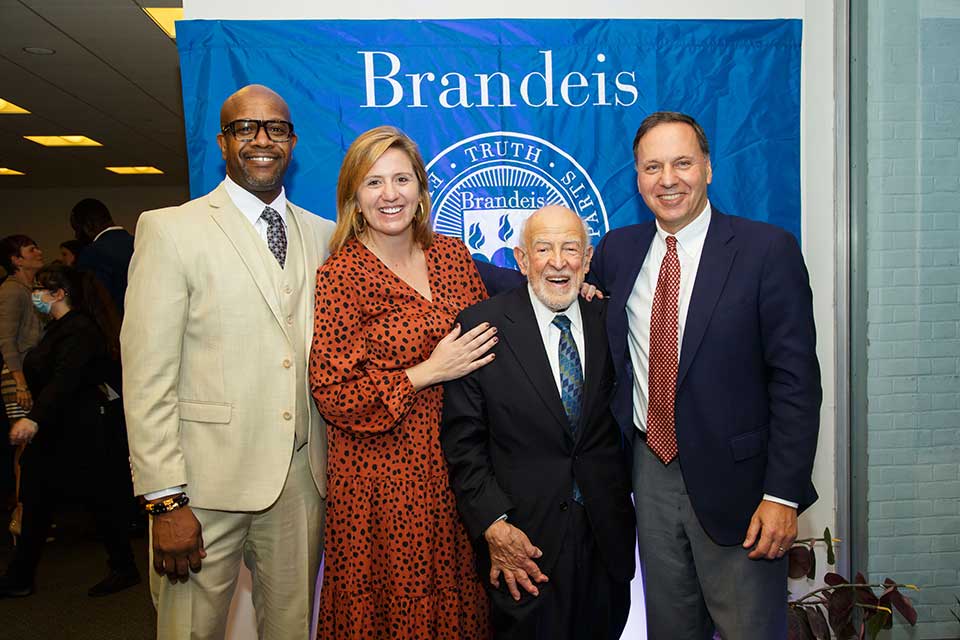 Editor's note: This story was updated after November 5, 2022. 
When Max Perlitsh '52 came to campus in September 1948, he hit the ground running, as a student, a volunteer, and an organizer. Along with his fellow trailblazing classmates – the first class in Brandeis' history – he helped create student governance in the Student Union, the school newspaper, and dozens of clubs and organizations. And that was just the beginning for this visionary.  
He's been volunteering and organizing on behalf of Brandeis ever since, as an extraordinarily active – and proactive – alumnus, whose efforts helped inspire the Class of 1952 to fully endow a scholarship in honor of their 50th Reunion. Since then, the endowment has reached $1.3 million, with more than 60% of the class participating in this exceptional effort. The Class of '52 was also awarded the first Alumni Achievement Award given to an entire class in recognition of each alum's professional accomplishments and the class's tremendous collective commitment to their alma mater. Shortly before coordinating fundraising for the Class of '52 scholarship, Dr. Perlitsh – along with his supportive wife, Hilda – established a separate endowed scholarship in their names.
More recently, Perlitsh put considerable time and effort into keeping his class connected during the pandemic, hosting and organizing Zoom calls, including a very special Zoom in honor of their 70th Reunion. In addition, Max has been working on the Class of '52 yearbook since the beginning of this year. 
Now, Brandeis is thanking Perlitsh in proper style, with the Service to the Alumni Association Award, which will be presented November 5 at the inaugural Volunteer Leadership Convocation (VLC), an event designed to recognize and celebrate outstanding alumni volunteers. This award recognizes a graduate who has worked on behalf of Brandeis and whose contribution is likely to have a lasting, positive impact on the Alumni Association and the university.
"I feel profound gratitude for this honor," said Perlitsh, who was notified of the award by Brandeis Alumni Association President Lewis Brooks '80, P'16, who called with the good news on Perlitsh's 93rd birthday. "This recognition is a reflection of the commitment of the entire Class of 1952 and the feeling of responsibility that we all had during those early years on campus. We knew we wanted to carry on after Brandeis and show the academic world what our education gave us, as well as the budding Brandeis spirit of giving back."
Brooks shared his thoughts on Perlitsh's galvanizing and inspiring influence as a member of Brandeis' first freshmen. 
"Every Brandeis class has an alum or alums who are the glue that holds the class together," he said. "Max is that alum for the Class of 1952, our very first class, the pioneers of our alumni and of Brandeis." — Alumni Association President Lewis Brooks '80, P'16. 
"When Max was a student he had an on-campus job all four years, serving breakfast and coffee to the students, faculty, and administration. Everyone knew Max and Max knew everyone," said Brooks. "Those relationships grew stronger over 70+ years, and Max's love and pride for his class and Brandeis continue to this day. It is an honor to know and work with him, and I only wish I had met him when I was a student on the campus that he and his classmates helped form."
The inaugural VLC will consist of a celebratory reception and awards dinner, hosted by President Ron and Jessica Liebowitz. 
In addition to recognizing Perlitsh for his good works over seven decades, the Volunteer Leadership Convocation is inaugurating a second award: the Emerging Leadership Award, which recognizes an alum with less than 10 years of cumulative service to Brandeis and who has demonstrated leadership, hard work, and commitment resulting in a positive impact on behalf of the university.
The first recipient is Cassidy Dadaos '09, an alumni athlete whose former coach – Carol Simon – nominated her for the honor. A four-year member and two-year captain of the Brandeis Women's Basketball program, who helped lead the team to four consecutive NCAA DIII Tournament appearances, Dadaos was an active community member on campus, including leading Brandeis' student-athlete partnership with the NCAA on student-athlete health and wellness initiatives and leading the university's American Cancer Society chapter, for which she helped raise $75K in its inaugural year. 
Since graduation, Dadaos has been a consistent supporter of and contributor to the university at large, as well as to Brandeis Athletics, and Brandeis Women's Basketball. As a member of the Friends of Brandeis Athletics (FOBA) Executive Committee, she works closely with administrators on alumni engagement efforts, Brandeis Athletics Homecoming activities, and support opportunities for current student-athletes, including career mentorship. She is a senior member of the women's basketball alumni group, facilitating and supporting annual alumni engagement for the group, and supporting connections between alumni and current student-athletes. She signed up for the first-ever alumni-student athlete mentor program as a mentor. She has participated in numerous Homecoming Weekend networking events, including serving as a panelist. She is a frequent peer-to-peer fundraiser for Giving DEISday and several athletics initiatives. She has also led "When Plans Change" informational sessions in partnership with the Hiatt Career Center.
Dadaos is delighted at the honor of receiving recognition for her good work.
"I am genuinely and deeply appreciative of this recognition and honor from Brandeis," she said. "It's an institution that has given me so much, and makes it easy for me to want to give back. Brandeis really changed my trajectory in life; as an 18-year-old kid moving from a very small town in Northern California all the way to Waltham, I could not have imagined the experiences I would have ahead of me."
Dadaos continued: "I feel so lucky to have had access to incredible faculty like Gordie Fellman and Jacob Cohen, to have competed at a high level and traveled the world with Brandeis Women's Basketball, and to truly have built my east coast family through the university and through athletics. This institution, and the people who make it, will always hold a very special place in my heart."
Women's Basketball coach Carol Simon, who nominated Dadaos for this honor, shared her thoughts too. 
"I know this is an award for the invaluable service alumni provide to their alma mater, but Cassidy didn't wait to graduate to be a leader and serve Brandeis. From day one, she always gave herself for the betterment of others and the university." — Carol Simon, Brandeis Women's Basketball coach
"Where she is and was most comfortable putting a lot of time and effort in is with athletics," said Simon. "Her efforts have helped build a very strong Women's Basketball alumni group that continues to return to campus and support not just that program but the entire department. She continues to be a role model for current and former students. There isn't a better person who deserves to receive the Emerging Leadership Award!"
This year's Volunteer Excellence Award went to Michael Clements '93. A co-founder of the Intercultural Center as a student, Clements has continued his exceptional service as an alumnus, ensuring that the ICC is able to recruit and retain students of color. 
Lastly, the 2021 and 2022 BOLD 9 awardees – young alumni who are already changing the world, in less than 10 years since graduating from Brandeis – were acknowledged for their outstanding achievements.
"Brandeis' early efforts proved successful and members of each subsequent class have made their own unique contributions," said Perlitsh. "So the campus that was 'without form and void' in the beginning, is today totally transformed to a campus of great substance – a beautiful and bright beacon of light. And as the closing words of our Alma Mater so beautifully proclaim, 'May deeds of thy children make thee forever great.'"
About the Author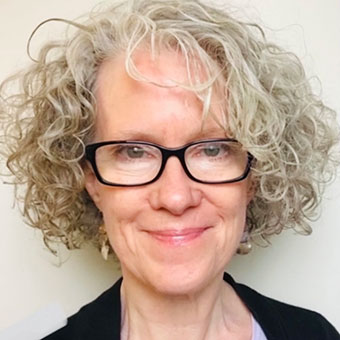 Annie is senior development writer in advancement communications. Before joining Brandeis in January 2022, she was a writer at Dartmouth College. As a longtime freelance journalist and radio commentator, she has covered art, culture, travel, and education for the New York Times, the Washington Post, the Boston Globe, Art in America, Art New England, NPR, and many other outlets. She is the lucky mom of two great kids.