Brandeis Alumni, Family and Friends
Armed With Chain Saw and Diapers, She's on a Mission
Laura Block '91 is repairing the world on the front lines by serving victims of natural disasters.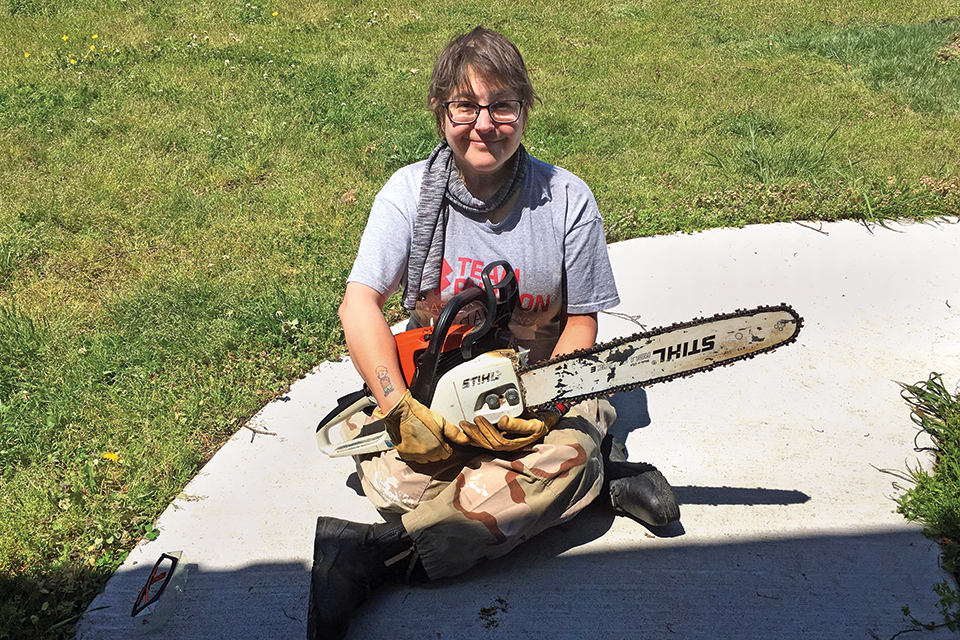 Though Laura Block '91 has never served in the military, she bears the demeanor and drive of an active-duty soldier. Block is a dedicated member of Team Rubicon, a national network of volunteers who help at-risk people get back on their feet following a disaster — repairing homes and carting away debris after a hurricane, for instance, or helping to manage the complicated logistics of housing, feeding and clothing thousands of Afghan refugees.

Team Rubicon was founded in 2010 by U.S. Marine veterans who led a medical team into Port-au-Prince three days after Haiti's deadliest earthquake. Today, its volunteers, who call themselves "greyshirts," are enlisted to work alongside the U.S. military, the Federal Emergency Management Agency, the Red Cross and other NGOs. Whether they're distributing diapers, repurposing temporary housing or sorting through clothing donations, the greyshirts take on clearly defined missions, and get into and out of assignments within weeks.

Even as a biochemistry major at Brandeis, Block was motivated by community work, serving as a Hillel officer and a nursing home volunteer. After earning a PharmD at Mercer University's College of Pharmacy, she became a hospital pharmacist, then a certified EMT.

Now Block is not only a greyshirt at Team Rubicon, she's taken a full-time volunteer position (she likes to say she "works for patches") to help manage the group's membership and organizational culture. She's also vice president at North Carolina Voluntary Organizations Active in Disaster, which often partners with Team Rubicon. The hours are long, and work-life balance is a challenge, says Block, who's a wife and mom (her husband, a fellow Comic Con zealot, works at the online game giant Fortnite).

But Block, one of the 30% of greyshirts who aren't ex-military, thrives on the adrenaline rush of Team Rubicon missions — being "a badass when bad things happen," as she explains it. The post-mission depression she experiences is so common it has a name: post-op drop.

Team Rubicon quite literally embodies Brandeis' mission to repair the world. Block has worked nearly around the clock to strip damaged drywall, yank broken glass and molding from public housing or refit a vacant building into dormitories. Her chain saw, which she has named Ruby, is generally close at hand.

When the erstwhile pharmacist/EMT joined Team Rubicon in 2017, after Hurricanes Harvey and Maria had hammered Texas and Puerto Rico, she assumed she'd be joining a medical response team. Instead, she found herself helping with demolition and debris management.

Block worried she "was going to waste everyone's time and money, and it was going to be awful," she recalls. She was wrong. She found her purpose and gained a mantra, Team Rubicon's No. 1 rule: "Get sh-t done."
From the Winter 2022 issue of Brandeis Magazine. Read the issue for more stories of trailblazing alumni. 
About the Author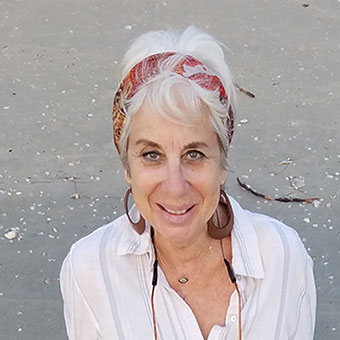 Former senior editor of Bostonia, Susan Seligson is an award-winning journalist who has written for The New York Times Magazine, The Atlantic, The Times of London, Redbook, Yankee, Salon, The Boston Globe, Radcliffe Magazine and many other publications. She is the author of several books including Going with the Grain (Simon & Schuster).