Brandeis Alumni, Family and Friends
New Gosman Lounge Will Enhance Student-Athlete Experience
April 19, 2022
For student-athletes at Brandeis, the pursuit of academic excellence is as important as on-field success. But juggling both is also one of the biggest hurdles they face. 
With a schedule filled with practices and team meetings between classes, student-athletes often find themselves having to study in whatever space they can find in the athletic center, doing their best to drown out the noise around them. Their other option is hustling between the gym and library, or another quiet spot on campus, to escape the noise, and then inevitably having to rush back for their next athletic obligation. 
"College life is very busy for varsity athletes," says Jeffrey Bender '75, a former soccer player and team captain. "Strong time management is essential."
That's why Bender, and former soccer teammates John Fobia '73, Mark Volk '74, David Goodman '74, are hoping to construct a new student lounge for recreation, study and refueling in the Gosman Sports and Convocation Center – the place Brandeis athletes spend most of their time. 
Named after their friend and a Brandeis Athletics Hall of Famer who died in 2020, the Barry Harsip '73 Student Lounge will give student-athletes a place of their own to focus on their studies, unwind between practices and refuel on healthy snacks.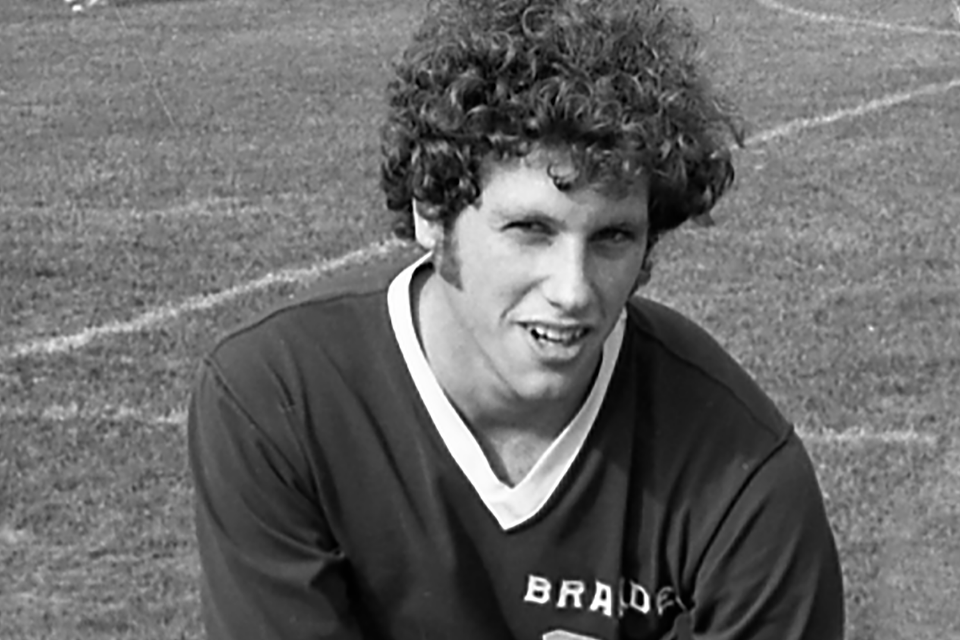 Last summer, the group of alumni, joined by friend Mark Scheier and Harsip's wife Lisa, raised more than $80,000 to get the project off the ground. But to make the lounge a reality, they're seeking additional support from the Brandeis community. So this May, the group, in collaboration with the Brandeis Athletics Department, is launching a two-day crowdfunding campaign to raise an additional $50,000 so they can break ground on construction. They hope to open the lounge to students at the start of the 2023 academic year. 
We need your help to make the Barry Harsip '73 Student Lounge a reality. Make a gift of any size during our crowdfunding campaign, May 3-4, to transform the student-athlete experience at Brandeis.
While the crowdfunding window is short, the organizing alumni and athletic department are confident, having just recently seen firsthand the generosity of the Brandeis athletics community. 
This past December, the athletics department received over $150,000 from more than 800 donors during Giving DEISDay, far surpassing their goal of raising $100,000. Of particular note, 96 donors gave more than $30,000 to women's basketball alone.
Already, student-athletes are eager to make use of the renovated space, which is currently home to a mostly nonfunctional snackbar and isn't conducive to any kind of activity – academic, athletic, recreational or otherwise. 
"It will be so helpful to have a space to study before and after practice, without having to spend a lot of time walking around campus to find a spot," says Sydney Lenhart '24, a member of the women's soccer team. "I really like the idea of having a designated space in the building rather than having to study near a busy staircase." 
 Adds Jamie Pippin '23, a member of the softball team, "The current situation in Gosman is difficult because there isn't a designated spot to study. It's often loud and hard to focus on classwork in-between practices and weightlifting sessions. A space like this is essential for student-athletes and I am confident every team will use it." 
 Lauren Haynie, director of athletics, says the lounge will remedy these issues. 
 "When you visit our facility now, you find students attempting to study in virtually every available space in the building," she says. "The construction of a functional, comfortable and easily accessible student lounge will give community members the ability to do their work in a properly appointed space, while simultaneously offering an opportunity to connect with each other."
 The lounge will occupy space near the entrance of Gosman and feature ample furniture for studying and relaxing, as well as a refueling station where students can access sports drinks, healthy snacks and more. 
Support from the Brandeis community will be instrumental in ensuring the lounge is built, adds Haynie. "While alumni and friends provided much of the initial funding for the project, we do need tremendous community support to cross the finish line."
To get involved, and to support all current and future student-athletes at Brandeis, visit the Barry Harsip '73 Student Lounge Fund.
About Barry Harsip '73
Barry Harsip was the prototypical student-athlete and a legendary all-star soccer captain who was inducted into the Brandeis Athletics Hall of Fame in 2019. He was kind, spirited and generous, and these qualities helped to define his life and legacy, both personally and professionally. Harsip eventually became a lawyer, dedicated to helping families during difficult times. His athletic inspiration continued far after his undergraduate career at Brandeis through his dedication to youth sports for many years and his presence at Brandeis soccer games as a fan in the stands.
About the author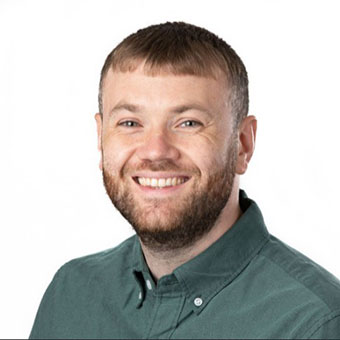 Dave Eisenberg is the integrated marketing and content strategy manager with Brandeis University's Institutional Advancement team. Prior to joining Brandeis, he worked as a content specialist at Perkins School for the Blind, and before that, as a journalist. Outside of work, he enjoys playing guitar and is an avid runner.