Brandeis Alumni, Family and Friends
Scholarship Recipient Amber Graves '20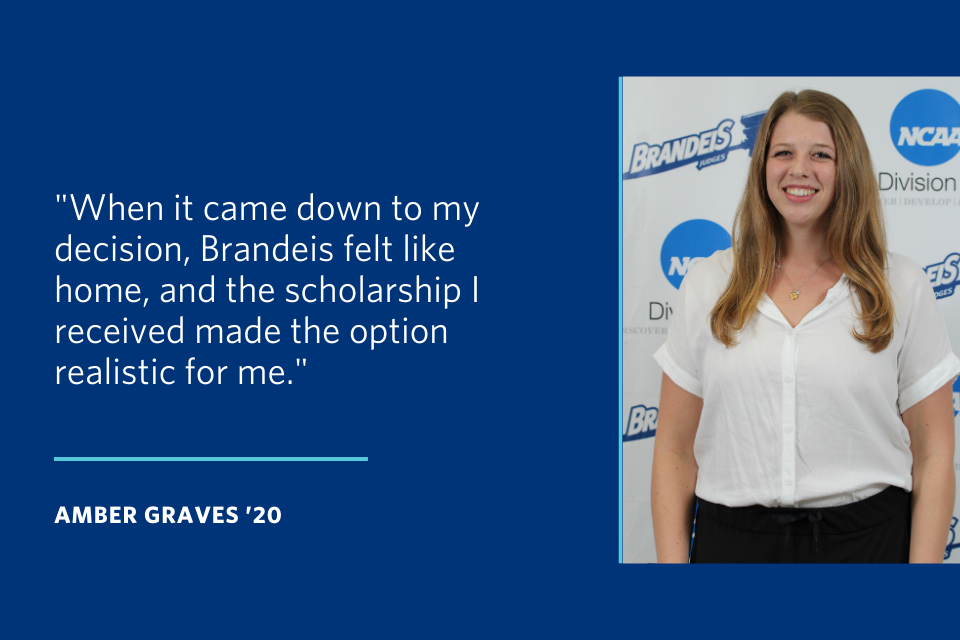 Amber Graves '20, of La Cañada, California, a member of the Brandeis women's basketball team, is a recipient of the Rabbi Stuart A. Paris '64 Student Sportsperson Scholarship. A business and anthropology major, with a minor in economics, she has served as a Brandeis Fellow on the board of the Waltham Family School, a teaching assistant at Brandeis International Business School, and a student ambassador for the Brandeis National Committee.
The Brandeis Alumni Association checked in with her about what life is like now, her Brandeis experience and what having a scholarship has meant to her.
When we were first moved off campus in March, I had a choice to make. I could fly home to my family in Los Angeles, where I grew up, or move on to my next chapter and find somewhere to live in the Greater Boston area, as I had planned to do in May. I found an apartment in Haverhill, Massachusetts. Luckily, with moving, finishing up classes, and starting my post-grad job search, I've had a lot to do during the stay-at-home order. I've also been practicing a lot of yoga and going on walks outside to explore my new neighborhood.
It definitely has been weird to start interviewing with companies virtually. I feel really lucky to have opportunities for work, especially as an entry-level applicant. As of now, it looks like I'll be starting my first job and working from home -- so that is definitely something different and unexpected. I was planning to spend spring break home in California, so I am really starting to miss my family. As soon as it's safe to move about the country, I hope to be on a flight to LAX to visit them.
Reflecting on my Brandeis experience, at the forefront, I honestly feel sad. I wish the Class of 2020 was able to celebrate our accomplishments together, and in all the traditional ways.
Yet I also feel a sense of hope and the feeling of a shared commitment to change. Brandeis faculty, administrators and students are some of the most passionate, knowledgeable and dedicated individuals I've ever known. We aren't afraid to speak our minds and fight for what we know is right. In retrospect, my Brandeis experience reminds me there is good in this world. There are smart, influential people who do the right thing, and that gives me hope.
Being able to lean on my Brandeis community is what is helping me get through this crisis. The people at Brandeis are what make it unique. I really admire how all my professors have committed to the online learning environment.
Basketball is what attracted me to Brandeis originally. I first found out about Brandeis as I was being recruited by New York University, one of Brandeis' conference rivals. Of course, I had a checklist for my college experience: play basketball, high academic achievement and excellence, community-oriented volunteer opportunities, urban/near an urban environment, East Coast/far from home, to name a few.
When I visited Brandeis, I felt like I was home. The overall emphasis on social justice and the power of knowledge permeates Brandeis. Most of the community is driven by a passion for change and positive influence; I felt like Brandeis would best prepare me for the life I want to live, developing global knowledge and understanding how to better help others.
I think there's something particularly special about the Class of 2020's Brandeis experience. Over our four years, we've experienced our fair share of unprecedented events. Our time at Brandeis began with the presidential election of Donald Trump and is coming to an abrupt end due to COVID-19. Some may claim our class was dealt a poor hand. But this doesn't faze us. We aren't discouraged, but rather empowered. We aren't paralyzed, but rather called to action. We are prepared to handle this, together. We can handle whatever comes our way. We are resilient, as a community, and that is a special feeling I will always hold onto from my experience at Brandeis.
A scholarship made it possible for me to attend Brandeis. I was deciding between three opportunities for college. When it came down to my decision, Brandeis felt like home, and the scholarship I received made the option realistic for me.
Our students, now more than ever, need help. So many students and families have been displaced by the economic trouble caused by the pandemic. Many of my peers have been graced by the opportunity to study, live and work at Brandeis. They rely on the generosity of scholarships and their on-campus work to pay for everyday essentials. Many of us are scared, lost and confused. Brandeis has been a pillar of love and care within the Greater Boston area, supplying PPE to medics and sending meals to local healthcare workers. We can't forget our own community members at this time. Brandeis is known to welcome us with open arms, no matter our background, and equip us with the tools to accomplish our dreams. I know we can continue to do the same.
---
When you support the Brandeis Student Emergency Scholarship Fund, you help ensure students like Amber Graves '20 have access to a Brandeis education.
Read additional reflections from student scholarship recipients who are graduating from Brandeis this May.
Published On: May 19, 2020