Brandeis Alumni, Family and Friends
Graduating Student-Scholars Look Back on Brandeis Experience With Gratitude and Perspective
May 19, 2020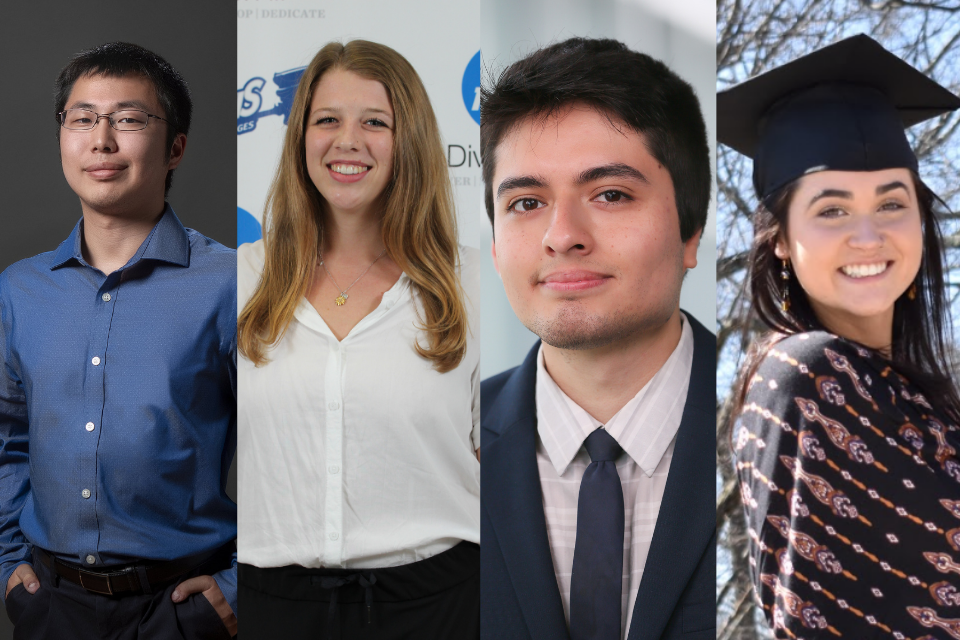 Brandeis' founders envisioned a place of learning open to all who value academic excellence. Financial aid, by enabling bright and deserving students to pursue a Brandeis education regardless of means, is vital to upholding this founding vision. Two out of three Brandeis students receive some sort of grant or scholarship.
With the COVID-19 pandemic placing a financial strain on students and their families, the need for scholarship aid can only grow. The Brandeis community has rallied to support emergency scholarship assistance along with other forms of emergency aid for students.
Four outstanding 2020 graduates who received endowed scholarships at Brandeis, and who are capping their distinguished student careers virtually this year, were invited by the Brandeis Alumni Association to reflect on their Brandeis experiences.
They talk about what it's like to finish up their degrees during the coronavirus shutdown. They describe what receiving a scholarship has meant to them. And they encourage others to donate to financial aid, needed now more than ever.
Fox Baudelaire '20 will graduate from Brandeis with majors in biological physics and chemistry and a minor in philosophy. He is a first-generation college student and recipient of the Ting Tsung and Wei-Fong Chao Endowed Scholarship.
Amber Graves '20, a member of the Brandeis women's basketball team majoring in business and anthropology, is a recipient of the Rabbi Stuart A. Paris '64 Student Sportsperson Scholarship.
Shayla Parker '20 will graduate from Brandeis with a degree in biology. She is a first-generation college student and recipient of the Ellen L. and Robert S. Kaplan Scholarship.
Makoto Sakuwa, MA'20, is part of the inaugural class of Toshizo Watanabe International Scholars. Sakuwa, who is from Japan, will graduate from the Brandeis International Business School with a master's in international economics and finance.