Brandeis Alumni, Family and Friends
Scholarship Recipient Makoto Sakuwa, MA'20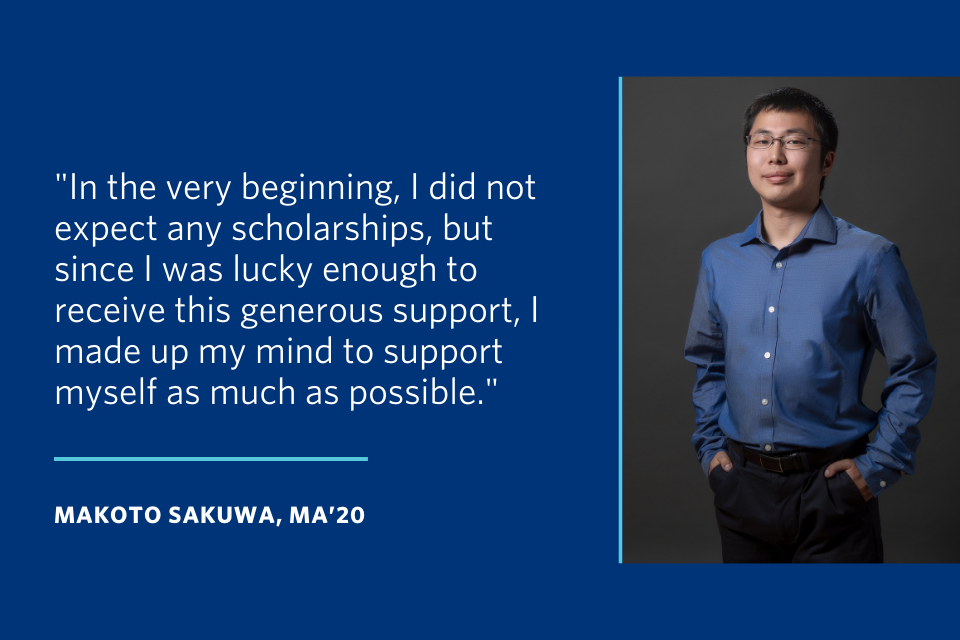 Makoto Sakuwa, MA'20, is a member of the inaugural class of Toshizo Watanabe International Scholars. Sakuwa, who is from Japan, will graduate from the Brandeis International Business School with a master's in international economics and finance.
The Brandeis Alumni Association checked in with him about what life is like now, his Brandeis experience and what having a scholarship has meant to him. 
I am still in Waltham, and I am doing quite well. Staying at home has given me a great deal of time to look back on my Brandeis journey and re-energize myself for the future.
My post-graduation plans were not affected that much, yet I feel like there is a limitation on what I can potentially do. Once this pandemic is over, I would like to go visit my family or vice versa.
A sense of belonging is helping me get through the current crisis. Many students I met in the International Business School as well as outside school are truly caring, and I often talk with many of them via Zoom or any other online platforms that keep us connected.
I'm feeling grateful for small things. Most of my housemates, whom I enjoyed spending time with, have left due to the pandemic. I also had classmates who I could casually chat with in the hallway before or after class. Now I cannot undervalue how much joy and fun they brought to my daily life, and I would like to always remember this feeling even when things get back to normal.
The International Business School offers industry treks so that students can meet Brandeis alumni who work at companies of interest to them. I had a chance to visit the World Bank, the International Monetary Fund and the Federal Reserve in Washington D.C., and I hope people who I went there with share a similar future vision and we will all be future colleagues somewhere in the world. I am sure we can encourage one another to achieve our dreams.
In the very beginning, I did not expect any scholarships, but since I was lucky enough to receive this generous support, I made up my mind to support myself as much as possible. It was a great chance for me to learn the sense of independence and be thankful for my parents who had continuously financially supported me before coming to Brandeis.
At the International Business School, you are surrounded by people from different countries. I've always enjoyed meeting people with diverse backgrounds. Every time I do a team project, I work with people from different cultures and mindsets. It was always interesting to hear about their respective experiences and how they are trying to deal with their new lifestyle in the U.S., away from home. Many students were really inspiring to me and made me want to go visit their home country. 
Brandeis has been a great place to provide a lot of lessons and resources that I will treasure in my future
. By living all by myself, I found that having a stable economic situation is essential to your living as well as academic performance.
---
When you support the Brandeis Student Emergency Scholarship Fund, you help ensure students like Makoto Sakuwa, MA'20, have access to a Brandeis education.
Read additional reflections from student scholarship recipients who are graduating from Brandeis this May.
Published On: May 19, 2020