Brandeis Alumni, Family and Friends
Scholarship Recipient Shayla Parker '20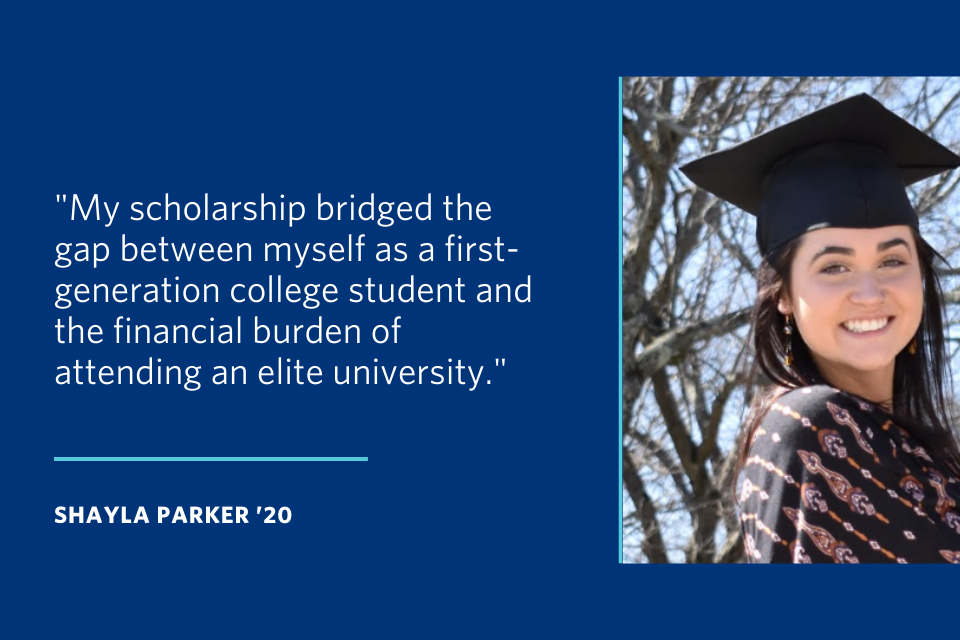 Shayla Parker '20 will graduate from Brandeis soon with a major in biology. She is a first-generation college student from Woburn, Massachusetts, and is the recipient of the Ellen L. and Robert S. Kaplan Scholarship. She held many positions at Brandeis, serving as a tutor for the Student Services Support Program, a federally funded program to provide services to first-generation students or those who have overcome significant financial obstacles to attend college, teaching Zumba classes through the athletics department, reaching out to Brandeis supports through the phonathon and working as a certified nursing assistant. She was treasurer and then co-president of Foundation for International Medical Relief of Children, which helps bring healthcare to medically underserved communities around the world. After Peace Corps service, she plans to continue her education and pursue a career in global health and sustainable international development.

The Brandeis Alumni Association checked in with her about what life is like now, her Brandeis experience and what having a scholarship has meant to her.
I am currently in my apartment in Waltham, and I am keeping a distance from my family, who are all essential workers. On Easter, I visited my nana by sitting on her porch steps while she stayed behind the door. I've also been video chatting with my friends constantly, and every day I meet with my best friend via Zoom for an ab workout. I try to stay outside as much as possible, and lately I have been practicing so much yoga! 
I was supposed to depart for Tanzania as a Peace Corps volunteer in early July. All Peace Corps programs have been postponed until at least September 30, and all current volunteers have been evacuated. Once I am free to move about the country, I would love to go on a road trip with my friends before I live in Africa for over two years!
When I look back, the people that I have encountered along my journey are the most valuable. I have learned so much from those around me. Dr. Toni Shapiro-Phim is the most inspiring professor I have had the pleasure of learning from. She has worked in numerous refugee camps around the world, and is extremely passionate about human rights issues. She truly believes in her students, and encourages them to understand that they are destined for great things in the broader world. 
Brandeis taught me resilience and to remember I'm a lot stronger than I think. Brandeis gave me a community, and now I could never feel alone. 
I think the community is coming together in beautiful ways. I see stories everyday about people helping other people. There have been widespread virtual volunteer efforts, food has been packaged and delivered to those on the front lines, and people are singing together outside on their balconies. I think humanity is healing; kindness, too, is contagious. 
Brandeis gave me the person I'm going to spend my life with and the sisters that will be in my wedding party. I cannot imagine a life without the people Brandeis gave me. Wherever they are, that's where home is to me.  
I'm not sure if I could have attended Brandeis at all without my scholarship. The Ellen L. and Robert S. Kaplan Scholarship bridged the gap between myself as a first-generation college student and the financial burden of attending an elite university. When I received my financial aid package I was overcome with emotion knowing my family would not struggle as much for me to pursue my dreams. I accepted the very next day. 
I was originally attracted to all the opportunities Brandeis had for research, study abroad and the flexibility in the curriculum. I had also heard that Brandeis focuses heavily on social justice and knew that I could learn a great deal outside of the classroom as well. On my campus tour, I thought Brandeis was one of the most beautiful campuses I had seen, and when I arrived on move-in day, I felt like I was somewhere I truly belonged. That's what Brandeis does. It gives all walks of life a common space to come together and empower one another. 
My favorite Brandeis memory was my Adagio semester show in the fall of 2019. I have been dancing my entire life, but had taken some time away from practicing when I arrived at college. It was my first dance performance in years. My mom even came down to watch and she was in tears after the show. 
My semester abroad in Santiago, Chile, was life-changing for me. I became fluent in Spanish and lived with a host family that I still keep in touch with almost every day. Having this opportunity to live in a different country, meet new people, try new things and experience a Chilean university was an incredible gift. I will forever be indebted to Brandeis for that.
The Emergency Fund has been crucial in assisting deserving students at Brandeis. I personally have benefited greatly from the support I have received from the fund. Last semester, my roommates and I lost our off-campus apartment in a house fire that left us with nothing but each other. The Emergency Fund helped us to get back on our feet and allowed us to focus on our finals and our next steps. Furthermore, the Emergency Fund has helped hundreds of students during this pandemic. It has provided essential assistance to lessen the burden of being uprooted, and needing to transfer one's education to an online platform. The Emergency Fund has given students peace of mind to focus on their health, their loved ones and their school work without being heavily impacted by finances. The donations to the Emergency Fund thus far have been overwhelmingly gracious. I am so proud to be a part of this community. We pick each other up without ever a hesitation. We are a family.
---
When you support the Brandeis Student Emergency Scholarship Fund, you help ensure students like Shayla Parker '20 have access to a Brandeis education.
Read additional reflections from student scholarship recipients who are graduating from Brandeis this May.
Published On: May 19, 2020