Brandeis Alumni, Family and Friends
Back On Campus, Giving DEISday Sets New Record, Exemplifies Generosity
December 1, 2021
Giving DEISday made a triumphant return to campus this year, once again surpassing one million dollars in donations to Brandeis from nearly 2,500 donors.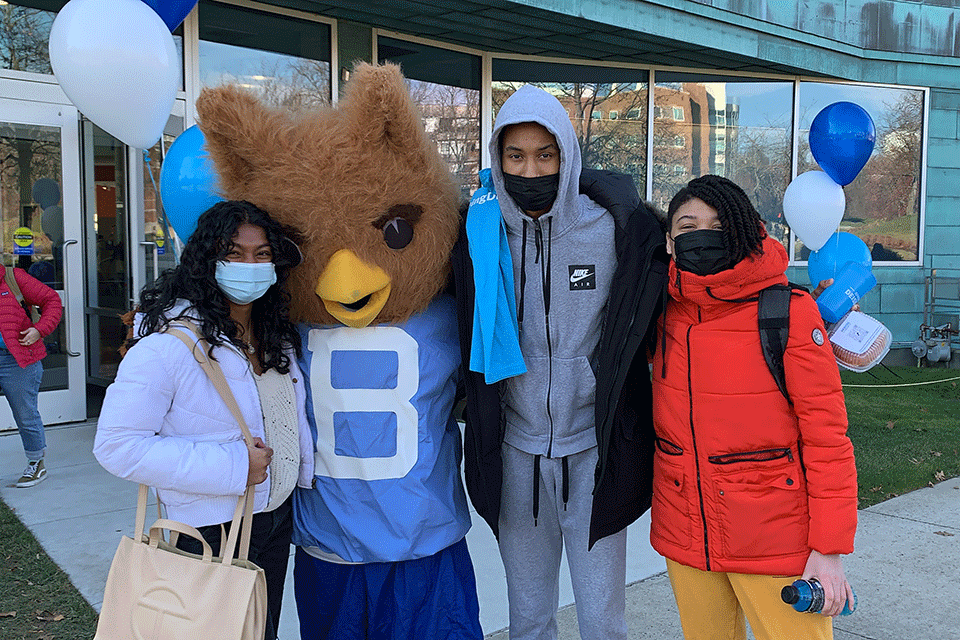 Following a highly successful and fully-remote Giving Tuesday (or Giving DEISday as Brandeisians call it) in 2020, this day of philanthropy once again offered opportunities to support scholarships, special programs, athletics and more. Thanks to masking and testing protocols, this year the in-person celebration was back. Students and community members enjoyed games, treats, a chance to mingle with the mascots and free swag, resulting in donations from a record 200 students. 
Giving Philanthropy a Boost 
Challenges and matches helped to gamify and lend excitement to the day. The landmark challenge was to reach 1,948 donors to honor the year of Brandeis' founding, which unlocked a $100,000 gift from Dan Kazzaz '74, MA'74. This annual challenge was met at 7:46 p.m. ET, the earliest on record. 
A subsequent goal was a stretch to reach 2,200 donors in honor of the Class of 2022. This was handily achieved and unlocked an additional $75,000 donation from Madalyn Friedberg, a Brandeis trustee and past-president of the Brandeis National Committee, who also pledged $25,000 to the BNC Honoring Our History Campaign at the 1,948 donor mark, amounting to a $100,000 total gift. 
Support from the Wider Brandeis Community
The Alumni Association board of directors modeled Brandeis' culture of philanthropy, not only achieving 100% participation in donations, but going on to drive participation from an additional 250 alumni donors. The alumni class with the highest number of donors was 2021, with 55 donors. 
Parents and families left their stamp by reaching 656 donors and over $111,000. They were second only to undergraduate alumni in total donors and dollars. 
Faculty and staff also rose to the challenge, with a record 162 of them participating. Provost Carol Fierke, PhD'84, has pledged to donate an additional $25,000 if that number climbs to 350 by June 30. 
Crushing Campus Challenges 
Athletics surpassed their goal of $100,000 in the early evening, going on to raise nearly $150,000. Among athletics programs, Brandeis Women's Basketball topped the leaderboard for dollars raised, at over $31,000, while Brandeis Women's Soccer led the donor count at 156. 
The Heller School, the International Business School, Brandeis Hillel, the Rose Art Museum and the Intercultural Center also met or exceeded their challenges.  
"It was thrilling to see the outpouring of excitement, energy and very generous support throughout Giving DEISday," said Interim Senior Vice President of Institutional Advancement Hannah Peters. "Brandeis is fortunate to have an extraordinary community of alumni, friends, faculty, students and staff dedicated to 'truth, even unto its innermost parts.' We are grateful to them for being our partners and stewards."
To see all challenge results and tallies for athletics, student groups, graduate schools and more, visit the Giving DEISday website. 
About the Author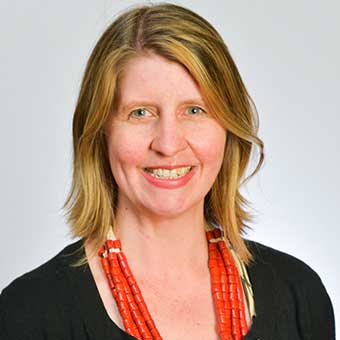 Anne-Marie joined Brandeis as website communications manager in 2020 after many years  of working in marketing and communications in the realm of scholarly publishing. She's a Massachusetts native and in her spare time enjoys reading, getting outdoors, and listening to all the podcasts.