Brandeis Alumni, Family and Friends
How Brandeis Is Paving Paths to Discovery in STEM
April 26, 2022
Innovation soars and a rigorous new advisory council is born.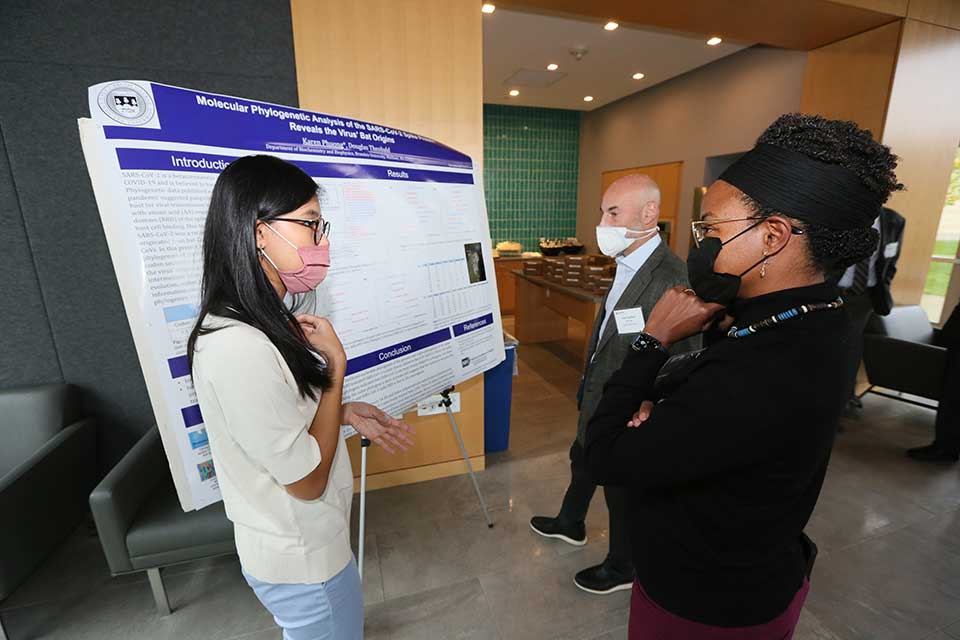 The sciences have always shone brightly at Brandeis, and the university's expansive vision and critical priorities for the future of all things STEM – science, technology, engineering and mathematics – are having not just another moment in the sun, but a whole new era. 
Anchoring this exciting venture is Brandeis' sweeping plan for the interdisciplinary sciences as outlined in President Ron Liebowitz's Framework for the Future, which features additional science faculty, augmented research opportunities for students, a novel engineering science program and new and renewed facilities. In short, Brandeis is continuing its transformation into a world-class STEM leader. 
The Framework includes the construction of phase two of the Science Center complex, with a new state-of-the-art, energy-efficient building and reimagined spaces that will encompass approximately 100,000 square feet of facilities for both research and teaching. This expansion will connect the science quad with the rest of campus via beautifully landscaped outside spaces, increase capacity for creating the world's next scientific breakthroughs and provide the critical next steps for the sciences at Brandeis.
A manifest mission and meeting of minds 
Another energizing aspect of this thrilling leap into the future is the recently established Science Advisory Council (SciAC), which is further advancing Brandeis' commitment to the sciences through cross-campus collaboration and interdisciplinary inspiration. Established in 2021, the SciAC is composed of 17 stellar STEM pioneers, including external global science trailblazers with strong connections to Brandeis, undergraduate and graduate alumni, parents and past university leaders, all of whom represent various science sectors, including industry, academia and philanthropy. 
The mission of the SciAC is to help propel the next chapter of STEM at Brandeis forward by providing strategic and tactical advice as the university pursues its bold new vision for interdisciplinary science programs. The council will provide input on opportunities for the university to make distinctive contributions to global science advancements; to lead discovery and innovation in the interstices between fields, particularly in neuroscience, quantitative biology, biophysics and soft materials; to maintain a collegial and collaborative division-wide culture; and to promote, represent, advocate and provide support for Brandeis science in philanthropic, industry, academic and venture capital communities. 
Leveling the playing field for future STEM leaders
Last fall, the council gathered on campus to tour science facilities, meet with the university's greatest scientific minds – including visionary STEM students – and brainstorm for the future. In what was the group's first in-person meeting, the day-long event was led by council chair Carol Fierke, PhD'84, provost, executive vice president for academic affairs, who was joined by President Ron Leibowitz in welcoming the council. SciAC members learned about the university's extraordinary science program and shared big ideas, expert guidance and valuable advice. They connected with undergraduate science students; participated in lab tours, working meetings and breakout sessions; and engaged in lively conversations with Brandeis faculty luminaries and graduate students representing 14 departments, ranging from computer science to theoretical physics to molecular biology. 
The visit highlighted the council's conviction that nothing is more important than giving all students the chance to excel in the sciences when they come to Brandeis – to level the playing field and make science more accessible to first-generation students, students from low-income families, and any student who otherwise might not be able to receive a science education. At the core of this ethos is an overarching institutional commitment to ensuring diversity, equity and inclusion in the sciences at Brandeis.
Collaboration, innovation and discovery
The ultimate goal of Brandeis' drive to significantly impact the sciences is to strengthen the university's influence and leadership in making global scientific advances, thus improving the lives of future generations while helping to positively transform the health of the planet itself.
This bold vision was observed and applauded by SciAC members during their visit. "I'm impressed by the level of collaboration across departments and disciplines," said council member Lisa Dyson '97, founder and CEO of Air Protein, an innovative San Francisco-based sustainable food company. "That is where innovation and discovery often happen. Brandeis is clearly educating the next scientific leaders."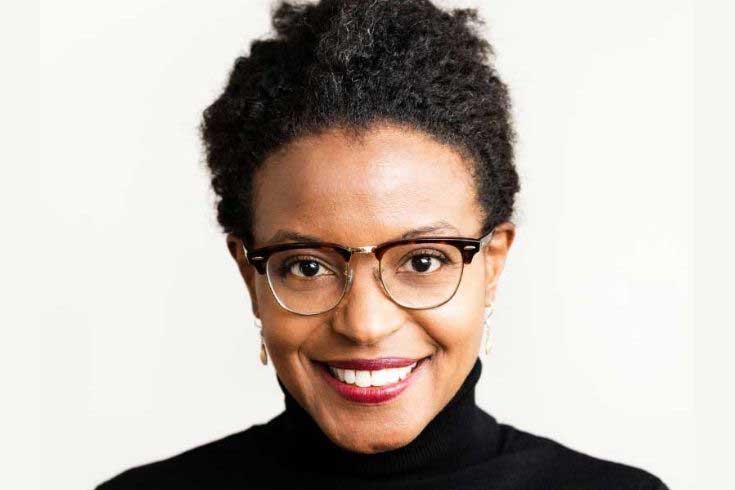 Dr. Lisa Dyson '97 is a mission-driven serial entrepreneur with a passion for creative problem solving who, in addition to founding Air Protein, also founded Kiverdi, a startup that converts trash, wood and agricultural residue into plastics and other products. Another Brandeis brainiac changing the world!
Council member Eugene Cordes, PhD'62, G'13, a former vice-president at Merck and, most recently, professor of pharmacy and chemistry at the University of Michigan, lauded Brandeis' focus on collaboration among faculty and its drive to offer expansive research experiences to students. "There's a strong commitment to education at all levels," said Cordes, "particularly the push to get undergrads into labs and working on original science. People can accomplish more working together than alone, and that fact is helping to push science forward at Brandeis."
SciAC member Kevin Gillis '89, COO at Third Rock Ventures, an innovative VC firm, was equally inspired. "Brandeis helped me to get where I am," he said, "and I'm blown away by the depth and breadth of what they're now focusing on."
Top tier and aiming yet higher
This is a critical moment for such a unique science research and teaching enterprise. Brandeis is one of the fewer than 10% of private American universities to be designated by the Carnegie Foundation as offering "very high research activity." The Science Advisory Council aims to ensure that Brandeis keeps its intimate scale and collaborative culture while staying competitive for top faculty and external funding, and creating new opportunities to innovate at the junction between scientific fields, which has been the university's historical strength. 
By providing wisdom, guidance, leadership and advocacy in helping Brandeis shape and realize this vision, SciAC members are further invigorating the possibilities for this educational and research enterprise, in collaboration with some of the world's leading scientists and technologists. 
Brandeis has always been a brave, dynamic and venerated leader in the STEM space and the Science Advisory Council is on a mission to keep that trajectory climbing.
About the Science Advisory Council 

The Science Advisory Council also includes Brandeis faculty: Dorothy Hodgson, PhD, dean of the Brandeis School of Arts and Sciences; Bulbul Chakraborty, PhD, head of the Brandeis Division of Science and the Enid and Nate Ancell Professor of Physics; Susan Birren, the Zalman Abraham Kekst Professor of Neuroscience and professor of biology; Irving Epstein, the Henry F. Fischbach Professor of Chemistry and Howard Hughes Medical Institute Professor, former provost (1994 to 2001) and senior vice president for academic affairs; Tim Hickey '77, PhD, chair of the computer science department and former chair of the faculty senate; and Avital Rodal, P'25, PhD, associate professor of biology.