Brandeis Alumni, Family and Friends
Alumni Achievement Award Recipients Confront Racism, the Coronavirus
February 4, 2021
The recipients of this year's Alumni Achievement Award are at the forefront of issues facing the United States and the world: the coronavirus pandemic and racial injustice.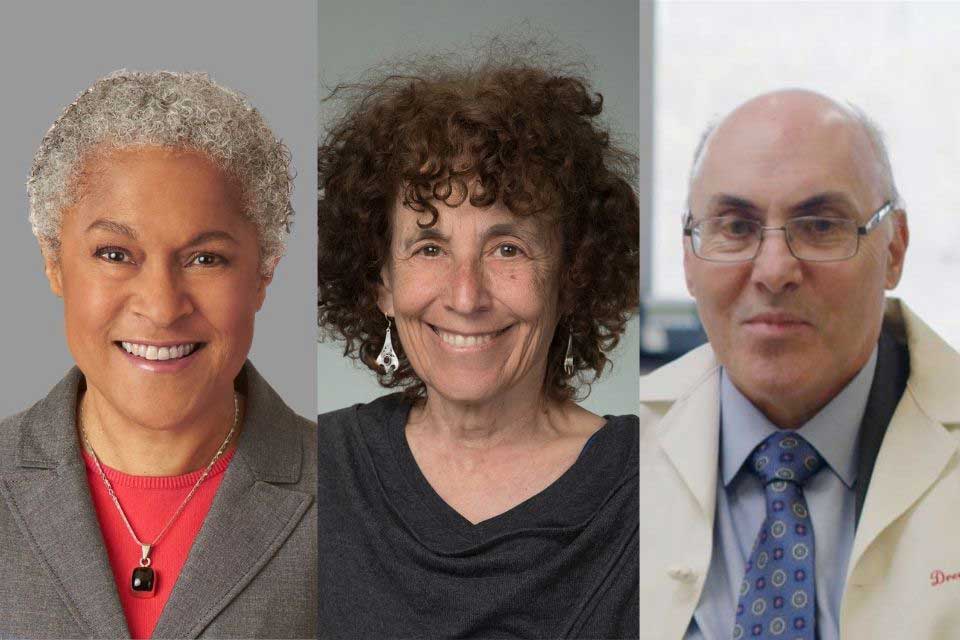 Recognizing distinguished contributions to one's profession or chosen field of endeavor, the Alumni Achievement Award represents the highest form of university recognition bestowed exclusively on alumni. This year the Brandeis Alumni Association is conferring the award on  three esteemed alumni:
Patricia Hill Collins '69, PhD'84, Distinguished University Professor Emerita at the University of Maryland, College Park, and Distinguished Professor of Sociology and Africana Studies Emerita at the University of Cincinnati, is the author of 10 books, among them her award-winning "Black Feminist Thought" (1990, 2000) and "Black Sexual Politics" (2004). In 2008, she became the first African American woman to preside over the American Sociological Association. In 2013, she received Brandeis' Joseph B. and Toby Gittler Prize for scholarly excellence and contribution to racial, ethnic and religious relations.
Susan Reich Weiss '71, professor and vice-chair of microbiology at the Perelman School of Medicine at the University of Pennsylvania, is a pioneer in the study of coronaviruses. Her scientific research as a coronavirologist over the past four decades has helped with the understanding of the 2002 SARS and 2012 MERS outbreaks, as well as COVID-19. She serves as co-director of the Penn Center for Research on Coronavirus and Other Emerging Pathogens, established in March. She recently was featured in the BBC program, "The Virus Hunters."
Drew Weissman '81, MA'81, P'15 is a professor of medicine at the Perelman School of Medicine at the University of Pennsylvania. His collaborative research with former colleague Katalin Karikó into the modification of nucleic acids for RNA therapeutics and vaccines is credited with laying the groundwork for the Covid-19 vaccines created by Moderna and Pfizer. Weissman and Karikó will receive the 50th Annual Lewis S. Rosenstiel Award in Basic Medical Research from Brandeis and the Rosenstiel Foundation on Feb. 8 at an event sponsored by the Office of the President.
"The recipients of the 2021 Alumni Achievement Award exemplify how Brandeis alumni are using their talents to help repair the world," says Lewis Brooks, '80, P'16, president of the Brandeis Alumni Association. "This past year, we have been confronting dual plagues, racism as well as COVID, and Patricia, Susan and Drew have contributed greatly toward combating both."
The awards will be presented virtually Sunday, June 13, during Alumni Weekend. Visit the Alumni Weekend website for more information.