Brandeis Alumni, Family and Friends
Filmmaker Debra Granik '85 and Real Estate Developer Donald Soffer '54 to Receive 2019 Alumni Achievement Awards
April 1, 2019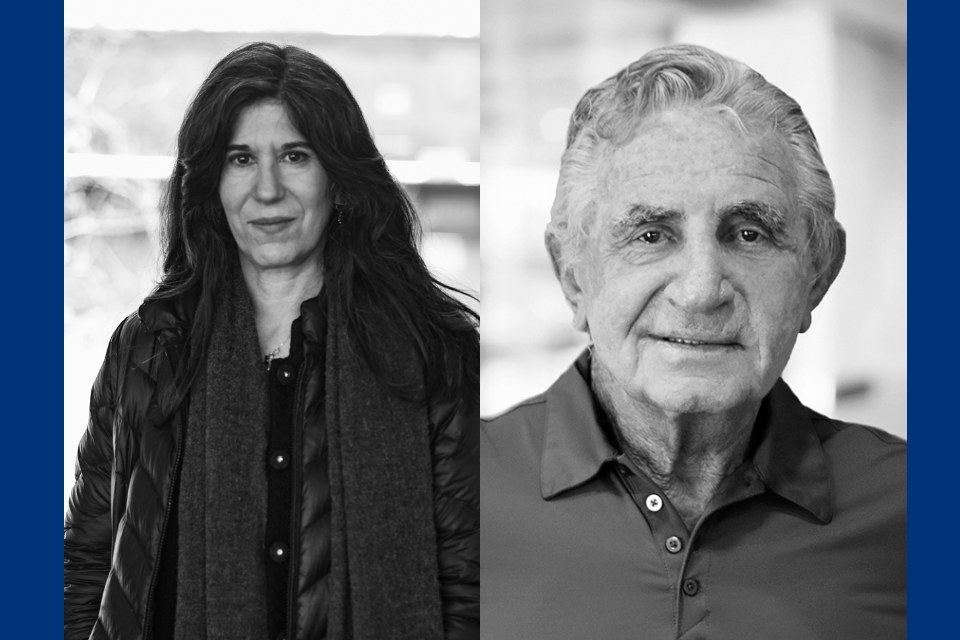 Two distinguished Brandeis alumni will receive 2019 Alumni Achievement Awards at Alumni Weekend May 31-June 2.
Director/screenwriter Debra Granik '85 crafts films that bring often-overlooked individuals, regions and societal issues to the forefront. Her 2010 film "Winter's Bone," which starred Jennifer Lawrence, told the tale of a young girl's hardscrabble life in the Missouri Ozarks. The film won a Grand Jury Prize in the dramatic feature film category and the Best Screenplay award at the Sundance Film Festival, and received four Academy Award nominations.
In 2014, Granik produced "Stray Dog," a portrait of a motorcycle-riding, freedom-loving Vietnam veteran, cast in the mode of an outlaw biker forever wrestling with the legacy of the Vietnam War. She resumed this narrative in 2018 with "Leave No Trace." The film follows a father and daughter who live off-the-grid; their journey represents a portrait of an American underclass.
A visionary real estate developer and founder of Turnberry Associates, Donald Soffer '54 built the city of Aventura, Florida, on 785 acres of what was once swamp and marshland.
Soffer, who attended Brandeis on a football scholarship, makes a point of giving back to his alma mater. He made a $15 million commitment to support the sciences at Brandeis in 2008. To recognize the gift, the largest ever from a Brandeis alumnus, the entrance hall in the Carl J. Shapiro Science Center was named the Donald Soffer '54 Atrium.
Two other alumni, Hortense Spillers, PhD'74, and Toshizo "Tom" Watanabe '73, received 2019 Alumni Achievement Awards earlier this year. View the full list of past recipients.