Brandeis Alumni, Family and Friends
Hortense J. Spillers, PhD'74, Receives Alumni Achievement Award
February 11, 2019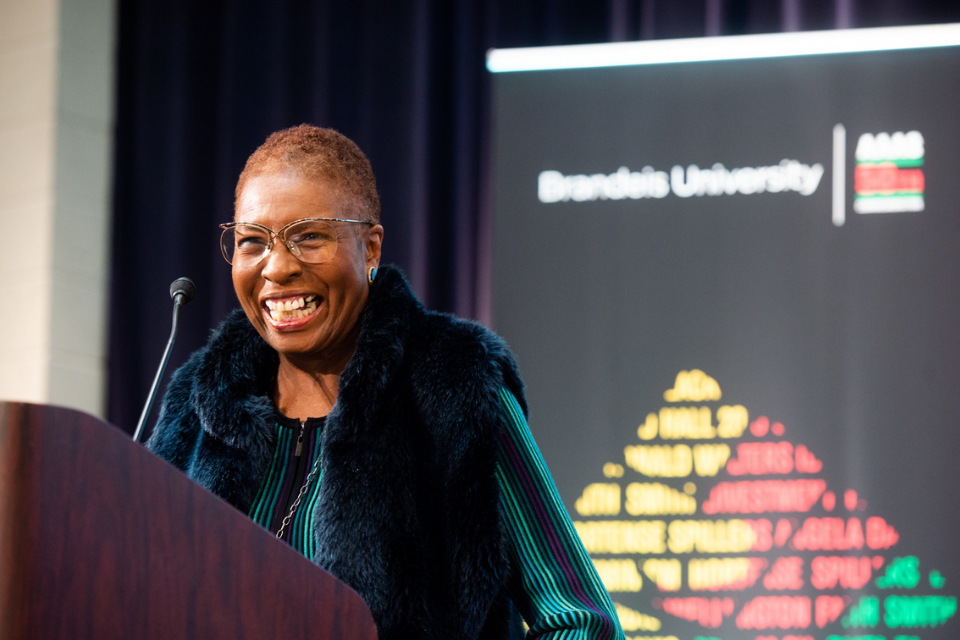 Photo Credit: Ashley McCabe
By Matt Parillo
Hortense J. Spillers, PhD'74, an American literary critic, black feminist scholar and the Gertrude Conaway Vanderbilt Professor of English at Vanderbilt University, has been honored with the Brandeis University Alumni Achievement Award. Provost Lisa Lynch presented the award at the conclusion of the African and African American Studies Department's 50th Anniversary commemoration held on campus February 8-9.
In presenting the award, Lynch praised Spillers as a "pioneering professor, feminist scholar and critic whose contributions have influenced the landscape of African American literary studies and advanced black feminist theory."
In her keynote address, Spillers reflected on her participation in the 1969 takeover of Ford Hall by students dissatisfied with the racial climate on campus. "I was among the occupants of Ford Hall," Spillers said. "I have always been happy I overcame what fear I had" in joining the 11-day occupation that ultimately led to the establishment of the Department of African and African American Studies.
Reflecting on the two-day celebration commemorating the 50th anniversary of AAAS, Spillers shared her enthusiasm for the progress that has been made at Brandeis in the field of black studies. "Fifty years later, it's really incredible that we have come this far," she said. "It's a tremendous surprise that we are here... and that the program kept going and is continuing to go. That's a genuine blessing and a wonderful thing to see." Spillers also urged the wider adoption of black studies in higher education moving forward. "Are we bound for the day when black studies are everybody's studies?" she asked.
Since receiving her PhD from Brandeis, Spillers has taught at Wellesley College, Haverford College, Emory University and Cornell University. A recipient of numerous honors and awards, she is widely regarded as a leader in her field. Her 1987 scholarly article "Mama's Baby, Papa's Maybe: An American Grammar Book" is one of the most-cited essays in African American literary studies. She lectures widely at home and abroad and delivered the 2010 Sidney Warhaft Distinguished Memorial Lecture at the University of Manitoba, the W.E.B. Du Bois Lectures at Harvard in 2014 and the Henry Louis Gates Jr. Lecture at Yale in 2016.
Spillers discussed her evolution as a scholar and what black feminist theory can teach us in the present moment in a recent article in BrandeisNOW.
First presented in 1988, the Alumni Achievement Award recognizes alumni who have made distinguished contributions to their professions or chosen fields of endeavor. Past winners include human rights and social justice activist Roy DeBerry '70, MA'78, PhD'79; Thomas Friedman '75, foreign affairs columnist for The New York Times; Deborah Bial '87, founder of the Posse Foundation college-access initiative; and Joel Schwartz, '69, PhD'80, a Harvard epidemiologist who played a major role in the phase-out of lead in gasoline.