Brandeis Alumni, Family and Friends
Tony Goldwyn '82 Receives 2018 Alumni Achievement Award, Discusses #MeToo Movement at Alumni Weekend
June 11, 2018
President Ron Liebowitz presented the 2018 Alumni Achievement Award to the actor, director, producer and activist Tony Goldwyn '82 during Alumni Weekend on Saturday, June 8. Best known for playing iconic roles in "Ghost" and "Scandal" (President Fitzgerald Grant III), Goldwyn was recognized for using his fame as a platform to advocate for a number of social justice and humanitarian causes.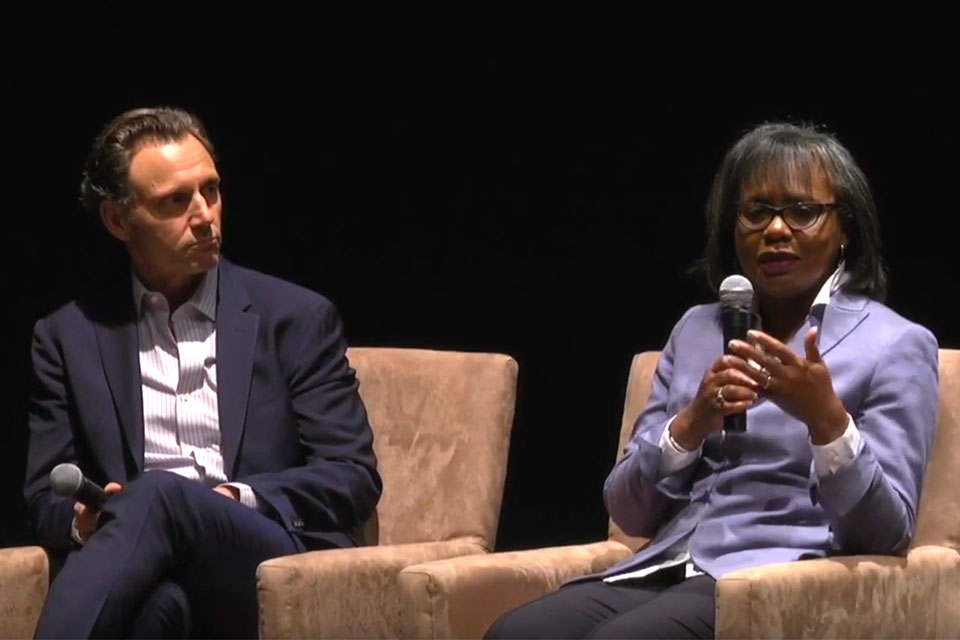 After Goldwyn was presented with the award, he and University Professor Anita Hill discussed activism in Hollywood and the #MeToo movement with Alice Kelikian, chair of the film, television and interactive media program.
Read the Boston Globe's coverage of their discussion.
Hill expressed her optimism about the future, especially based on the activism she has seen at Brandeis and on other campuses. "I don't know where it's going to head next," she said, "but I think we now have a group of young people who have come up through years of seeing this in places like their college campuses. And I think we might have another generation like we had in the 60s of young people continuing to be active and engaged and doing work around social justice."