Brandeis Alumni, Family and Friends
Filmmaker Debra Granik '85 Receives 2019 Alumni Achievement Award During Alumni Weekend
April 1, 2019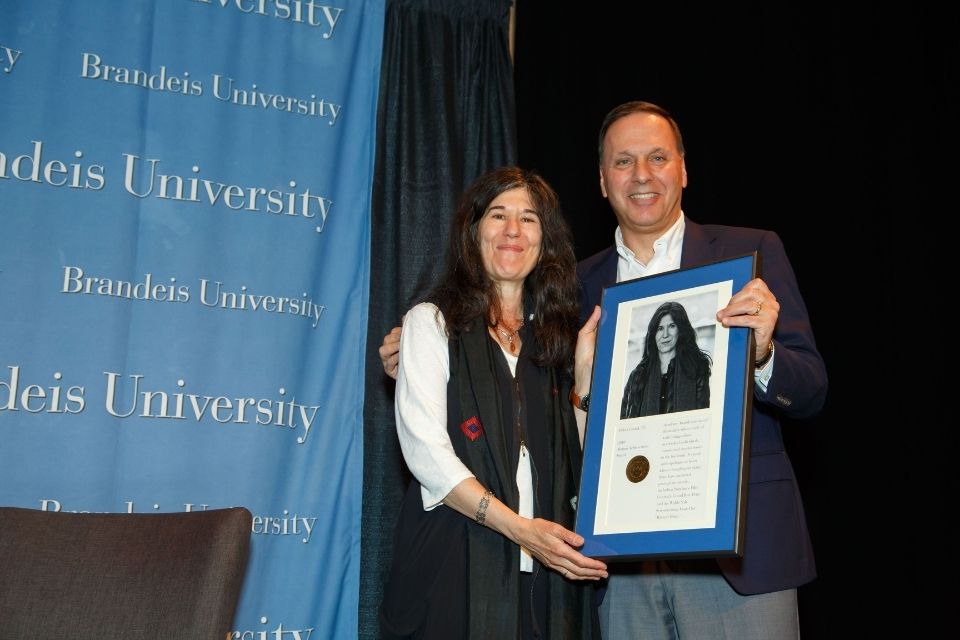 Photo Credit: Heratch Ekmekjian
At a special event during the second annual Brandeis Alumni Weekend, President Ron Liebowitz presented visionary filmmaker Debra Granik '89 with a 2019 Alumni Achievement Award.
Prior to presenting the award, President Liebowitz highlighted Granik's journey to becoming an influential and independent filmaker, from growing up in a Washington, D.C. suburb to studying politics and embracing activism at Brandeis. 
While at Brandeis, Granik protested against American involvement in Central America, advocated for women's rights and explored the relationship between filmmaking and activism by volunteering with the Women's Video Collective. 
Through her journey, Granik developed a strong sense of social justice that came to inform her filmmaking.
Perhaps best known for her Academy Award-nominated film Winter's Bone, which starred then-newcomer Jennifer Lawrence, Granik spoke with President Liebowitz about her practice of visual anthropology and how she uses her films to bring often overlooked issues, people and places to the forefront.
"It starts with a cultural exchange," said Granik. "It starts with, who in southern Missouri is going to volunteer and deal with a yankee? Who is going to deal with a city slicker, with an urban person in a rural environment? I think those questions go away when you find people that are willing to have a conversation with you."
She continued, "In terms of getting the details to come alive, once you're allowed to come with your quesions, to come with a desire to hear how they tell their story, then people will show you."
Hortense Spillers, PhD'74, and Toshizo "Tom" Watanabe '73 received 2019 Alumni Achievement Awards earlier this year. Real estate developer Donald Soffer '54 will be honored later this year. View all past recipients.
Watch the full conversation between Granik and President Liebowitz during Alumni Weekend below.