Brandeis Alumni, Family and Friends
Producer Michael Sugar '95 and Business Leader Paul Zlotoff '72 to Receive 2020 Alumni Achievement Awards
June 30, 2020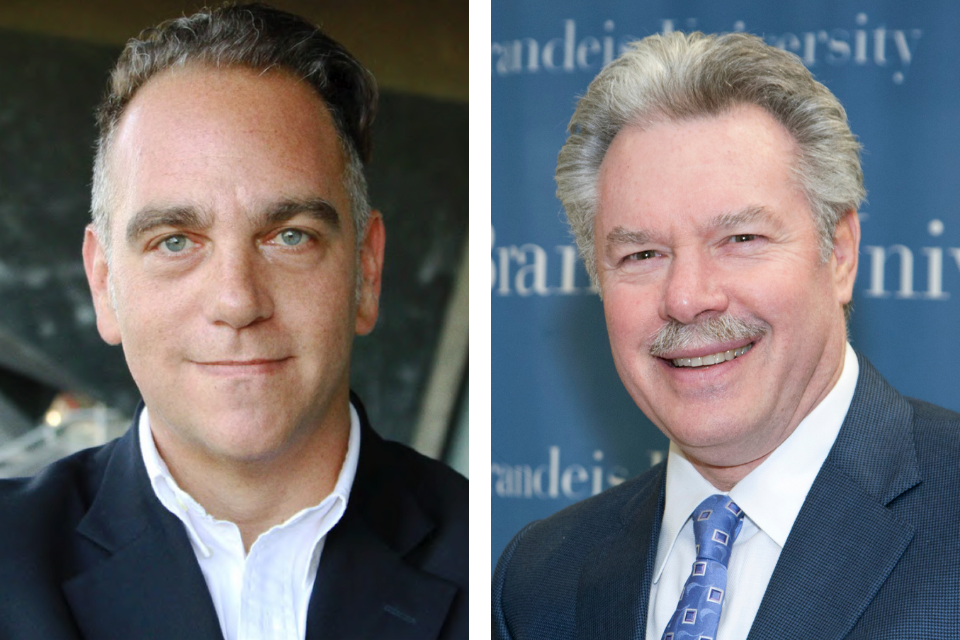 Brandeis University will honor two esteemed alumni with 2020 Alumni Achievement Awards: Academy Award-winning film and television producer Michael Sugar '95 and business leader and university benefactor Paul Zlotoff '72. One of Brandeis' highest honors, the Alumni Achievement Award, recognizes distinguished contributions to one's profession or chosen field of endeavor.  
"Brandeis is delighted to recognize these two outstanding alumni, one for his meaningful and lasting contributions to the world of arts and entertainment, the other for his innovation and leadership in the world of business," Brandeis President Ron Liebowitz said. 
Sugar, who won the Academy Award for Best Picture for "Spotlight" in 2016, also has earned a Peabody Award for the Cinemax series "The Knick" and critical acclaim for the Netflix series "13 Reasons Why" and "The OA." The valedictorian of his class, he gave the 1995 commencement graduate address. Sugar went on to law school at Georgetown, before following in the footsteps of his father, Larry, a film producer and distributor.
"When Michael Sugar was an undergraduate at Brandeis, he was given some advice by his film studies professor and mentor, Thomas Doherty, who told him: 'Don't just make films. Make good films,'" Liebowitz said. "Michael certainly took that advice to heart. We applaud his talented contributions to the large and small screens and this latest of his well-deserved awards."
A longtime partner in the production and management company Anonymous Content, Sugar has formed his own production company, Sugar23. As a manager, Sugar represents a robust list of clients that includes actors, writers, and directors.  
Recent credits include "The Report," starring Adam Driver, Annette Bening, and Jon Hamm, about the Senate investigation into the use of torture in interrogation by the CIA following 9/11, and "Worth," starring Michael Keaton, about Ken Feinberg, administrator of the 9/11 Victim Compensation Fund.
Zlotoff is chairman of Uniprop, a successful Michigan real estate development and investment firm. In the late seventies, Zlotoff identified manufactured housing as an attractive opportunity in the real estate market. He then led Uniprop in its diversification and growth strategy. Uniprop has acquired and developed assets in 14 states. Uniprop also launched a private equity firm that now owns nine operating companies in North America across a diverse set of industries. Most recently, the company developed M1 Concourse in Pontiac, Michigan, a unique motorsports facility. M1 Concourse hosts automotive collections in owners' private garages and national and international competitive motorsports events on its 1.5-mile performance track. The pinnacle of these events will be the American Festival of Speed to take place annually beginning October 2021.
"In addition to preparing successful professionals in the arts, law, sciences, and non-profit organizations, Brandeis is proud to have inspired alumni like Paul, who excel in business," Liebowitz said. "Paul is a visionary, an accomplished and proven leader in his field whose business acumen combined with his deep commitment to Brandeis, make him more than deserving of this award."  
Zlotoff has a lengthy record of serving the university in a variety of leadership capacities. After joining the Alumni Association board in the late nineties, he became the organization's president for two terms. Subsequently, he served as chair of the Board of Fellows twice. He was a long-standing member of the Board of Trustees and now serves on the Fellows Council, offering guidance and support to the Fellows' current chair and to the university.
Recognizing the importance of supporting Brandeis students, Zlotoff has contributed generously to many scholarship initiatives. In addition to significant contributions to the Brandeis Fund and general scholarship funds, Paul established the Fellows Scholarship Fund and the Davidson, Hermelin, Zlotoff Endowed Fellowship. 
The Alumni Achievement Awards traditionally are presented at Alumni Weekend, which this year was canceled due to the coronavirus pandemic. Plans are being made to present the 2020 awards at a later date.
Past recipients include pioneering neuroscientist Eve Marder '69, human rights and social justice activist Roy DeBerry '70, MA'78, PhD'79, actor Tony Goldwyn '82, and New York Times columnist Thomas Friedman '75.