Brandeis Alumni, Family and Friends
For Stroum Foundation Scholars, Brandeis Is a New World Close to Home
For 25 years, the Stroum Family Waltham Scholarship has made it possible for high-achieving Waltham High School graduates to attend Brandeis.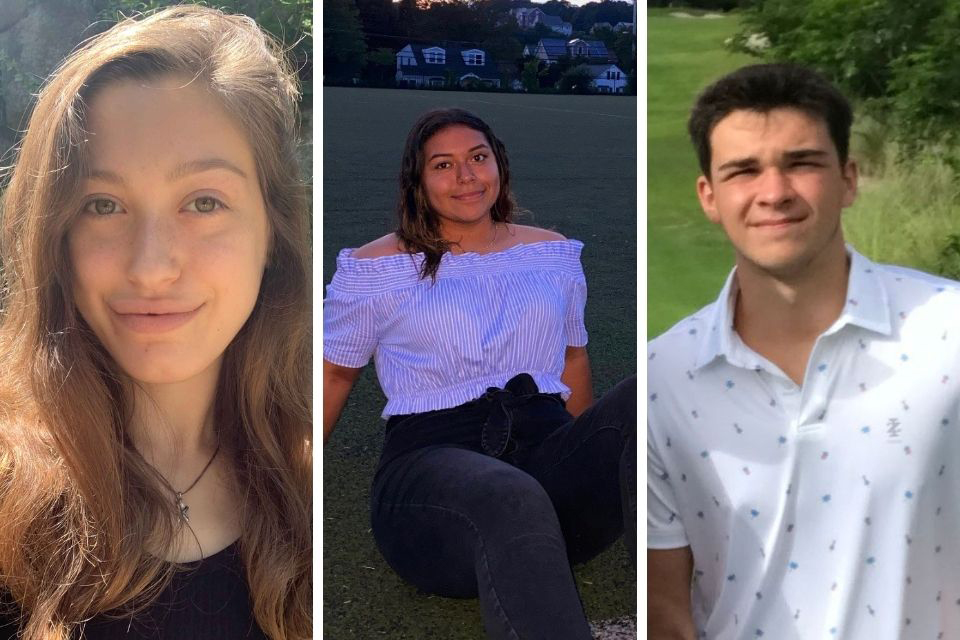 Isabel Savine '22 found a supportive home at Brandeis. A biology major, Savine is one of more than 100 Waltham residents in the last 15 years whose path to success was paved by a Stroum Family Waltham Scholarship. For Savine, the award opened the door to "one of the greatest experiences" of her life, she says, one she hopes will allow her to attend medical school.
Opening Doors to Opportunity
Launched in 1996, the Stroum Scholarship is given each spring to four outstanding graduating seniors from Waltham High School in Brandeis's hometown of Waltham, Massachusetts. This year's scholars, who are receiving full tuition to Brandeis, are Minerva Machado, Noelia Vega, Ryan Power and Justin Loc.
For Machado, the scholarship promises to "open doors that I need opened," she says. When the budding scientist visited the campus she felt comfortable and was reassured by the university's reputation for "hard-hitting" academics, Machado says.
A basketball player with strong academic interests, Ryan Power was on the honor roll every semester of high school. "Receiving this scholarship means everything to me," he says. "It allows me to go to school close to home and keep playing basketball while not accumulating insurmountable debt."
Noelia Vega has longed to attend Brandeis since her sophomore year in high school. As a Latina with a commitment to community service, she notes: "What better way to bring change than through my college experience?"
Like the other scholars, Justin Loc had gravitated toward Brandeis, particularly as his sister attended the university. Attending a Brandeis class in Japanese Film History underscored his ambition to attend. As he puts it, "Receiving this scholarship was the final and greatest reason for choosing Brandeis."
An Investment in Community
At last year's Stroum Family Foundation Scholarship ceremony Brandeis President Ron Liebowitz remarked that the University's partnership with and gratitude toward its home city datesback to the university's founding in 1948. Liebowitz added that the scholars' education has paved the way for community leaders and agents of positive change.
The scholarship is named for Samuel N. Stroum, a Waltham High School graduate and Seattle businessman and philanthropist. He created the award with his wife, Althea, as a way of giving back by providing tuition for top Waltham High School seniors who are accepted to Brandeis.