Brandeis Alumni, Family and Friends
Science Posse Scholars Hone Lab Skills, Help Shed Light on Cell Behavior, Repair DNA Mutations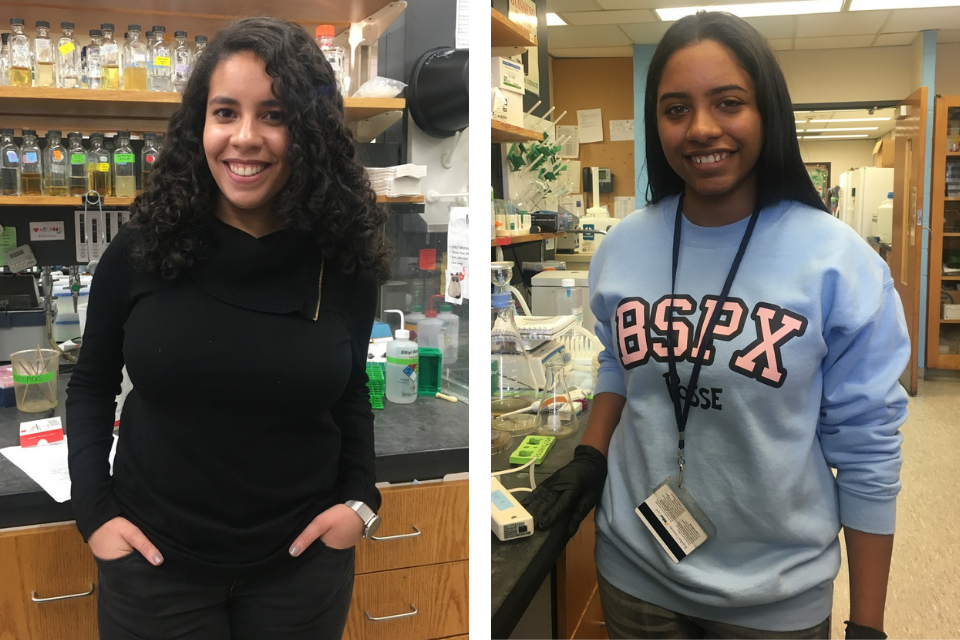 Budding scientists in the Science Posse Scholars program at Brandeis see the research experience they've gained as undergraduates as a springboard to medical school. 
Samia Tamazi '20 of Queens, N.Y., a research assistant in the lab of biology Professor Susan Lovett, is investigating the mechanisms that cells use to prevent and repair DNA mutations. 
The co-founder of the Minority Association for Pre-Med Students at Brandeis, Tamazi recently was honored for a presentation on her work that she delivered at a national conference, and looks forward to publishing her first paper. 
Rosa Gil '21 of the Bronx, N.Y., is a research assistant in the lab of biology Professor Bruce Goode, where her investigations into the regulation of yeast cell shape and growth contribute to our basic understanding of how cells divide asymmetrically. 
Gil spent a summer pursuing biomedical research at the Duke University School of Medicine. In the lab of Duke microbiologist David Tobin, she took part in research that sheds light on how our bodies protect themselves from bacterial infection, and may help improve treatment methods for tuberculosis. 
"I can say with confidence that research is something that I want to incorporate into my career," Gil says. 
Both Tamazi and Gil are Brandeis Science Posse Scholars. Each year, students from New York City and Atlanta are selected to receive four-year, full-tuition Posse Scholarships in one of the most competitive scholarship competitions in the country. 
Brandeis Posse is a merit-based scholarship program founded by Brandeis Trustee Deborah Bial '87, H'12. Posse Scholars are selected for their academic, leadership and communications skills. Twenty students are enrolled in the Posse program's two branches in liberal arts and in science. 
The Brandeis Science Posse was founded by University Professor Irv Epstein, and the program has been replicated at 10 other colleges and universities across the country.
Tamazi works in the Lovett Lab alongside mentor Deani Cooper, a lecturer in biology. The project involves researching DNA damage and repair in E. coli, a model organism for studying "how bacteria adapt to deleterious mutations," Tamazi says. Better understanding these cell mechanisms has implications in the fight against infectious disease. 
In November, Tamazi gave a presentation at the Annual Biomedical Research Conference for Minority Students in Anaheim, California, and was honored as one of the top presenters in the field of biochemistry and molecular biology. She showcased her work among thousands of students, physicians, and researchers of color. 
The conference "was a wonderful, inspiring, and empowering experience," she says. "Being around innovators and leaders in a plethora of different fields who are all willing to collaborate, teach, and network was an eye-opening opportunity that really solidified why I am pursuing medicine and doing research." 
Gil works in the Goode Lab alongside her mentor, PhD candidate Tom Rands, who explains their study of the regulation of certain proteins in yeast contributes to an understanding of basic cell biology and the movement of cancer cells. 
Developing skills as a researcher has been a learning experience, Gil says. "It makes it a lot easier when you're willing to think of yourself as a learner, so you shouldn't feel ashamed to ask questions," she says. 
She and Tamazi said they hope to go on to use their research experience in medical school. 
— Sophie Fulara 
---
The Brandeis Posse Program in science and the liberal arts is made possible by support from the Howard Hughes Medical Institute and the generosity of Brandeis alumni, parents and friends.
Published On: March 6, 2020