Brandeis Alumni, Family and Friends
A Residence Hall with Grandpa's Name On It?
An alumni family carries forward and expands a generous legacy of support.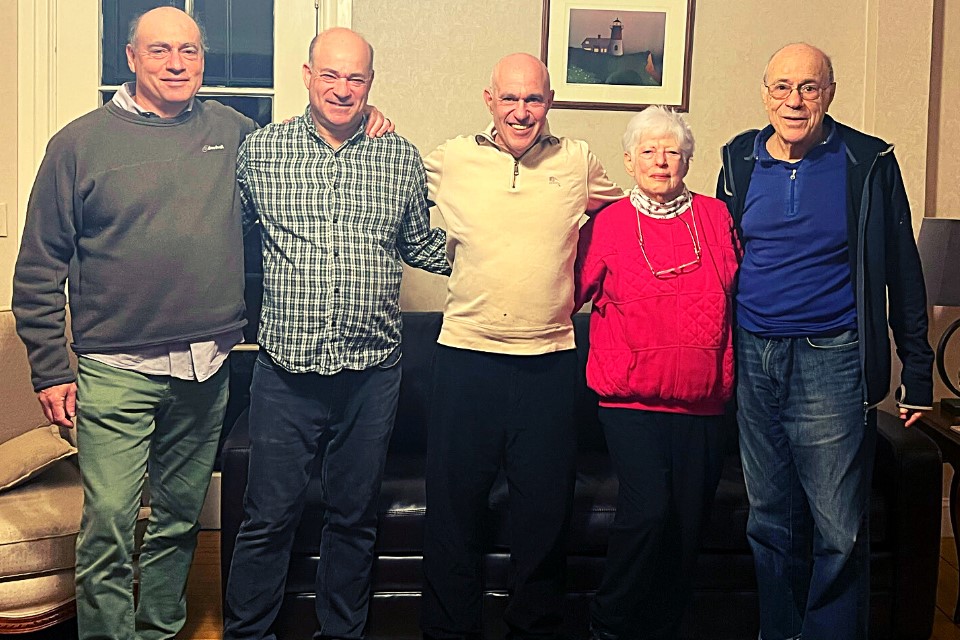 It's not often that students strolling through campus can say they personally know the people whose names are on the buildings, much less that a residence hall where they often hang out is named for their own family. 
In the case of brothers David Berkowitz '91, Alan Berkowitz, Heller MMHS'93, and Steven Bercu '85, however, that is one of many fond memories of their time at Brandeis, thanks mainly to their grandparents, William and Helen, for whom Mazer Hall, in the Ziv Quad, is named. 
William "Bill" Mazer, H'77, G'85, G'91, G'93, was a friend of Brandeis' first president, Abe Sachar, and a trustee from 1955 to 1970, and through extraordinary generosity as a donor, he made a permanent stamp on the university in numerous ways. 
Mazer and his wife Helen were active philanthropists, giving primarily to higher education, social services, and Jewish funds, including the Ackerman Institute, the America-Israel Cultural Foundation, and UJA Federation. He was president of Hudson Pulp and Paper, a company founded by his father, and led the Muscular Dystrophy Association for 10 years.
The Alumni Association recently spoke with the Mazers' daughter, Linda Berkowitz; her husband, Len; and their sons, Dave, Alan, and Steve, to learn more.
"My parents were devoted supporters of Brandeis," said Linda. "In 1987, they funded the Helen and William Mazer Hall and contributed more than $1 million to the Brandeis Fund. A few years before my father passed in 1998, he called a family meeting and pledged to set up the Helen and William Mazer Endowed Scholarship at Brandeis, also at a $1 million level. He wanted to be sure we fulfilled this commitment, and we have found great joy in doing this in his memory." 
After fulfilling William's generous pledge, the family has continued to support and expand the scholarship.
"Bill also discussed art and what pieces could be donated," said Len. "In a sense, this was very much carrying on the legacy of his wife, Helen, who had a keen eye for things aesthetic and artistic. They had a significant art collection and, in 1963, donated a large Roberto Matta painting to the Rose Museum."
"One nugget I remember about Bill," continued Len, "was that it was important for him to know if friends and acquaintances were charitable. They would get points for this, in his estimation."
Linda and Len's bond with Brandeis was further cemented by Bill's strong relationships with the university community. "Because of Bill's longtime involvement with Brandeis," Len explained, "we've attended many events honoring him and have met most of the university's presidents over the years."
Planting the Seeds of Learning

William Mazer's philanthropic spirit was sparked by his father, Abraham, who emigrated from Ukraine to the United States in 1893 at age 17. Starting out with no money or resources and peddling a pushcart in New York City, Abraham went on to establish the Hudson Pulp and Paper Corporation and supported educational, Jewish American, and Israeli causes. He passed on his academic advocacy and charitable spirit to his children, as evidenced by Bill's generosity to Brandeis.
Called to campus
When it came time for the Berkowitz sons to consider college, it wasn't family pressure that guided them there, but more a sense of how right Brandeis was for each of them as individuals.
"Brandeis chose me," said Dave '91. "The professors' commitment to teaching really resonated. The classes were intellectually challenging and made Brandeis a special place. I had Professor Schrecker for Asian history; Donald Hindley for political science; Alice Kelikian for sociology; and Donald Worster for American Studies. I learned so much from Professor Worster about the American West and continue to read books from the authors we studied in his classes. He gave me a syllabus for life."
"I was a transfer student," said Steve '85, "and I liked Brandeis' academic focus and culture of learning. I had a lot of memorable professors who were leading lights – Frank Manuel for history; Rudolph Binion for history of modern European thought; and Allen Grossman, who taught poetry and ended up being my advisor. He was quite a character."
For Alan, Heller MMHS'93, the path to Brandeis came later. "I'd been working in retail after college," he said, "and I wanted to do something more meaningful. I'd heard how incredible the Heller School was and the management program put me on a whole new trajectory.
"Professor Jon Chilingerian, who I had for health policy; Gerry Bush; and Andrew Hahn were tremendous. Heller really made an impact on me, and I've been working in the nonprofit world ever since."
Empowering students to learn
The brothers also value Brandeis' dedication to providing ample financial aid so that deserving students can experience Brandeis, regardless of their means.
"It's such a gift to be able to go to school and not leave with debt," said Dave. "Brandeis is a fair dealer and I've always appreciated that, so I have a Sachar Legacy Society planned gift in my will. It's just a great thing to be able to help kids attend."
"The Mazer Scholarship is a dream come true. It allows me to get an exceptional education. I am grateful to be able to pursue my studies at Brandeis." - Gabrielle Tucker '19, Helen and William Mazer Scholar
Len asked his sons what values they thought their grandfather William gave to the family.
"He had such a strong, life-long reverence for education," said Steve, "which, to me, is a characteristic Jewish thing and something nobody can take away from you. He made a real impact on me and the choices I've made, and I've tried to pass that along to my kids."
"Grandpa Bill is the reason I wanted to go into nonprofit work," said Dave. "And walking around campus, seeing not only a residence hall named after him but the buildings named after people we knew or whose stories he'd told us growing up, like the Hiatt Career Center and the Hassenfeld [residence halls]. And Larry Wien, who set up the Wien International Scholarship Program, which brings people to Brandeis from all over the world. It was powerful to witness the good that these people did and to see the evidence on campus. These buildings represented very direct and inspirational examples of philanthropy."
The many benefits of Brandeis
When we asked what advice they'd give to students, the family was equally reflective. 
"Invest in your relationships with professors and TAs," said Steve. "They're really important and can be enduring. Brandeis attracts interesting visitors and lecturers, so take advantage of that. When I was there [Nobel Prize-winning writer] Isaac Bashevis Singer came, and even at an advanced age he was so full of wisdom, humor, and spirit. There is tremendous value in studying the liberal arts, and Brandeis really stands for that."
"Whatever you're doing in college, participate," said Dave, "Make the most of it. It's a unique, special time."
"You'll have time to do more than study," said Len, "so get involved in some form of extracurricular activities. There are all kinds of clubs you can participate in."
William Mazer would surely have smiled at hearing his family praise the school to which he dedicated so much of his time, principles, and resources, and the university is indeed fortunate to be one the benefactors of his multi-generational ethos.
Consider creating a meaningful tribute by establishing a scholarship in your family's name or in honor of a loved one or beloved faculty member. Learn more.