Brandeis Alumni, Family and Friends
Malika Imhotep '15 Reflects on Black History Month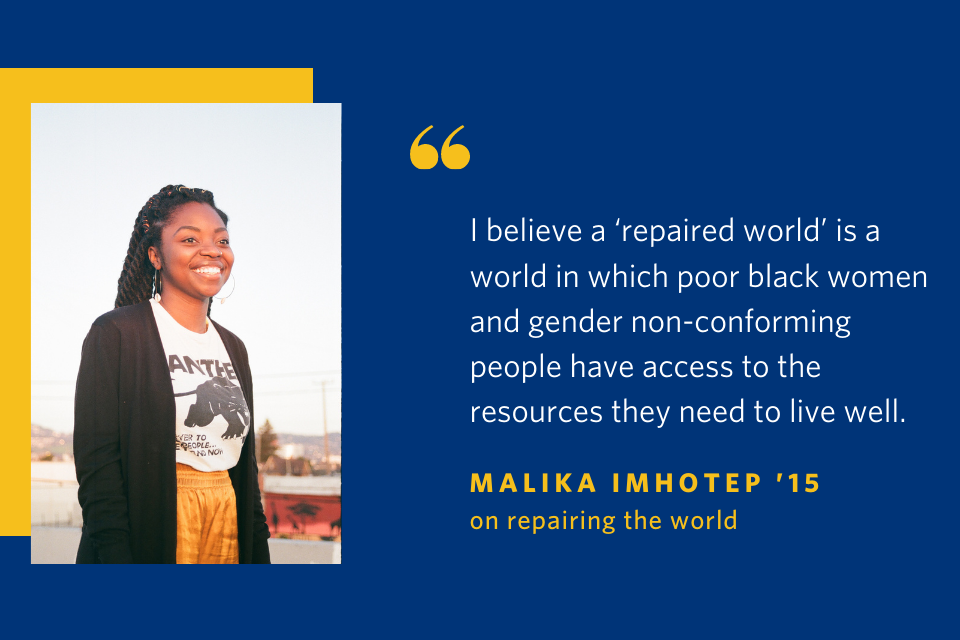 Malika Imhotep '15 grew up in a family of community organizer-artisans—her father a puppeteer and writer, her mother a doll maker and social worker—in a West Atlanta community she calls an "Afrocentric bubble."
A Posse Scholar at Brandeis, Imhotep is now a PhD candidate in African American Studies at UC Berkeley. She is a co-founder of the Church of Black Feminist Thought, which she describes as "an experimental study group where we come together to learn with and think with and honor the work of black women thinkers, artists, writers, dancers and scholars."
In honor of Black History Month, the Brandeis Alumni Association asked her about how the theme of "repairing the world," one of Brandeis' founding principles, has played out in her life.
Q&A With Malika Imhotep '15
In your life experience, have you set out to "repair the world?" If so, how?

Like most black feminist scholars, activists, writers and cultural workers, I think a lot about what role I should play in "repairing the world." I believe deeply that the current state of political and cultural affairs in both our country and broader global community have gaping wounds that need tending. I believe the medicine we've historically used to tend those wounds, consumerism and militarism, have numbed us and prolonged true healing. 
I believe a "repaired world" is a world in which poor black women and gender non-conforming people have access to the resources they need to live well. I believe that this vision of the world is the only vision that can bring us closer to harmony. And I know it won't be easy and cannot be done alone: a broken bone does not heal without pain.
As a steward of black studies at the intersections of art, activism and the academy, I work toward this vision by committing to an ethics of what alumna Hortense Spillers, PhD'74, termed "concernful care for other human beings" in everything I say and write and in every space I am privileged to organize.
How did your Brandeis experience shape your path?
Being a AAAS major at Brandeis gave me the language to connect the everyday work black women were doing to sustain ourselves as black students on a predominantly white campus to larger historical struggles for liberation. Specifically, the guidance of my peers and professors allowed me to understand the space for art and performance in creating radical shifts in campus culture. 
From 2012-2016 we had a guerilla black theater movement and these productions not only allowed for us to literally let our voices be heard, but also created space for repair at the level of the individual, the community and the campus as a whole. I'm thinking specifically of Iyvon Edebiri '13's production of George C. Wolfe's "The Colored Museum," my production of Ntozake Shange's "For Colored Girls," and Naya Stevens' production of Suzan Lori Parks' "The Death of the Last Black Man." These were all overtly political productions in both form and content, and while we put on these shows we were also staging marches and "die-ins" to honor to black folks who were being murdered by state and vigilante violence. 
I take these experiences with me into my work as a PhD candidate in African Diaspora Studies at UC Berkeley. While my academic work tends to the relationships between black femininity, southern vernacular culture and the performance of labor, my social or cultural work with the Church of Black Feminist Thought aims to create embodied and holisitically nourishing pathways to political education. I hope that by tending to the needs of my community, my work in some small but significant way helps to move the global community I belong to closer to repair.
What words of advice or encouragement would you offer a student at Brandeis today?

Get into the idea and practice of mutual aid. Tend to your community with an open heart and a wild imagination. It sounds cliché, but dream out loud. Many of the most radical, urgent and healing activities I took part in or inspired on campus grew out of moments of being together with friends and daring to share our ideas about what we needed to feel whole in Waltham. Being together is crucial, imagination is crucial, and so is being willing to do the work it takes to realize each other's dreams.
---
Read additional Black History Month reflections from Brandeis alumni.
Published On: February 4, 2020