Brandeis Alumni, Family and Friends
Bringing New Voices to American Theater, One Podcast at a Time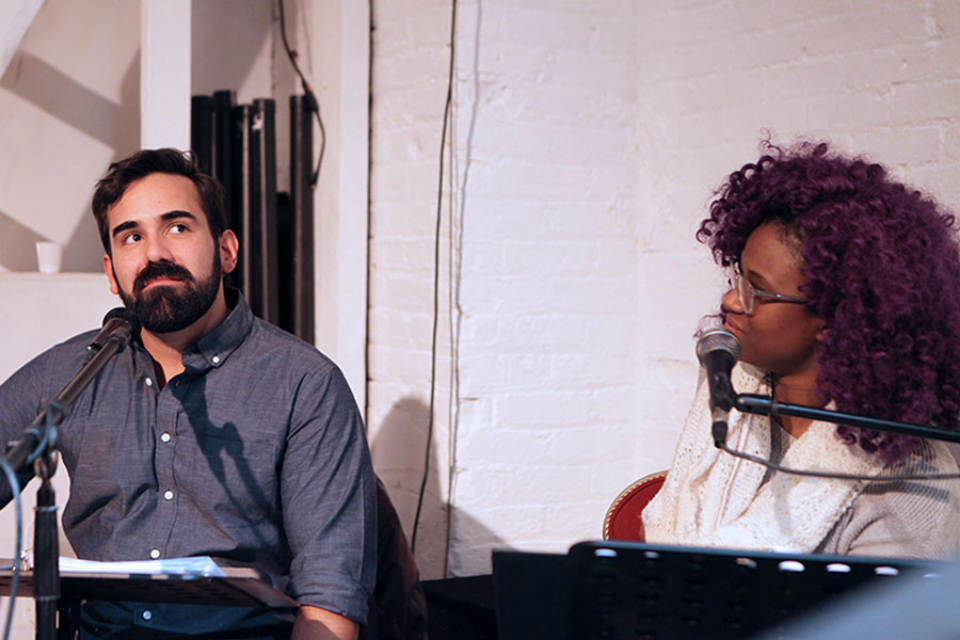 By Brian Klotz
Before you could watch Netflix on myriad screens in your home, and even before you could flip the channels on your TV, eager listeners would listen to stories of intrigue and romance on the radio. Now, Iyvon Edebiri '13, along with Brandeis classmates Todd Kirkland '13 and Jesse Manning '13, are bringing the classic era of audio entertainment back through their podcast, The Parsnip Ship, evoking spirits of the past to feature fresh, diverse new voices.
Each episode features a new play performed live for an intimate studio audience along with songs by carefully curated independent musicians, followed by an interview with the playwright. Launched in 2015, the podcast prides itself on featuring works from traditionally underrepresented populations, including people of color and those in the LGBTQ community.
"The Parsnip Ship hones in on what I personally think is lacking in American theater: an intersection of innovative voices and diverse bodies of work," says Edebiri, the show's host and artistic director. "I want to give the theater gatekeepers less of an excuse for not programming plays by diverse playwrights." In this way, the podcast serves a dual purpose: providing free and accessible entertainment while helping new voices reach the ears of those with the power to decide which creative works receive a larger stage.
To this end, Edebiri ensures that each play has something new to say, which is reflected in her opening question for every playwright to appear on the show: "What would the world be missing if it did not have this play?" It's the same question the selection committee asks itself of each submission they receive. "If we don't have an answer, that signals something to us," she says.
Edebiri's passion for the arts began at a young age. Born in Nigeria, she grew up in Brooklyn and attended the Fiorello H. LaGuardia High School of Music & Art and Performing Arts, where she studied classical vocal music. At Brandeis, she discovered her love of working behind the scenes on productions such as "The 25th Annual Putnam County Spelling Bee," which she assistant directed, and "The Colored Museum," which she directed. The latter, a play written by George C. Wolfe, stands out as a passion project for Edebiri, which she undertook specifically to increase the diversity and representation on Brandeis stages. She soon found producing to be her calling. "I love being the one to put all the pieces together," she says.
After graduating with majors in International and Global Studies and Italian Studies, along with a minor in Theater Arts, Edebiri received a Fulbright Scholarship to travel to Italy and study the country's perceptions of African immigrants. Her love for theater continued, however, and while there she served as assistant director and dramaturge for an Italian-language performance of "Sweeney Todd" and the national premiere of "Ragtime," which proved interesting because, as Edebiri notes, "'Ragtime' deals with race relations in ways that aren't the same in Italy as they are in the U.S."
After returning home to Brooklyn, Edebiri launched The Parsnip Ship with a former business partner. Now entering its fourth season, the podcast has gained the services of two of Edebiri's friends from Brandeis, both of whom have known her since their very first days on campus. After attending live tapings of the show, each became so enamored that they knew they wanted to be a part of it.
"I love the concept, hearing these normally underrepresented voices in theater come to life in such a unique way," says Todd Kirkland '13. A business operations manager at Google, Kirkland serves as managing director of the Parsnip Ship, using the skills he learned in the computer science and business programs at Brandeis to help with the technical and logistical side of running a podcast that is also a live theater production.
Jesse Manning '13 assists in this regard as well through his production company, Business Lunch Productions. "At the beginning, I would attend episodes and give advice from a technical perspective, and slowly but surely I got more involved," he says. "I love working with Iyvon. She fosters comfort for artists to do their best work and I have never met a creative collaborator who did not walk away thrilled after working with her."
Kirkland concurs. "Even when Iyvon is doing a million things, she does them all so well that you would never know it."
In addition to helming The Parsnip Ship, Edebiri is currently working with Pier 55, a public park being constructed within Hudson River Park, for which she is helping to plan future arts programming. "I love creating, curating and producing art that is accessible to the public," she says.
While The Parsnip Ship's audience is growing, Edebiri intends to keep the podcast firmly rooted in the thriving arts scene of the borough she calls home. "I'm a Brooklyn girl," she declares. The series recently became a fiscally sponsored organization of the Brooklyn Arts Council.
With an unrelenting passion for helping connect diverse, up-and-coming creators with a broader audience, Edebiri isn't looking to drop anchor any time soon. "Knowing that I'm helping artists who deserve more recognition put their best work out there is a great feeling," she says.
---
To learn more about The Parsnip Ship, including where you can download episodes or subscribe, how to attend a taping and how to sign up to receive updates, visit The Parsnip Ship's website.
Published On: September 24, 2018