Brandeis Alumni, Family and Friends
Serving the Most Vulnerable Populations: Dr. Ria Roberts '10
To commemorate Black History Month amidst a global pandemic, the Brandeis Alumni Association spoke to Black alumni who are making a difference in the fields of healthcare and health policy.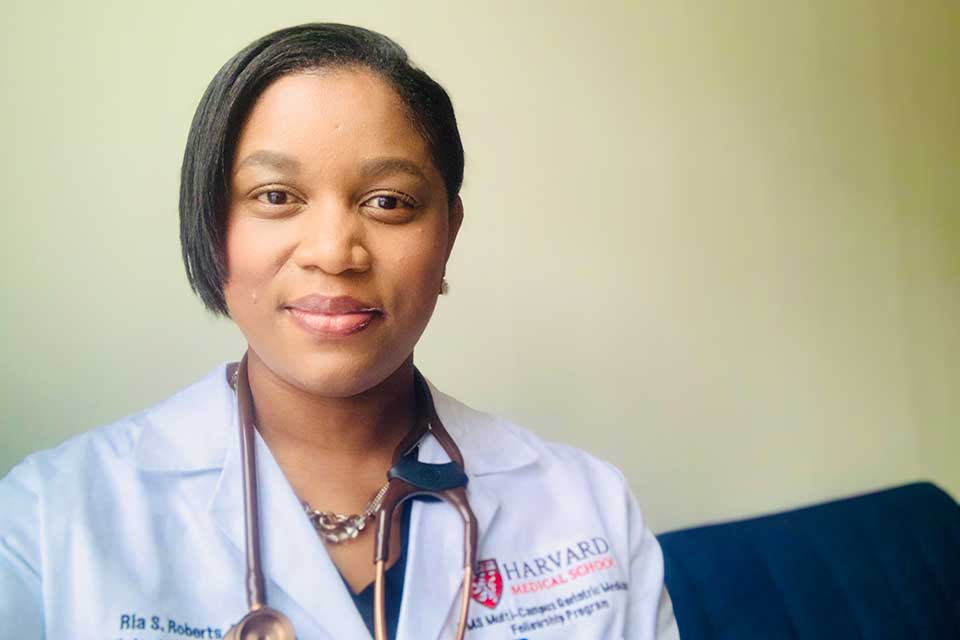 Dr. Ria Roberts '10, is a clinical geriatric fellow at Harvard Medical School. She specializes in the care of older adults, with a focus on neurocognitive disorders and dementia, mobility issues, and end-of-life care. She received her medical degree from the George Washington University and did her residency in internal medicine at Yale. 
As a young girl living on the Caribbean island of St. Vincent and the Grenadines, Roberts says, she dreamed of being a doctor. She came to the United States with her parents and two sisters when she was 16. At Brandeis, where she majored in biology, she was the inaugural recipient of the Minority Alumni Network Diversity Scholarship, and served as a one-on-one mentor to other students who had overcome barriers to attend the university. Her interest in mentoring continues at Harvard, through the Biomedical Science Careers Program where she advises students interested in careers in medicine/healthcare. 
She was invited by the Brandeis Alumni Association to reflect on her calling, on her efforts to address racial disparities in healthcare, and on the part her family and his Brandeis experience played in shaping her professional path.
---
I am a Yale-trained, board-certified internist who is currently a clinical geriatric fellow at Harvard Medical School. I absolutely love my job. My inspiration is rooted in the opportunity to serve our most vulnerable population who have paved the way for all of us.
Racial disparities in medicine and healthcare must be recognized and named. Addressing these disparities starts by electing officials who are strong proponents of anti-racism efforts and understand the importance of increasing access to quality care. Undergraduate and medical school presidents and deans need to develop effective pipeline programs to increase and retain Black, Latino and Native American students in medicine and other health sciences.
"Special attention needs to be placed on recruiting more minority physicians and faculty members to serve as role models for future generations."
Racism has been shown to have lethal consequences. Contributing factors include lower socioeconomic status, inequitable access to healthcare, fewer educational opportunities and bias in the judicial and criminal justice system. Racism, in addition to these factors, can increase blood pressure and stress levels, resulting in higher morbidity and poorer health outcomes.
My family means the world to me. My parents, Lorenzo and Alana, and two elder sisters, Odinga and Keri-ann, are my biggest cheerleaders. My mother, a certified nursing aide at a nursing home in Brooklyn, was particularly influential in my career path selection. She introduced me to the world of geriatric medicine and instilled an excellent work ethic at an early age. Because of her, I have the greatest appreciation for all of the wonderful opportunities I have been afforded.
My Brandeis preparation was invaluable. Exceptional professors provided the educational foundation needed for success. Supportive classmates perfected my study habits, and my active involvement in various clubs and organizations instilled leadership and networking skills.
I was an inaugural member of the student leadership board of the Student Support Services Program, which serves first-generation and disadvantaged students at Brandeis. My participation in this program continues to this day. Recently I organized a virtual three-day workshop offering tips on cultivating a successful career in medicine. Students were introduced to minority physicians, pharmacists, engineers, researchers and physician's assistants who were willing to serve as mentors. Hearing how transformative the workshop was for so many students was most rewarding. Giving back never felt so good.