Brandeis Alumni, Family and Friends
Theater Alumni On the Bumpy Road to Success
John-Andrew Morrison '95, a featured performer in the Tony-winning musical "A Strange Loop", and Rachel Peters '99,composer for the stage, discuss finding your tribe, staying persistent and dreaming beyond Spingold.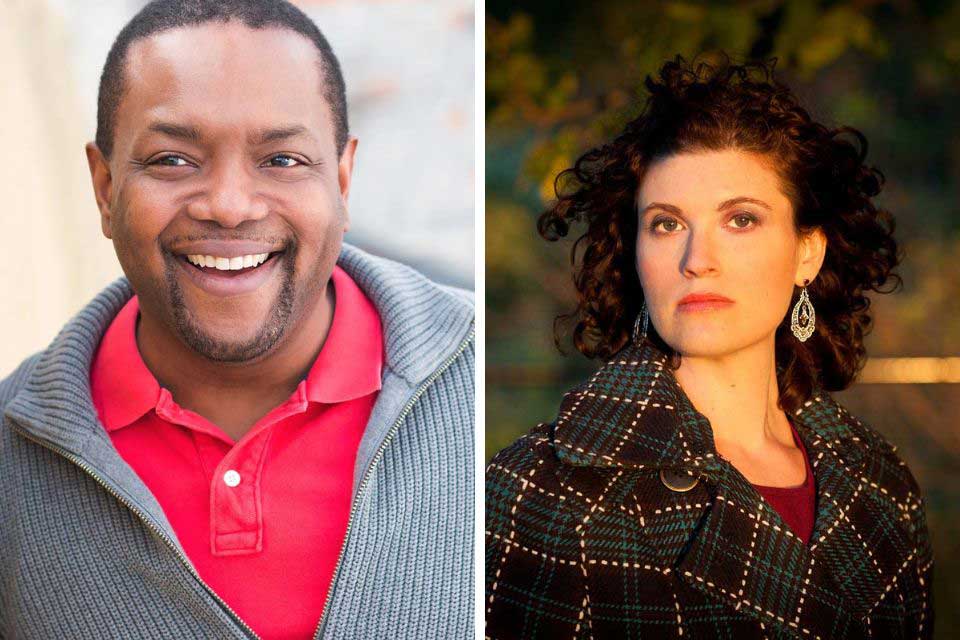 Photo Credit: Left: L. Morgan Lee, Right: Courtesy of Rachel Peters
Performer John-Andrew Morrison '95, who majored in theater at Brandeis, and composer/librettist Rachel Peters '99, who double majored in theater and music at Brandeis, took time out of their busy schedules to share the story of how they met. Plus, Peters shares how she connected Morrison to Michael R. Jackson, the creator and writer of the musical "A Strange Loop," which won both the Pulitzer Prize and the Tony Award for Best Musical.
Peters: While I was getting my theater degree at Brandeis, I had heard of the legend of John-Andrew Morrison, but we did not overlap at Brandeis. It was later when Michael R. Jackson and I were doing our musical graduate thesis together at NYU that we connected with John-Andrew. We were looking to cast our musical. I heard John-Andrew was performing, so Jackson and I went to see him. After the show I chased John-Andrew down in the subway, told him I was an alumna of Brandeis and that Michael and I had been awarded a grant to work on our musical, "Only Children," which is a retelling of "Spring Awakening" at The Mall of America. We knew John-Andrew would be perfect in this role. We got him to do the reading, and then things evolved from there.
Morrison: "A Strange Loop" took years to develop. I was doing cabaret shows for both Rachel and Michael in those years around 2007. Michael wrote a song called "Periodically," which was based upon voicemails from his mom. We worked for years doing cabarets at Joe's Pub, Cornelia Street, The Bruno Walter Auditorium at Lincoln Center and so on. Musical Theater Factory was being born at the time and we worked on material there. I would always sing "Periodically" on and off for about five years. A major turning point came when we got two nights at [New York City cabaret] 54 Below. Both shows sold out and Playwrights Horizons gave us a reading. It became clear that it would be at Playwrights.
It is a real testament to hanging in there and sticking with what you believe in. Rachel you are working on several projects currently. What advice do you have for students about what you are doing along the way as you meet these milestones to get things produced and perhaps get a break? The in-between times can be hard.
Peters: Those times are hard. My best advice to students is to find what excites you the most and to find your people, because those are the two things that will sustain you when nothing else can. At Brandeis, I took Susan Dibble's choreography class, which introduced me to the music of Meredith Monk and Laurie Anderson. I don't do what they do, but it was pivotal to me. It was a lightning-rod moment where I said, "Oh my God, this is a thing you can do?" That was the stuff that fed me. And when people would say to me, "Oh, you can't do this or that as a female composer," I could say, "No." This is what excites me. That's the seed. And then find what excites you about other people's work. Seek them out. Get in on the ground floor of something interesting.
Morrison: The 'find your tribe' thing is so important. You know we support each other in other ways. Rachel gave me her job at one point – it was a sustenance kind of job with transcription, but I really needed the money, and it helped me get to the next thing. Our tribe and our community will not only sustain you artistically, but also with leads to sustenance jobs and so on. I've worked through the years with other Brandeis alumni and so many have come out of the woodwork to say congratulations [on John-Andrew's TONY nomination]. We all dreamed of this at Spingold. It is so great for them to contact me and say "Congratulations!"
Peters: The gestation period for musicals takes a long time.
Morrison: Development of shows takes forever.
Peters: Patience is a virtue.
Morrison: Students need to know that the good projects take forever to be made. It can take 7-10 years.
Peters: There are many forces externally that will tell you that you can't do what you do, but when you have strength in numbers with like-minded people – even two or three – that can mean a world of difference. You need people in your corner that have your back. It is so important.
Morrison: To your point Rachel about finding your people, there were many people over the years who worked with Michael and felt the material was too much, too radical, but I always felt it was the most honest work I'd ever seen. This is telling the truth, so I and several others always stayed with him. We said, "Whatever you are writing, I am gonna sing." We were his tribe as outrageous or whatever it might be, we were his tribe. We provided him with the encouragement he needed to keep going. We support each other's work and each other's voices when we are trying to say the challenging things that we want to say.
Peters: It's important to work with people you know and trust. People who can leave their ego at the door and focus on the work.
Saying no is perhaps as important as saying yes.
Morrison: Turning things down is equally important. You can feel that you have to say yes sometimes to have a career. You will be faced with projects you don't want to do. You may take a harder road, but you don't have to say yes to everything. This work we do is physical, emotional, spiritual and mental, and if you are doing things you hate, it is so damaging. You have to say yes to things that fulfill you and that you can be in service to. If you say yes to everything, you will burn out so fast. That was a hard, hard lesson for me to learn. The artist that I am, I bring all of myself to it and if you work with people who aren't seeing your worth, it is damaging.
"A Strange Loop" had a long road, but it was worth it.
Morrison: The bodies are big, black and queer, but because it's specific and honest, so many white women and Asian women relate, saying "Hey, that's my story!" Michael wrote his truth in a way that challenges people.
Peters: This brings us back to "What are you trying to say?" Go for that thing that may be uncomfortable. Speak the truth. Say it. That's the thing that will resonate.
Stay connected with your tribe. Join the Arts Alumni Network. 
About the Author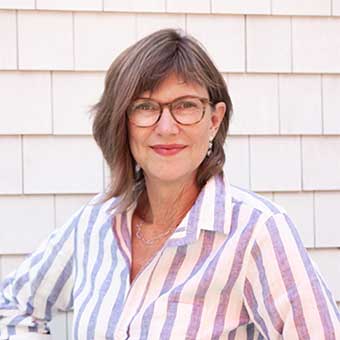 Eileen Phelan oversees Communication and Engagement for the Department of Theater Arts at Brandeis.