Brandeis Alumni, Family and Friends
A Serendipitous Path to the Grammys for Daniel Levine '94
Daniel C. Levine '94 never imagined being on Broadway. Now, with a Grammy nomination for Best Musical Theater Album, he reflects on an already remarkable career.
Daniel C. Levine '94 graduated from Brandeis a theater arts major on a pre-med track. Thinking he might become a dentist, he hoped he would have free time to pursue community theater as a hobby. Upon graduating, he attended Tufts University School of Dental Medicine but, after attending an open casting call at the Colonial Theater in Boston, he was cast in the Broadway national tour of "Les Miserables" in 1996, which changed the trajectory of his entire life. It was the first stepping stone in what would be an incredibly successful Broadway career, not only on stage but as a creator, producer and director as well.
The Alumni Association spoke with Levine ahead of the 2022 Grammys, and he shared his proudest accomplishments – including writing his own productions, opening his own Equity (union) theater and, most recently, his Grammy nomination – and how the positive impact of his time at Brandeis helped guide him along the way.
You and your siblings, Andrew '98 and Alison '02, all attended Brandeis. What factors contributed to your decision to attend the university?
I did not apply to any other schools – I was set on attending Brandeis. Being from the area, I was very familiar with it and, because of my experience, my younger siblings chose to go there, too. Plus, Andy met his wife, Jordana Grand Levine '96, at Brandeis, so it has become a bit of a family affair, which we're all very proud of. We loved our years at Brandeis. 
You have starred in countless productions, you were nominated for Best Actor in a Musical by the League of American Theaters and Producers for your role in the 2001 national tour of "The Who's Tommy" and now you have a Grammy nomination. How have you grown as an actor from your first show to these exciting nominations?
I learned a lot by standing "in the wings" and observing everything around me. You're taught so much about the craft of theater at a school like Brandeis but, until you actually do it, there is so much you have to figure out quickly. I soaked up everything I could when I was performing in "Les Miserables" and did the same at my next Broadway show, "Chicago." I also immersed myself in acting and producing classes. I'm always the student, and that's something that Brandeis prepared me for. It's about constantly observing, practicing, growing and working with people who are more experienced than you.
Beyond acting, you are also the creator, producer and director of "Broadway Backstage!" and "Born To Dance!" Between these projects and starting your own production company, you have taken on a more directorial role. What inspired you to move from acting to a more behind-the-scenes approach?
I had a terrific career working as an actor on Broadway but, when I was around 40, I realized I didn't love it as much as I had in my early career. It's a very competitive and oftentimes cutthroat career that sometimes you have no control over. I think that I just wanted to create my own path and not rely on casting directors to dictate when and where my next gig would be, so I decided to make my own opportunities and write my own productions. 
I had the idea for "Born to Dance," a musical that honors the Broadway dancer — in my opinion, the unsung heroes of Broadway — when I was hired to create original musicals for Princess Cruise Lines. It was my first time managing something with that big of a budget. It was my friend Stephen Schwartz, composer of "Wicked," who first brought the idea to me. It was so intense that I like to say that I got my master's degree in theater from my work with Stephen. Learning by doing has really been a theme in my life. 
Looking to connect with fellow alumni in the arts? Learn more about the Arts Alumni Network. 
In 2018, you co-founded ACT of CT (A Contemporary Theater of Connecticut), which has already gained a lot of national attention. Can you talk about how this came to be and your work as its artistic director?
I had bought a weekend house in Ridgefield, Connecticut, and it eventually turned into a forever home, largely because I found that there was a thriving artistic community there. I served as Artistic Advisor at the Ridgefield Playhouse, where I would facilitate bringing Broadway performers to the venue. There was a real following for it and that is when I got the idea to start up my own theater. 
My husband Bryan Perri, my friend Katie Diamond and I worked with our town and were given a lease to a building that was in disrepair. We had to raise two million dollars to make it a state-of-the-art theater. One year to the day that we signed the lease, we opened the theater with "Mamma Mia" and the theater is still going strong.
Congratulations on your Grammy nomination for Best Musical Theater Album! What was the inspiration behind this show and what has this experience been like for you?
At ACT of CT, we generally present four mainstage musicals per season. "Snapshots," written by Stephen Schwartz, was meant to be part of our 2020 season. When COVID-19 first hit, every theater across the country closed down. ACT of CT was only in our third season then and I felt that, if we didn't continue to produce content and engage our growing audiences, we may not be able to ever reopen. I decided to create a film version of "Snapshots" as opposed to a live theater version that we could live stream to our ticket holders. 
This was my first experience directing a film without really knowing much about what I was doing. As I said earlier, that's sort of how my life and my career has gone — I figure it out as I'm doing it. While in rehearsals for the film, I realized that "Snapshots" is one of Stephen's only musicals that has never had a cast album recorded. We created a makeshift, COVID-safe recording studio at ACT, spent two days recording the cast album and went right back to shooting the movie.
We were among many other artists in the running for a Grammy nomination, but our "Snapshots" cast album was nominated! It is sort of unheard of for a theater of our youth and size to get nominated for a Grammy Award, and it's unbelievably exciting. Audiences loved the film so much that Broadway HD released it worldwide in 2021, so anyone can watch it.
Is there anything else about the trajectory of your career that you would like to share?
In terms of ACT of CT, I was not interested in simply opening up a theater to repurpose and recycle musicals that people already know. It's certainly important for a theater to be able to provide that kind of entertainment, but I really wanted to think outside of the box for our programming.
Stephen Schwartz also wrote a musical in the 1970s called "Working," based on a book by Studs Terkel, who interviewed American workers. Two years ago, I asked Stephen if I could localize the show to reflect everyday workers I come in contact with here in Connecticut, and he generously allowed me to re-conceive the show, which I then directed at ACT of CT. It was a big hit for our theater.
Following our production, Music Theater International, the licensing agent for "Working," asked me to create a template script so that other theaters could produce their own localized version of this poignant show. I did, and now "Working: The Localized Version" is a licensable version of the show and is being produced all across the country. So, it's not just about producing and presenting shows at ACT of CT, it's about creating a new life for them and doing the work without expecting any results, which is a lesson I learned both in New York City and at Brandeis.
Broadway aside, you are also devoted to helping kids and your community in wonderfully thoughtful and creative ways. Can you talk about this important work?
Because of my math and science background from my time at Brandeis, I started tutoring Manhattan high school students as a side gig when I first moved to NYC. As my roster of students grew, in 1998 I created a small boutique tutoring agency called Big Apple Tutoring, which is now a very large tutoring agency in the city. I handpick every tutor, making sure they meet my stringent academic standards and share my passion for teaching and education. The success of the company over the years has allowed me to continue to pursue my career as a producer and director.
It's also important for me to give back to other organizations that support mine. I created a sensory-friendly series at ACT, in which one performance of every mainstage production is dedicated to patrons with sensory sensitivities. I adjust jarring light and sound cues and adjust other production elements which might be triggering for this audience. This is followed by a Q&A where audience members can meet the cast.
I feel a lot of support from the Fairfield County community and I want to reciprocate that support by volunteering my time and talents. I feel lucky to live in a town where the arts are considered vital to a thriving community.
Catch the 64th Annual Grammy Awards on Sunday, April 3, at 8 p.m. ET on CBS and Paramount+.
About the Author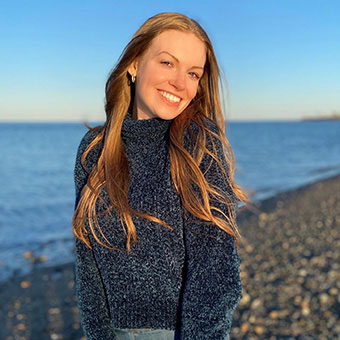 Abby Frisoli is the communications coordinator on the advancement communications team at Brandeis. Prior to Brandeis, Abby graduated with her master's in strategic communication and public relations from Sacred Heart University, where she wrote various stories and press releases as a graduate assistant for the central communications office. During her undergraduate studies, she wrote for Sacred Heart's campus newspaper The Spectrum.