Brandeis Alumni, Family and Friends
What Soffer Scholars and Donald Soffer '54 Have in Common: Dreaming Big
On a November visit to campus, the Miami real estate giant met with his current student scholar and addressed Brandeis International Business School students about "dreaming the impossible dream."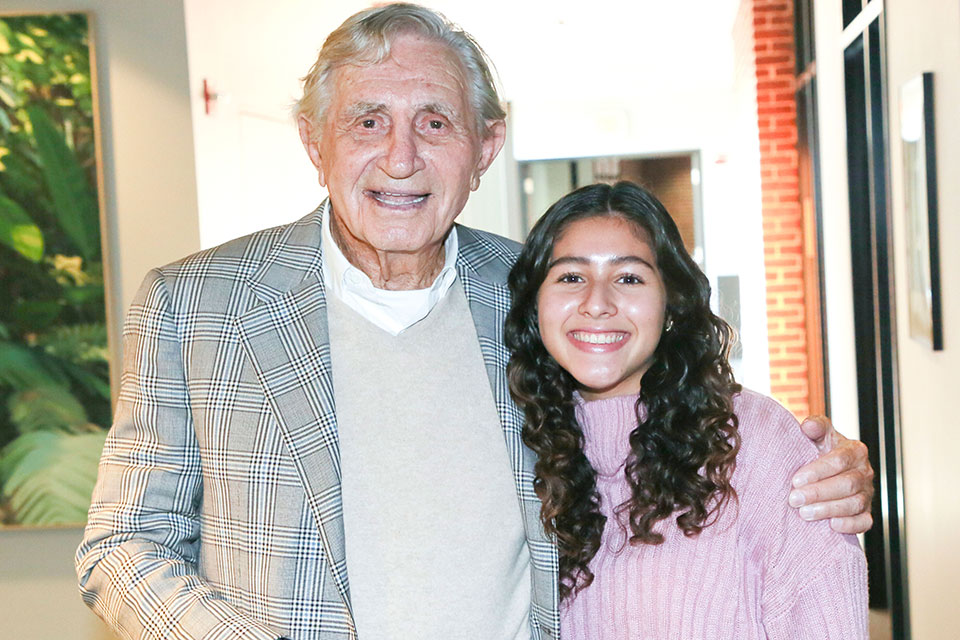 The daughter of a single mother who immigrated from Colombia, Lorena Castano '23 expected to attend community college in Miami after graduating from high school. But her plans changed when she was accepted to Brandeis on a full scholarship endowed by real estate titan Donald Soffer '54. 
Castano, who is majoring in international and global studies and plans to pursue a business career, hopes that one day she'll be as successful as Soffer, who in 1965 at just 28 years old built the largest indoor mall in the world, in Pittsburgh. Now based in Miami, Soffer is a developer and visionary who looked at expanses of swamp and former dump sites and saw high-end malls and condominiums. A longtime supporter of his alma mater, he has pledged $15 million to Brandeis, the largest single donor gift from an alumnus in the university's history. 
Unlocking a Better Future 
In November, Castano — one of nine Soffer scholarship recipients since 2003 — and Soffer met when he visited campus. She was thrilled "to see and personally thank such an accomplished man," she said. "I told him how grateful I am for his generosity because I come from a low-income family, and I am at Brandeis because of him." Castano counts Soffer and her mother among her role models. "My mom, who raised me, was a businesswoman in Colombia, but came to the U.S. undocumented and unable to work," said Castano. Determined to provide opportunities for her daughters, Castano's mother passed her real estate broker exam and got her citizenship last year. 
Brandeis appealed to Castano not only for its egalitarian values, but for its diversity, which was important to her. "Miami has a lot of Hispanic people but here we have people from all over the world," said Castano, who lived on campus during the pandemic and worked as a COVID monitor at the Brandeis Library. 
Rebecah Kennedy '22 is another Soffer Scholar with big aspirations. "The scholarship helped me pursue my dream of higher education," said the business major, a first-generation student who plans to forge a career in real estate. Kennedy, who grew up in South Florida, is the daughter of a Jamaican immigrant father who never finished public school, and a mother with an associate's degree. "They both valued my education growing up," said Kennedy. "There wasn't a lot of disposable income to fund my college expenses. This scholarship has helped me grow and learn more about what I am passionate about and provide a better future for me and my family."
Furthering a Family Legacy
Soffer, a recipient of the 2019 Brandeis Alumni Achievement Award, was born in Duquesne, Pennsylvania, and attended Brandeis on a football scholarship, earning a degree in economics. After turning down an offer to play for the San Francisco 49ers, Soffer hit the field running as a real estate developer, like his father. In 1969 he purchased 785 acres of submerged South Florida swamp and built what is now the town of Aventura, its high school named for Soffer. Developed over 40 years, the town has a population hovering around 37,500 and boasts one of the nation's most profitable upscale shopping malls. 
During their one-day visit to campus, Soffer and his family had lunch with International Business School students, toured the Science Center facilities and met with faculty there. After meeting with President Ron Liebowitz and others, he delivered a lecture in Philippe Wells' Entrepreneurship and Innovation class, titled "How to Develop the Impossible Dream."  
"Don talked about his process of developing Aventura," said Wells. "Personally, my nugget of wisdom from the lecture was how he redeveloped a failing mall by adding a two-story parking facility so visitors could more easily access both levels of the mall. The other salient point was how he drew up his plan for the Aventura development on a cocktail napkin, and that was pretty much the plan they followed when the site was ultimately built out."
Soffer's gift in support of The Campaign for Brandeis's science initiative helped make possible the completion of the 175,000-square-foot Shapiro Science Center, which opened its doors in 2010. His donation also supports endowed fellowships in the sciences. 
Success Through Education, Hard Work and Vision 
Soffer said he was very happy to be back on campus and called the November visit "a learning experience" for him as well as the students, whom he found to be "happy and engaged." Being back at his alma mater underscored his appreciation for the impact his Brandeis education has had on his life, his career and his legacy, Soffer said.
Over the years, Soffer has attributed his stunning success — the Soffer family company, Turnberry Associates, has developed more than $7 billion worth of properties — to a combination of 20/20 foresight (he knew large numbers of returning WWII veterans would be looking to settle someplace warm) and a belief that a sturdy work ethic and solid values are equally if not more important than innate intelligence. Like the high school students and Brandeis scholars he supports, Soffer set a high bar for himself as a Brandeis student and athlete. Inducted into the Brandeis Athletics Hall of Fame in 2009, Soffer played football from 1950 to 1953, never missing a game or a practice. One of the top linemen in the school's history, he earned the Sepinuck Sportsmanship Award in 1952.
About the Author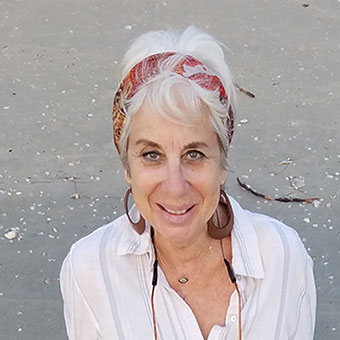 Former senior editor of Bostonia, Susan Seligson is an award-winning journalist who has written for The New York Times Magazine, The Atlantic, The Times of London, Redbook, Yankee, Salon, The Boston Globe, Radcliffe Magazine and many other publications. She is the author of several books including Going with the Grain (Simon & Schuster).