Brandeis Alumni, Family and Friends
Rabbi Susan Harris '78 Brings Her 'Whole Heart' to Boston Children's Hospital
Rabbi Susan Harris '78 helps kids and families withstand the trials of hospitalization and serves as a supportive advocate for young patients, like Spencer Raifman.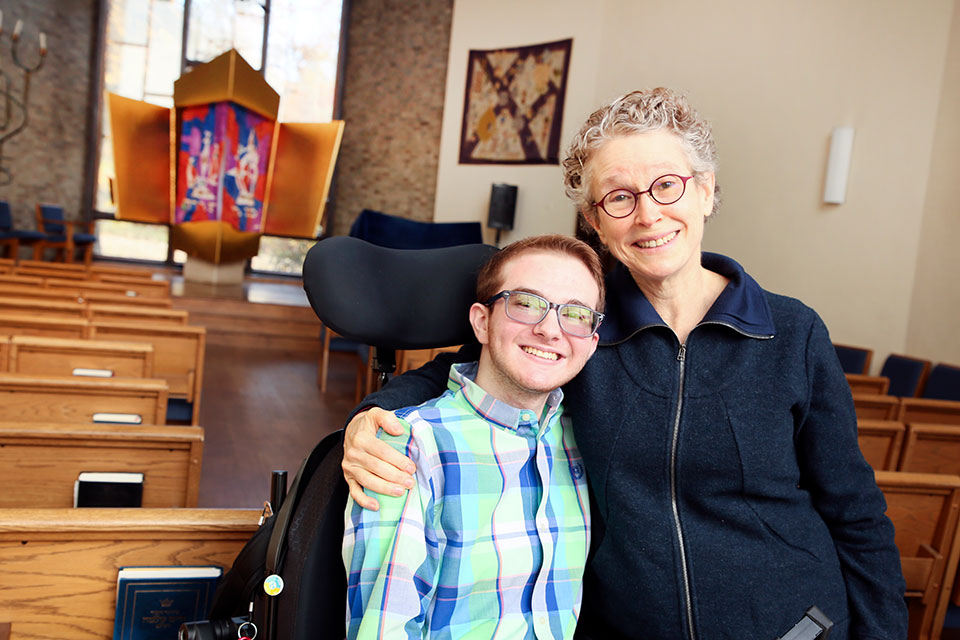 With a debilitating genetic condition, 18-year-old Spencer Raifman has spent more stretches in Boston Children's Hospital than he can easily recall. But there has been a persistent bright spot in Spencer's ordeal: his ever-deepening friendship with the hospital chaplain, Rabbi Susan Harris '78.
"They connected immediately, and when he's hospitalized she visits him every day," said Spencer's mother, Rachel Pearlstein Raifman '94, GSAS MA'96. 
As a trans person, Spencer has experienced a range of frustrations with occasionally tone-deaf, if highly competent, caregivers and often feels that he is not truly seen or heard. Harris, on the other hand, is a long-time LGBTQ+ advocate who has worked to make Children's more sensitive to the needs of LGBTQ+ patients and their families. 
"She's real, she tells it like it is, and she doesn't condescend to Spencer," says Rachel, whose mother, Leslie Pearlstein, P'94, is on the board of the Brandeis National Committee and serves on the university's Board of Fellows.  
Harris became a chaplain at Boston Children's in 2001 and now oversees a multi-faith team of ten spiritual care providers. She sees herself as a gentle truth-teller, the even-handed person who illuminates the dark places for families. 
"It's not for me to answer their medical questions, but as a rabbi and chaplain I've been trained to help families navigate our complex healthcare system while honoring their personal values and spiritual needs." – Rabbi Susan Harris '78
From Patient to Advocate
In the last three years, Spencer has undergone nine major surgeries including cervical spine fusions and a heart procedure for complications from Ehlers-Danlos Syndrome (EDS), a congenital condition that affects connective tissues and leads to cardiac, neurological and gastrointestinal complications. 
Before he met Harris, Spencer held a dim view of chaplains. "I remember when somebody brought up the idea of meeting the hospital rabbi, I wasn't sure it would amount to anything," said Spencer, who uses a wheelchair and lives in Canton, outside of Boston. "But Rabbi Harris is not your conventional chaplain," he added. "Others act like you want pity from them, and it feels weird. I'm not someone who needs pity." 
Spencer struggles with anxiety and depression and has high-functioning autism. Harris has been helpful with his social skills, and their conversations take his mind off his illness, he says, and "stimulate my brain." 
Spencer's personal experience with illness has inspired him to ease the pain of others by launching the nonprofit Chronic Zebra Foundation, which sends care packages to critically ill kids around the country. 
The organization is a family affair: Spencer is the president, his mother Rachel the CFO, his grandmother Leslie coordinates the blanket program and his grandfather Arthur Pearlstein volunteers.
A Career Based on Caring and Advocacy
The seeds for Harris' career as a social activist and rabbi were sown at Brandeis. 
Of her many mentors there, Rabbi Albert Axelrad — the Jewish chaplain at Brandeis and executive director of the Brandeis B'nai B'rith Hillel Foundation from 1965 to 1999 stands out. "He informed my dedication to pluralism, creating egalitarian and feminist Jewish community, social activism and civil disobedience," Harris says.  
Harris also credits the late sociologist Marshall Sklare, the Klutznick Family Professor of Contemporary Jewish Studies and Sociology at Brandeis, with opening her eyes to the multilayered history of the American Jewish community.  She says he helped her locate herself and her family in its greater story. "Such a claim seems grandiose or obvious now," said Harris, "but it wasn't then — not for a 17-year-old who grew up in Oklahoma."
Harris has since enjoyed a rich, varied career. In 1984, she began doing interfaith and social-action work for the Union of Reform Judaism and later worked with Am Tikvah, a Boston LGBTQ+ congregation. In 1995, she helped found the pluralistic Jewish Community Day School, a bilingual school serving secular and religious Israeli and American families. 
The chaplaincy at Children's has proven to be a fitting professional home for Harris. Though it's part of her job to "scan the patient list for Jewish names," she serves everyone, regardless of faith — from the Orthodox to the secular — and is known for handing out challah on Fridays. 
"We are increasingly living in a secular world, so being faith-specific is in many ways narrow-minded and ineffective," she says. 
Profound Rewards, Daily Challenges
One of the things Harris loves about pediatric chaplaincy is that, for the most part, "people rise to their best selves when it comes to taking care of children," she says. "Even parents who have gone through a contentious divorce behave, for the most part, very well around their kids." 
There are, of course, exceptions. 
When vulnerable patients get lost in the fog of family dynamics and denial, Harris is a voice for the kids. "I will admit I am sometimes more authoritative than the state-of-the-art chaplain should be, but there are instances when I feel compelled to intervene," she says. 
For instance, if a parent is on the phone updating their friend about the horrible things going on, filling the room with negativity, she will gently suggest that the parent take the call outside.
Another time, Harris edged herself between a sick teenager and his anxiously rambling mother. She had asked the chaplain to talk to her son but would not allow a conversation to unfold because she was constantly interjecting.
Harris intervened by physically standing between the mother and the patient and focused her attention on the child. "We talked about what he loved, hockey," she recalls.
The child's mother thanked Harris the next day, saying it was the first time in a long time she'd heard her child laugh and that "he'd come back to himself." 
A Whole Heart
To continue to put her whole self into her work day after day, Harris tries not to take the job home with her and jokes that she loses her superpowers once she leaves the building. 
"I am surprised by how completely I turn off when I leave," says Harris, a mother of three and grandmother of two. "But I also dig in really deep while I'm here." 
That said, there is no easy on-off switch as Harris navigates her workdays. Sometimes tears are the only appropriate response. 
Recently, she was in a room where a newborn, only days old, was dying, and the devastated parents were sobbing. "I had no words," said Harris. "All I could do was stand there and cry with them."
"I don't have the expectation that my heart won't be broken. When a baby dies, hearts should break," said Harris. "There's a Hasidic saying that the only whole heart is a broken heart."
Despite the demands and often painful moments of the role, Harris finds her work deeply rewarding, especially the connections she makes with patients like Spencer and their families. Their Brandeis connection is a bonus.
About the Author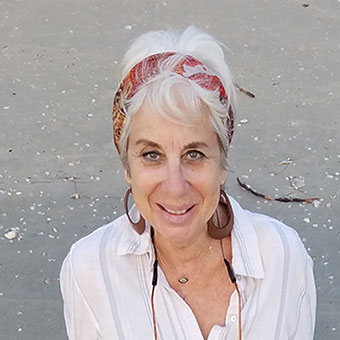 Former senior editor of Bostonia, Susan Seligson is an award-winning journalist who has written for The New York Times Magazine, The Atlantic, The Times of London, Redbook, Yankee, Salon, The Boston Globe, Radcliffe Magazine and many other publications. She is the author of several books including Going with the Grain (Simon & Schuster).