Brandeis Alumni, Family and Friends
Marking High Holidays During Pandemic Requires Creative New Approaches to Ancient Rituals
September 18, 2020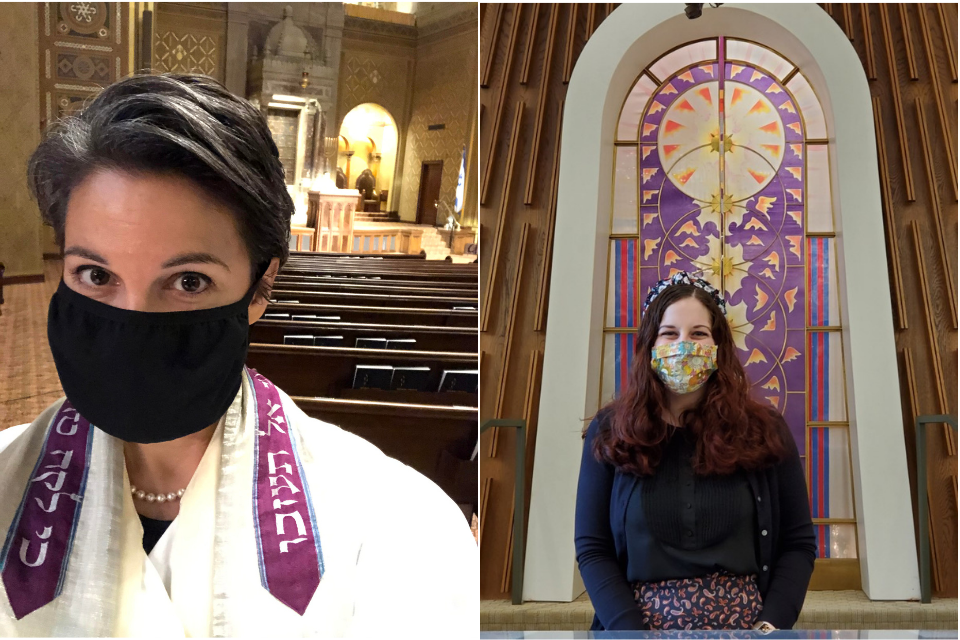 Photo Credit: Submitted, Dr. Ritchard Rosen
The ram's horn, or shofar, that will be blown at Brandeis to mark the Jewish New Year this weekend will be fitted with a mask. 
The aim: to prevent any possible spread of particles carrying the COVID-19 virus. "It's something doctors have advised and as long as it doesn't change the sound of the shofar it is fine to do," said Rabbi Seth Winberg, executive director of Brandeis Hillel and director of spiritual life and senior chaplain at Brandeis.
Observing the High Holidays during a pandemic presents distinct challenges, Brandeis Hillel and alumni faith leaders say. Rosh Hashanah, the Jewish New Year, begins at sundown on Friday, Sept. 18, and ends at sundown on Sunday, Sept. 20. Yom Kippur, the Day of Atonement, begins at sunset on Sunday, Sept. 27, and ends at nightfall on Monday, Sept. 28.
"We are doing everything we can to keep everybody healthy and safe and to provide opportunities for connection and spirituality to a diverse Jewish student body on these very important Jewish holidays," said Winberg.
That includes in-person services in tents outside for 25 students at a time. Hundreds of students are expected at more than 30 staggered services at Brandeis, where 40 percent of the undergraduate population is Jewish. Hillel also will distribute hundreds of kosher meal kits, care packages and picnic blankets for students to enjoy meals outside.
Similar precautions are being taken at Jewish congregations across the country led by Brandeis alumni, several of whom described how their synagogues are observing the holidays this year.
To stream or not to stream?
"As an Orthodox synagogue, streaming services on Shabbat or the holiday is not an option due to restrictions on use of electricity," says Rabbi Elliot Kaplowitz '02, MA'03, congregational rabbi of Netivot Shalom in Baltimore.
"We have been holding services outside, with social distancing, since June 20 and will continue to be outside for the High Holidays," he said. "Given that, our services will be much shorter than normal. There is a great concern about the weather — if it rains, we will not have services — as well as concern over spread of the virus when people are congregated for extended periods of time."
"Singing is difficult," Kaplowitz added. "It is hard to hear the prayer leader and there is concern that singing may be a greater spreader of the virus. We have worked out a compromise where the prayer leader sings and the congregants sing from their seats in a muted voice."
Rabbi Jason Fenster '08 is a member of the clergy team at Congregation B'nai Jehoshua Beth Elohim, a Reform synagogue in Deerfield, Illinois. 
"This year my congregation has decided to pre-record our services and share them on a number of digital platforms," Fenster says. "We hired a production company who filmed each of the four members of our clergy team reading and singing our pieces.
"We also invited congregants to come for a 'High Holy Day drive thru' to pick up tribute and memorial books and treats — a Go Go squeeze applesauce, a honey stick and some sweets donated by a local bakery — to help prepare their homes for the High Holy Days."
Viktoria Bedo '15, a graduate student at the Jewish Theological Seminary, is the rabbinic intern at Park Avenue Synagogue, a Conservative congregation on the Upper East Side of Manhattan.
"All our High Holiday services will be designed specifically to be viewed and experienced virtually," Bedo says.
"Our hope is that while the clergy will be facilitating the High Holiday experience from our sanctuary's bima, our congregants will be able to recreate the sacred space of the Days of Awe in their homes with our help, wherever they might be."
Rabbi Jill Maderer '96 is senior rabbi at Rodeph Shalom, a Reform synagogue in Philadelphia, which also is offering services virtually. "We are incorporating congregational participation in service parts such as Torah reading from people's homes, with the aim of honoring people and also of helping to create a feeling of connection," she said.
"An empty sanctuary is not a good thing, but this year it is necessary, so we are leveraging that creatively," Maderer said. "For instance, we will read the Mourner's Kaddish in an area of the sanctuary that holds congregational memorial books documenting generations of congregants on whose shoulders we stand."
Rabbi Jay Perlman '91, P'23, senior rabbi at Temple Beth Shalom, a Reform synagogue in Needham, Massachusetts, said: "We have created a family-friendly 'drive in' shofar-blowing program in a school parking lot. Dozens of cars will enter in shifts, hear the clergy over an FM broadcast and then hear the sound of the shofar. As something fun, cars will be invited to blow their car horns in response to the shofar calls.
"For our virtual services, we have created as many opportunities for members to be involved — pre-recorded — as possible," Perlman said. "We are honoring all of the medical professionals and first-responders in the congregation by giving them a group aliyah (ascent) to the Torah. Each person recorded themselves chanting the blessings, which we have mixed via the Garage Band app into a single chorus. Each sent a picture so we can have a collage of faces on the screen."
Rabbi Rachel Salston '12, of Fair Lawn Jewish Center/Congregation B'nai Israel, a Conservative congregation in New Jersey, also will lead streaming services. "I will be Zooming from the sitting room of my apartment with a banner and a white tapestry that I've designed myself behind me," she said.
The New Year will be heralded in person, she said. "We will be blowing the shofar, socially distanced, in three locations around our town, after the morning services," Salston said. "Congregants will be able to come out to the synagogue parking lot or one of two public parks and hear all 100 blasts of the shofar."
Missing "the Regulars"
The sense of coming together as a community that is central to worship on the holy days is challenging to achieve during a pandemic that places a premium on keeping apart, faith leaders say.
"For many Jews, the High Holidays are a primary connection point to Jewish time and community," said Faith (Brigham) Leener '10, of Crown Heights, Brooklyn, a founder of Base, an initiative affiliated with Hillel International that encompasses nine communities serving 6,000 young adults nationally.
"There will be a real sense of loss this year, since so much of their experience is rooted in the particular rituals, songs and choreography of the High Holidays," Leener said. "For others, not being able to be with their families, for a variety of COVID-related reasons, will be the biggest struggle."
Kaplowitz said, "Many of our regulars have not been attending services and will not attend on the High Holidays. Little children are not able to attend, and as a result, none of our young families have been to synagogue since the pandemic began. We are a small, tight-knit congregation where literally everyone knows each other. We miss the sound of children playing."
Bedo said, "We all miss the beauty of joining our voices together: Zoom is great but terrible for singing!"
She added, "The greatest challenge of this time for many rabbis and cantors is that we cannot be there in person to celebrate people's moments of great joy, and even more importantly, to comfort them in sadness and in grief. Jewish life cycle rituals are by design communal: We believe that both the highs and the lows of life should be shared with other humans, enhancing our celebrations and soothing our pain. Especially during funerals and shivas and other moments of loss, rabbinic presence can be essential. It is a tragic irony that at a time when so many are suffering and losing loved ones, we cannot be there to hold their hands."
For the Kids
"During this year's High Holidays, we are offering all of our services remotely, including our Family Services for toddlers through second-graders and their families, and our Youth Kehillah (Junior Congregation) Services for third- through seventh-graders," said Rabbi Sandi Intraub '02, MAT'04, Rabbi-Educator at Beth El Temple Center in Belmont, Massachusetts. "We are also offering an "Activity Time" with online electives, such as art, cooking and trivia. Students will create hand-painted wooden stars to deliver to Stars of Hope and send postcards to encourage voters in the south to vote early, with Reclaim Our Vote.
Beth El Temple Center created age-appropriate activity packets that were hand-delivered by the synagogue's High Holiday activity coordinator, Rachel Dovek '20, or emailed to families. "For the younger children, we have recipes, coloring sheets, word searches and writing activities that explore High Holiday themes," Intraub said. "For our older children, we have provided art projects as well as reflective writing prompts. All of these activities help the children stay engaged in a meaningful way, and they might give parents a few moments of praying in quiet."
Intraub continued, "This has been a challenging year in so many ways, and the High Holidays are arriving right when many of our children are going back to school remotely. So much has changed this year, but we hope that the familiar prayers and rituals of the High Holidays can offer a sense of community and connection, and some time for reflection and calm during a very tumultuous time."
Hopeful Signs
"Our community has remained strong, thank God," said Kaplowitz. "We have been able to remain connected despite the need for physical and social distancing. We continue to support each other and remain committed to our Jewish tradition."
Fenster said, "We always say 'come as you are,' but now we really mean it. People attend Shabbat services from their couch, while they're having dinner, or while going for a walk. Some choose to get dressed up and some are in sweatpants. Barriers to entry, as we like to say, are lowered. And the fact that there is so much digital content means there is more access to more wisdom and talent."
Bedo said, "My Friday morning Talmud class used to have six to eight core learners in person, but once we went online, the class size doubled. An 8 a.m. class is easier to attend via Zoom than in person, even for people who live down the block."
She added, "Personally, as an intern in my last year of rabbinical school, this pandemic has helped me hone my pastoral skills and forced me to think through some major theological questions. People regularly ask me: 'Why is this all happening?' 'What has God got to do with this?' 'How do I crawl out of the emotional abyss in which I find myself?' Responding to these questions, or simply being present, via phone, while someone struggles with these, is a core part of learning how to 'rabbi.'"
Salston just started in August in her position, for which she interviewed and was hired entirely via Zoom. This is her first solo pulpit. She has been introducing herself by phone and via socially-distant visits to as many people in the congregation as possible, she said. "It's been wonderful reaching out to people who have not been as connected as in the past," said Salston.
"One thing I have learned is that because we are all distanced from each other, we are also all equally close to each other," she said.
~ Mark Sullivan and Abigail Klingbeil