Brandeis Alumni, Family and Friends
Hacking for a Better Community: Linda Heller Kamm '61 Prize Goes to Student Hackathon Leader
August 28, 2023
Vincent Calia-Bogan '25 is honored for his work mobilizing students to solve real-world problems.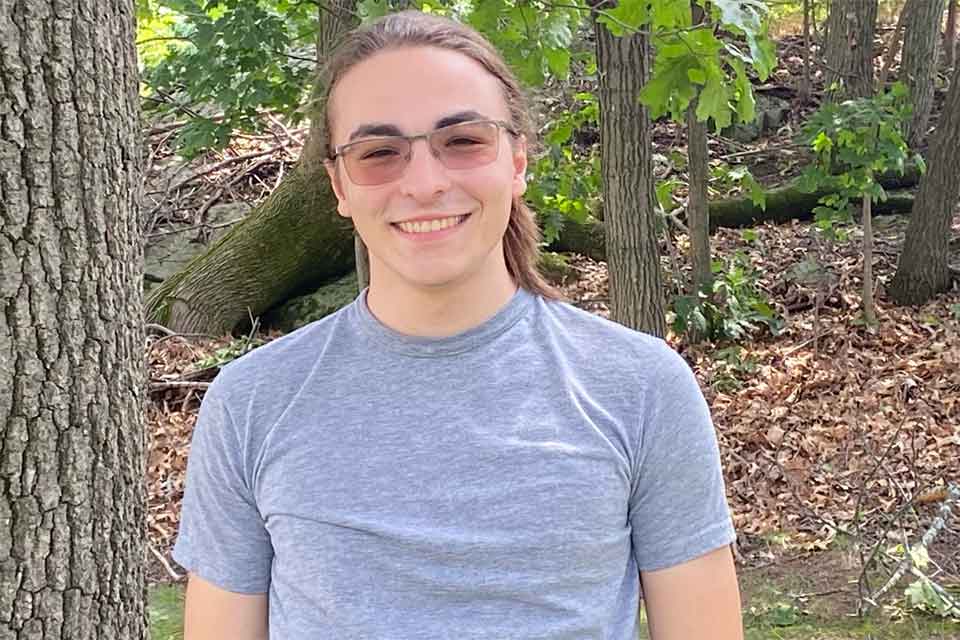 Calia-Bogan '25 is the recipient of this year's Linda Heller Kamm '61 Prize, awarded annually to student leaders in social justice. 
A major in neuroscience and minor in Hispanic studies, Calia-Bogan was nominated by fellow students for his work organizing DeisHacks, Brandeis' social good hackathon. 
Under Calia-Bogan's leadership, DeisHacks asked 13 local nonprofits to share their aspirations and challenges. He then raised $8,000 from local companies and recruited 240 students to complete 33 projects to solve or alleviate those problems for the nonprofit partners. In all, their work added up to more than 7,500 hours of public service. 
"I feel an incredible pride," Calia-Bogan wrote in a letter of appreciation upon receipt of the award. "This award also signals to me that my peers want more DeisHacks; I plan to make it even larger (engage more students, more non-profits, more sponsors) this coming year. To be a part of such an encouraging and passionate community… is a wonderful thing."
Linda Heller Kamm '61, a Brandeis trustee who was the first woman appointed general counsel to a US Cabinet department, created the prize in honor of her 50th Reunion in 2011. Each year, one student leader receives a $1,000 reward, intended by Kamm to encourage interest in public service careers.
"I want to see people pursue careers in public advocacy," Kamm told Brandeis Magazine then. "In every era, there are important issues of social justice that need to be addressed, never more prominently than now."
– David Eisenberg