Brandeis Alumni, Family and Friends
Q&A: Brad Mahlof '11 Wins PBS Cooking Show by Plating Jewish Heritage
August 9, 2023
He was crowned after eight episodes of competition against eight others in PBS' "The Great American Recipe."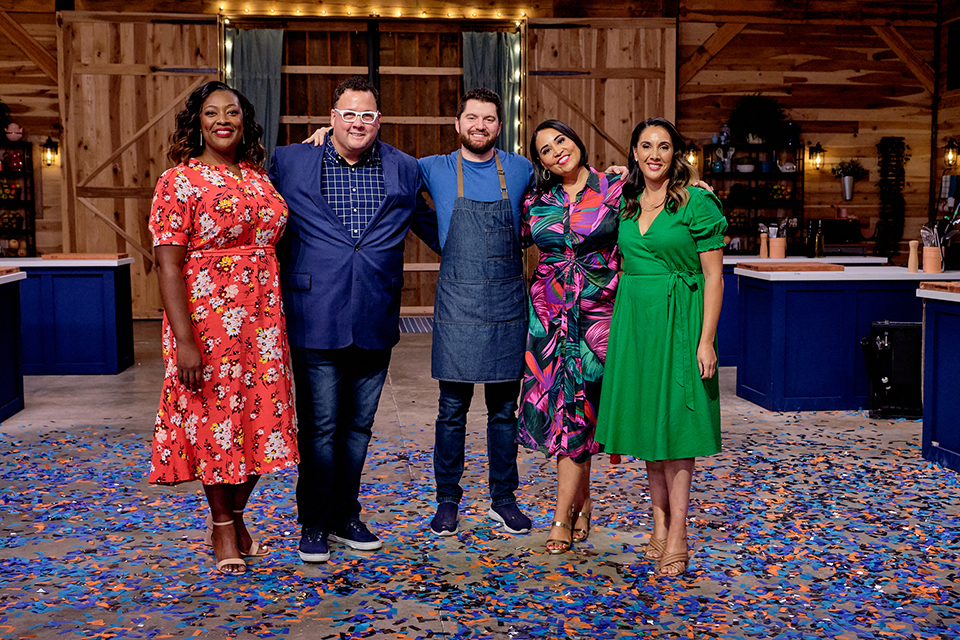 Photo Credit: Courtesy of PBS
Brad Mahlof '11 has won season 2 of "The Great American Recipe," a cooking competition show on PBS that shines a light on multicultural food brought to life by home cooks.
Mahlof started his journey on the show as one of nine home cooks from across the country. Throughout the eight episode run, he wowed judges with dishes spotlighting his Sephardic and Ashkenazi Jewish heritage. In the end, he won for his mafrum – a meat stuffed vegetable – with couscous, and assorted side salads. Mahlof described the meal on the show as "the crown jewel of Libyan Jewish cuisine."
The Alumni Association caught up with Mahlof to discuss his experience on the series, which is available to watch free online.
Can you tell us about your experience as a chef? 
I'm not a professional chef. Currently, I work in real estate development, though cooking is becoming more than a hobby. I recently did my first pop up dinner at a restaurant in New York City, and it was a major success. I'm exploring the idea of opening up a restaurant, offering private client dinners, food pop ups, cookbooks, and cooking lessons. The dream would be to have my own cooking TV show (if any Brandeis alumni in film production are reading this, hit me up!). In the meantime I have my @cookwithbrad Instagram account and a website where I share my food and recipes. 
What was your experience like on the show?
It was such an awesome experience overall. This kind of thing was so off my radar but when the opportunity presented itself, I went for it. Having this platform to share my story and represent my Jewish heritage was really special. My fellow contestants were definitely a major highlight for me as well. They were all so amazing and had equally beautiful stories to tell. We're now forever connected and we're all very close to one another.
How different is the experience of cooking in competition, as opposed to for fun or work?
It's a completely different animal. Cooking at home is my zen. What I do to unwind after a long day of work. On the show you're in full on competition mode, pushing your culinary boundaries under intense time pressures in a foreign kitchen. Luckily I thrive under pressure.
Can you tell us a bit about the importance of food as it relates to your heritage?
Food is a connector. It tells a story and truly brings people together. My family is of Libyan Jewish descent. There are currently no Jewish people left in Libya and our once thriving community remains only through stories of the past. I look at food and sharing my recipes as a way to memorialize my heritage.
Food in general is an amazing way to bring people together and to share and preserve our cultures. When I travel to new places, the first thing I love doing is trying the local cuisine. You can learn so much from food and it's much tastier than a museum. I love incorporating other food styles into my own cooking.

Did you get to try dishes from your competitors? What was it like learning about other cultures through this competition?
Yes! It was kind of amazing. Between us, the food, the spice profiles, the flavors, were all wildly different, but what I really noticed were the similarities. As home cooks our dishes are all prepared with love, with thought of nourishing our families and friends. I think that could literally be tasted in our dishes, regardless of where they came from.
Any lessons you learned from the experience?
Stay true to who you are. I think I was ultimately successful on the show because I didn't worry about comparing myself or my food to others. I came in with a focused mission to represent my culture and myself as authentically as I could and I think people are drawn to that.
–  David Eisenberg