Brandeis Alumni, Family and Friends
The Campus Return of Alumni Weekend: Just Like Coming Home
June 15, 2022
Alumni Weekend 2022 fulfilled its promise as an uplifting celebration of connection, memories and "our house." 
In a joyous gathering that was a long time coming, Brandeisians from around the globe came together for a convivial Alumni Weekend that included plenty of high-fives, catching up and enjoying long-cherished traditions. 
Throughout the weekend, campus bustled with Trucks and Tunes, Kegs and Kickball, Ollie's Family Fun, the Ralph Norman Barbeque and a very well-attended ice cream social. During campus walking tours, alumni marveled at all that's changed and savored the special spots that haven't. From the Great Lawn to Spingold to the Rose Museum, attendees reconnected with old classmates, former roomies, beloved faculty and favorite staff, celebrating each other in the sunshine that graced the hill all three days. 
Extra special events included the all-inclusive shared interest social; major reunion gatherings, including the 25th, two 50ths, the 65th and a virtual 70th; compelling lectures, such as a timely discussion about the Supreme Court; and, of course, Saturday's ever-popular Fire & 'Deis Gala. The weekend concluded on Sunday with a moving Memorial Reflection, followed by the classic elegant champagne brunch.
Insights from expert alumni 
The Alumni College panel discussion on the future of the Supreme Court included Barbara Dortch Okara '71, Joseph T. Carter '79, Melissa Crane '86 and Sharon E. Goodie '85. Introduced by Alumni Association President Lewis H. Brooks '80, P'16, and moderated by legal studies professor Dan Breen, the conversation was dynamic, blunt and brave.
In addition to commenting on the nation's highest court, we also heard viewpoints from various other judicial perspectives. Okara, a Brandeis trustee and former judge, said, "Friends, we are in the midst of turbulent times," before discussing several timely issues, including the right to privacy, voting rights and anti-discrimination laws. 
Judge Carter focused his remarks on the understandable mistrust of the court system that he has observed within the BIPOC community, due to the disparate treatment of this population in the American criminal system, while Judge Goodie discussed her experience as an administrative judge and the inordinate burden placed on those in poverty. 
Judge Crane commented on the digital divide that she's observed throughout the pandemic. "Virtual proceedings are great," she said, "but some people don't have broadband access in their neighborhood. It's a stark contrast that is not fair and we need to do something about it."
Recognizing wide-ranging alumni achievements
During Saturday afternoon's university update and Alumni Achievement Awards, the conversation was celebratory and focused on Brandeis' many recent accomplishments. President Liebowitz offered a warm welcome to all and reflected on the strong bonds that have kept the Brandesian community more connected, caring and grateful than ever.
"There are many points of pride in our alumni," said President Liebowitz, "such as taking part in medical discoveries having to do with Covid, like Drew Weisman and the recognition he's received for his work on the vaccine. And alumni who are teachers, who were on the front line and had to learn how to teach anew.
"What we're most prideful about is the amount of support that alums have given the university," he continued, "and it showed up in our fundraising. For the last two years, across the board for Brandeis fundraising, alumni took the lead. Much of that has to do with the academic experience. Alums consistently give Brandeis an 'A' for the academic experience they had at Brandeis. They speak most about the appreciation for the faculty they had, be it in the 1950s or in the 2000s.
"The role of alumni is not just financial but being ambassadors for the university, recruiting students, providing internships, talking to graduating students about professional schools, being available to them, hosting faculty events and really getting the word out."
Before moving on to the awards presentation, President Liebowitz also shared that the incoming class of Brandeisians will be the largest in the school's history—upwards of 1,000—and expressed his delight at highlighting how many new students are eager to call the Waltham campus home.
The president then presented this year's Alumni Achievement Awards to scientist Susan Band Horwitz, GSAS PhD'63, for her groundbreaking research which led to the development of the chemotherapeutic drug Taxol, and Michael Horowitz '84, for his extensive service as inspector general of the U.S. Department of Justice.
President Liebowitz asked Horwitz what inspired her to come to Brandeis.
"I was going to an all-girls, very traditional college," said Horwitz. "When I started to think about graduate school, there were very few women who had their own laboratories at the time. I visited some very prestigious schools and was asked, 'Why do you want a PhD in biochemistry?' Then I read that Brandeis was opening a new department of graduate biochemistry – rather amazing, since it was 1958 and Brandeis had graduated its first class in 1952. 
"What astounded me," she continued, "was that there were two women on the faculty. They were superb scientists and they were married, with children. They accepted me and I came and I've never regretted it. It was a wonderful five years that I spent here and it changed my life. I met my husband, I had two children by the time I got my PhD and it completely changed my life, from a young woman to a scientist. I learned how to be a scientist."
Relishing special times with special people
With these captivating and informative discussions in between continual outdoor activities, good food and great music, Alumni Weekend was a rousing success all around. The best part was the people: Large groups gathered around tables in the tent, old friends sat tête-à-tête outside the Shapiro Center, couples who met on campus strolled arm in arm along familiar paths, families visited the iconic statue of Justice Louis Brandeis on the hill, and parents chased their cute kids on the lawn. Everyone was clearly delighted to be back on campus together, once again.
For Jeremy Hamburgh '04, the return to campus was a family affair: His father Mark '72 was celebrating his 50th Reunion and his sister Michelle Cohlan '07 was celebrating her 15th. Jeremy recalls coming to campus as a child every five years for Mark's reunions, and taking a photo by the statue in front of the library. Now he's excited to continue the tradition with his 6-year-old daughter. "It was a really special weekend for our family, especially our dad. He loves Brandeis so deeply, and he got to be there surrounded by his best friends, wife, kids and grandchildren."
The Class of 1972 celebrated their 50th Reunion at a special dinner on Saturday night, when Paul Zlotoff '72 was awarded the 2020 Alumni Achievement Award. After President Liebowitz presented the award, Zlotoff reflected on what makes Brandeis a unique place to learn.
"I have to tell you, I loved it here," said Zlotoff. "It was, for me, a great experience. I wanted something intimate, I wanted something with high academics. It was Justice Brandeis who stated that the most critical political office in a democracy is the citizen. And I believe that the integrity of intelligence, information and thought in institutions of higher learning and education in the arts, humanities, science and civics are going to create good citizens."
The Class of 1952, which will celebrate its 70th Reunion virtually later this month, was honored with a special exhibit of photographs of their time on campus, as well as a compelling oral histories video presentation. In the film, Penny Peirez Abrams '52 described her reasons for wanting to be one of those pioneering students: "You have to stand for what you believe in and this is what I believed in," said Abrams in the film. "I came full of idealism and determination, to show the world it could be done." 
Throughout this lovely, long-anticipated Alumni Weekend, returning Brandeisians displayed that same commitment to Brandeis idealism, with connection and camaraderie in every direction. A truly wonderful event that was worth the wait!
About the Author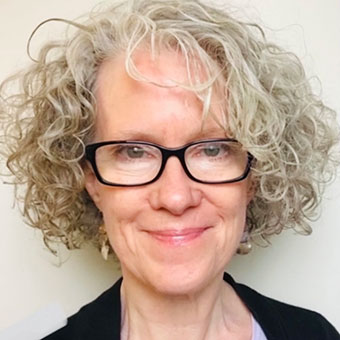 Annie is senior development writer in advancement communications. Before joining Brandeis in January 2022, she was a writer at Dartmouth College. As a longtime freelance journalist and radio commentator, she has covered art, culture, travel, and education for the New York Times, the Washington Post, the Boston Globe, Art in America, Art New England, NPR, and many other outlets. She is the lucky mom of two great kids.