Brandeis Alumni, Family and Friends
Dispatches from Ukraine: Alumni Share Stories of Horror and Hope from Kyiv
March 7, 2022
Alumni living in Ukraine tell harrowing stories, and ask the Brandeis community for help, from the center of the conflict. 
Many Brandeisians have reached out to the Alumni Association to ask how they can help support community members with ties to Ukraine, as the Russian invasion continues to wreak havoc on the country. We also have heard from Ukrainian alumni who wish to share their personal experiences on the ground with the Brandeis community.
One Ukrainian alum reports that he managed to move himself and his family out of the capital city of Kyiv into safety. Before he left his apartment, he snapped photos of precious items that he had to leave behind — one of them his Brandeis diploma.
Marianna Yakubenko, IBS MA'05, who lives in a village on the outskirts of Kiev with her nine-year-old twins, is filled with both horror and hope:
"My kids and I are in our house 40 km from downtown Kyiv in a village. On the ground, fights are 15 km from where we are. Private houses, apartment buildings and civil infrastructure are being bombarded day and night. We have a root cellar in our yard, so we run there every time the air alert is announced. We still have some food supply, and luckily still have electricity, heating and water, which is not the case in many places around Ukraine these days due to destroyed infrastructure. I do not want to leave and will try to stay at home as long as possible. I feel that something new is being born here. We will stand! I believe."
Kyiv-based alum Martin Zhunior, IBS MBA'11, also reached out to the Alumni Association to share his experience on the ground and ask the Brandeis community for their support. Half Ukrainian and half Angolan, Zhunior has lived most of his life in Ukraine, coming to the United States to get his graduate degree from the International Business School where he was drawn to the colorful, diverse environment at Brandeis that brought so many different students together. He spoke with us via Zoom on Friday from his apartment in Kyiv. An edited transcript of our conversation is below.
---
Q&A with Martin Zhunior, IBS MBA'11
Alumni Association: First of all, how are you doing?
Martin Zhunior: I'm doing okay. I'm holding up. It's been a hell of a week, to be honest with you. It's surreal, it's hard to believe it's happening.
We're watching with horror at what's going on in real-time and it's amazing that communications haven't been shut down and that we can still talk to each other.
Because the Ukrainian government is in charge. That's why we have access to the internet, we have access to the news, and we can communicate freely.
So you have lived in Ukraine for most of your life, and then returned after getting your MBA from Brandeis. What have you been doing since?
I have been working with multinational companies teaching their staff English so that Ukrainian companies can do business with the global community. I work with people from the health ministry, pharmaceutical companies, IT companies. Ukraine is a huge market for U.S. technology companies so I've been working with the IT guys to help them with their English communication so that they can do work for the US companies.
What has your day-to-day experience been like during this crisis? What are you seeing on the ground in Kyiv right now?
In Kyiv, we have a lot of sirens throughout the day and we hear some explosions. Thankfully, most of them are somewhere in the distance, but our windows still shake and we wake up in the middle of the night from sirens.
When everything started last Thursday, I was sleeping. When I first heard the explosions, I was trying to deny them for some time, saying to myself: "Just keep sleeping, Martin, it's not really happening." But then the explosions kept going, so I woke up, switched on CNN and saw that the invasions had started.
Are you going to be expected to fight for your country?
I went to a national defense office and, for now, we are fully packed. There are so many people, just ordinary guys like me, without any military experience. So many people are willing to take up arms and defend the nation. So many people are outraged by this injustice.
What are your plans for keeping safe and for advocating on behalf of Ukraine?
I'm just trying to talk about what's happening, to talk about the situation, so that people know what's going on. I'm reaching out to my friends from the International Business School community, my other friends in the U.S., and in Israel and in Canada, asking them to donate to the army to support our heroes who are fighting fearlessly against this evil. Because we need ammunition. We need body armor. We need helmets. I've been trying to find body armor and helmets for myself and my friend, who was one of the first to join the armed resistance, so that we could go and join the territorial defense. Most of the territorial defense volunteers don't even have helmets and body armor. 
How are you living right now? Are you able to sort of stay above ground? Are you in a bunker? 
We went and spent the night underground in our subway system and it was pretty cold, but we're mostly staying in our apartments. When we hear sirens, we need to go and take shelter, but we haven't been doing that much. We're just waiting for them to quiet down, and if they aren't continuing for long or they are blasting somewhere in the distance, we choose to stay home. We live in the center of the city, and the bombardments are predominantly happening right now in the outskirts.
It sounds like most of the women and children have left, so is the community mostly men?
Yes, mostly men. I just returned from a railway station where I put my mom on a train to Poland. It was pretty stressful. She didn't get on one train, but then she got on another, so I'm happy she's on her way. Before our call, she actually messaged me to say she'd gotten on a train. She's still in Ukraine, but she's on her way. 
What would you like your Brandeis community and your fellow alumni to know about your experience right now?
Brandeis means a lot to me. I know that Brandeis was founded on the values of justice and fairness and supporting each other. I'm so grateful that I had the opportunity to study there, for all the people I met. It's been 10 years but the memories are vibrant and bright. So that's why I would like to get out the word to the community and ask for your support. 
I would like them to know what's happening. The situation is pretty dire. As of midnight March 3, the Office of the UN High Commissioner for Human Rights recorded 331 killed (40 women, 7 boys, 3 girls, and 9 children whose sex is yet unknown) and 675 injured (40 women, 9 girls, 2 boys, as well as 20 children whose sex is yet unknown). It's madness that something like this can be happening in the 21st century.
I would like to call on the Brandeis community to support Ukraine, to support the community, to support the army, because they are our heroes, our hope for Ukraine. You know, it's so funny, that I'm a Black guy who has been living in Kyiv, Ukraine, and the president of the Russian Federation talks about Neo-Nazis in Ukraine and it's just so ridiculous: the accusations, the degree of the lies he's telling. So I would like the community to know that. And I, as a Black guy, can testify to that. And I would like them to do whatever they can to support the people of Ukraine, because we need the whole world behind us if we are to get through this terrifying ordeal. I encourage the Brandeis community to contribute to a fund set up by the Ukrainian National Bank to support the Ukrainian army. 
---
From the President and the Provost

"As a community steeped in the Jewish tradition of seeking to repair the world, I know I speak on behalf of many at Brandeis in calling for the end of hostilities and needless human suffering," said President Ron Liebowitz in an email to students, faculty and staff. "I also want to express our collective concern for those within our community whose families and loved ones are being directly affected by the crisis in the region. May this conflict end quickly and in peaceful resolution."

Brandeis Provost Carol Fierke, PhD'84, also sent a message to the campus community with information and resources related to the crisis, including a list of opportunities to gather with the Brandeis community in dialogue about the invasion of Ukraine and in solidarity for peace. Additional events are being added to the campus calendar. 
From Business Insider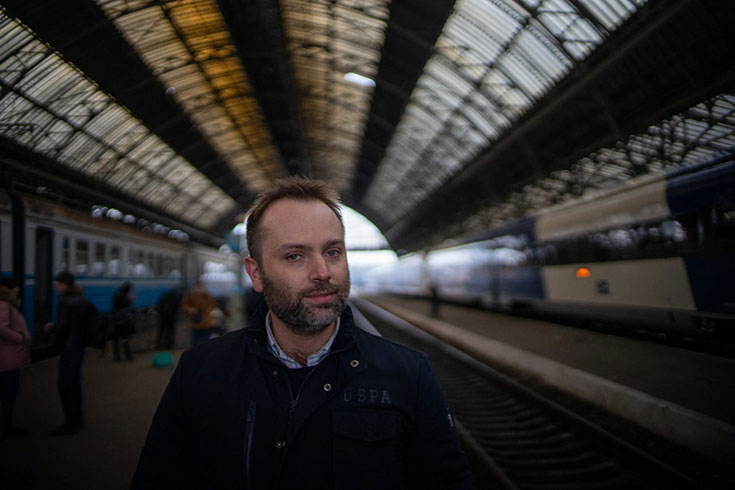 Oleksandr Pertsovskyi, IBS MA'10, head of Ukrainian Railways' passenger rail operations, faces the daunting challenge of keeping the train network operating in the midst of war. Read the Business Insider story.
About the Author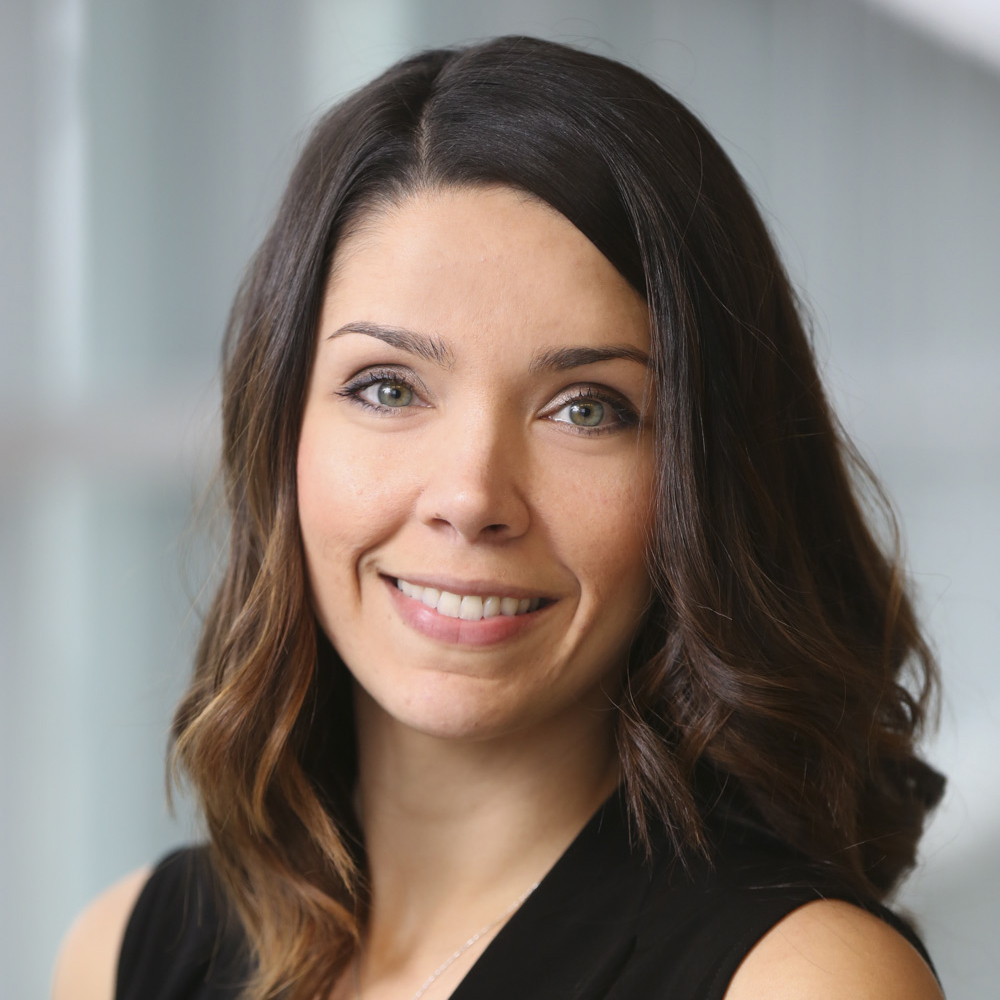 Alexandra Stephens is the assistant vice president of advancement communications at Brandeis University. Since joining the Brandeis community in 2010, she has held numerous roles across student affairs, alumni engagement and communications, and has connected with hundreds of alumni and friends to help share their inspiring stories. Outside of work, she is a LinkedIn coach, yogi, home chef and mom of two.