Brandeis Alumni, Family and Friends
Sugar and Spice and Everything Brandeis
December 13, 2021
These sweet offerings from Brandeis alumni will delight the senses this holiday season.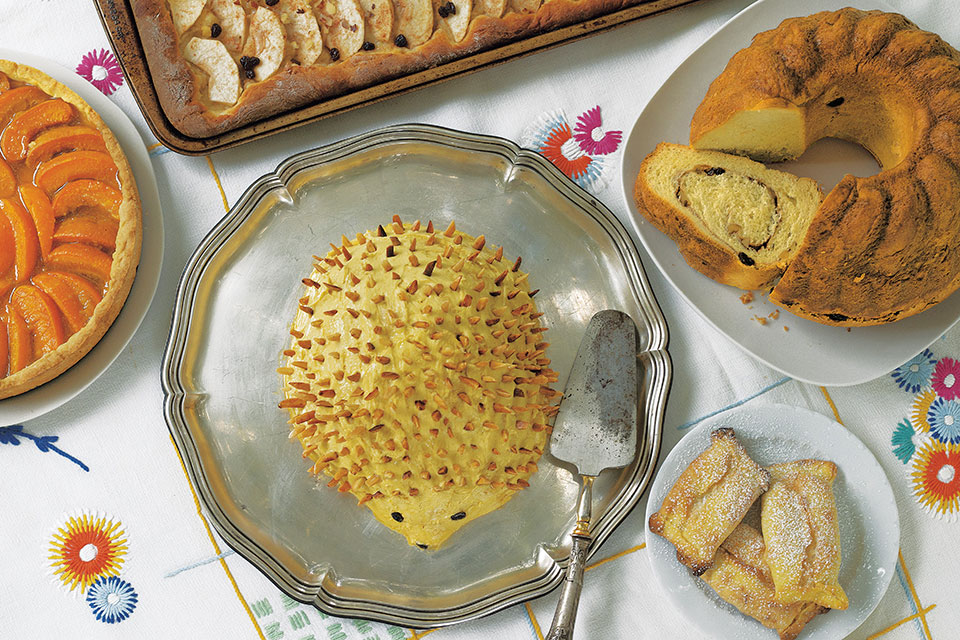 Crispy latkes, decadent doughnuts and spiced chocolate hazelnut cookies are just a few of the recipes that foodies will find in this cookbook by Gabrielle Rossmer Gropman '59 and Sonya Gropman, which mines hundreds of years of German Jewish history for culinary delicacies. Purchase your copy before Dec. 22 through Brandeis University Press and use code DEC21 for 20% off.
The best chocolate in Boston? That's music to our ears. Jeremy Spindler, MFA'10, PhD'11, who holds a doctorate in music from Brandeis, is the candyman behind Spindler Confections, offering handmade candies and confections that scored rave reviews from Boston Magazine. The Cambridge-based shop, which includes a mini museum that pays tribute to Boston's sweet history of candy-making, is open for in-store salivation as well as online orders.
This "house of brigadeiros," which Jesse Klee '05 founded with his wife, Jen, sells tasty, bold versions of the truffles often found on dessert tables when Jen was growing up in Brazil. The Klees' brigadeiros, which were featured in last year's Brandeis Holiday Gift Guide, are gluten-free and nut-free, and ship nation-wide.
View this post on Instagram
Healthy ice cream? Yes please. According to Enlightened Ice Cream founder Michael Shoretz '09, "eating healthy shouldn't be a compromise — it should be a celebration!" Find his tasty treats, which started with ice cream and have since expanded to fruit bars, cheesecakes and cookie-dough bites, at health-conscious grocers near you. 
View this post on Instagram
With flavors like Boston Banana Cream and Jordan Marsh Gingerbread, this donut hole shop in Arlington, Massachusetts, co-founded by Alex Mansfield '10 and Peter Gladstone '91, has earned Boston Magazine's coveted Best of Boston award. Locals can enjoy their weekly menu of rotating flavors Thursday through Sunday.
View this post on Instagram
Ghenya Grondin '02 is the "sugar mama" behind this candy-store-on-wheels. Her mint-green vintage truck adds a touch of sweetness to Boston-area events, from holiday parties to kiddie birthdays. Kuchler, who suffers from long-COVID, traded in her career as a postpartum doula for this sweet opportunity to bring joy into the lives of others who have also been deeply affected by the pandemic. Her motto? "Life is sweet! So enjoy the ride!"
View this post on Instagram