Brandeis Alumni, Family and Friends
Generous Supporters Give Over $1M on Giving DEISday, Setting New One-Day Mark
December 2, 2020
For Brandeis, it was a million-dollar day. On Giving Tuesday — or Giving DEISday, as the Dec. 1 international day of philanthropy was dubbed here — more than 2,000 Brandeis supporters pitched in over $1 million to benefit scholarships, teaching and a range of extracurricular programs at the university.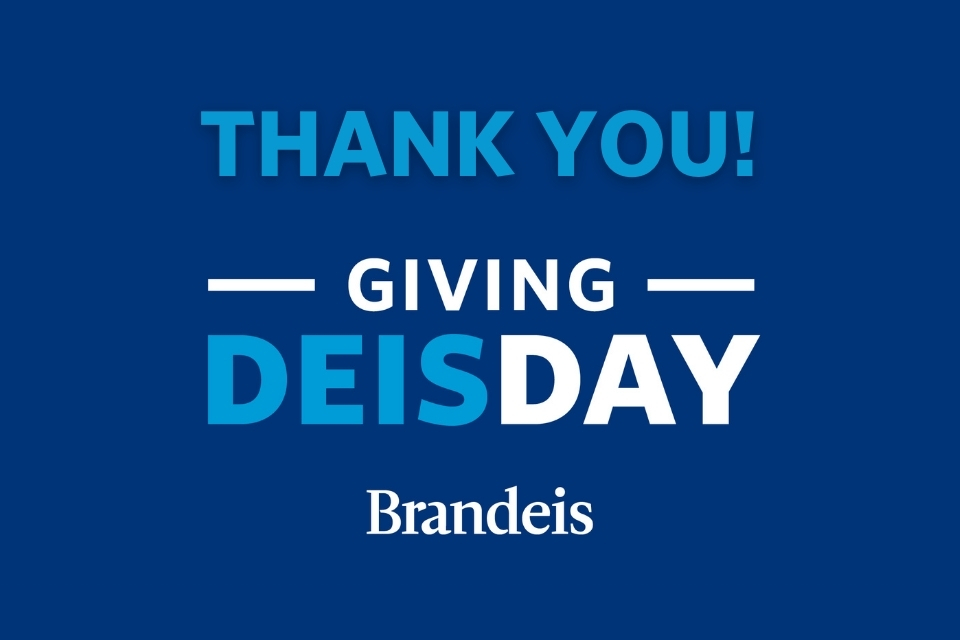 The tally board read $1,105,138, raised from 2,737 donors. Giving DEISday set a university single-day record for dollars raised, breaking the mark set the previous year.
"We are amazed and humbled by the generosity of the Brandeis community," said Zamira Korff, senior vice president of institutional advancement. "Brandeisians around the world came together to show their support for this institution. With their vital help, the university will continue to advance its mission to 'repair the world' at a time when our dedication to academic inquiry and social justice is needed more than ever."
Meeting—and Exceeding—Our Goals 
When the number of donors on the day reached 1,948 — commemorating the year of Brandeis' founding — a challenge gift of $100,000 was unlocked from Madalyn Friedberg, a Brandeis trustee and the immediate past-president of the Brandeis National Committee. It was the second straight year Friedberg had pledged $100,000 if the goal of 1,948 donations were reached. 
The theme of the campaign was: "One day. One goal. One 'Deis." A number of matching-gift challenges were in play, with generous donors pledging to match, dollar for dollar, gifts toward general scholarships, diversity scholarships, the International Business School and the Parents Fund, among other Brandeis causes. 
At the Heller School for Social Policy and Management, a generous donor inspired by the words of the late Congressman John Lewis issued a "Beloved Community" matching challenge, pledging an additional $5,000 once the school had reached 120 donors — a number the school successfully hit.
By 1:30 p.m. on Giving DEISday, Athletics as a whole already had surpassed a target of $60,000 to unlock a match of $8,250. By the end of the giving period, Athletics raised $94,516 from 619 donors.
Twelve individual athletic teams unlocked an additional $1,000 per sport by attracting 35 donors under the Teams Challenge. Women's Basketball (99 donors, $17,573 raised) topped the leaderboard, followed by Women's Soccer (91 donors, $9,010), Men's Soccer (56 donors, $8,120), Tennis (50 donors, $13,351) and Fencing (49 donors, $7,721). 
Atop the Constituency leaderboard were undergraduate alumni (1,083 donors, $290,074), followed by parents and families (511 donors, $109,077), and graduate alumni (276 donors, $42,646). 
First place among Class Years was won by the Class of 1973 (19 donors, $34,811), which was followed by the Class of 2021 (101 donors, $20,512), the Class of 2024 (99 donors, $18,840), the Class of 2022 (99, $18,644) and the Class of 2023 (105, $17,702).
How did your class or team do? Check the Challenges & Leaderboards page.  
At the International Business School, Joram Cukierman '98, MA'99, a member of the Alumni Association board, matched, dollar for dollar, the $10,918 donations that were made, doubling the total to $21,836. 
In the English Department, Peter Taylor '00 matched $20,000 in gifts dollar for dollar, for a $40,000 impact.
Stepping Up to Help Students 
For the first 100 students to make donations on the day, Lewis Brooks '80, P'16, president of the Brandeis Alumni Association, and his wife, Denise Silber Brooks '84, P'16, pledged an additional $50 per gift, or $5,000, to the Student Emergency Fund. Nearly 150 current students, undergraduate and graduate, made gifts on the day. Meantime, more than $35,000 was raised toward the Student Emergency Fund established to help students meet unforeseen expenses during the pandemic.
Brandeis Hillel, aided by a student-launched giving campaign on Facebook, reached a goal of 100 gifts on the day to unlock a $5,000 match. 
More than $88,000 was raised for the Brandeis Fund, which goes directly to areas of greatest need at the university. Families matched $10,000 donated to the Parents Fund, for a $20,000 impact. And $25,000 in donations to diversity scholarships were matched, for a $50,000 impact.
Brandeis faculty and staff pitched in their share. Forty-one faculty members donated $27,780, while 175 staffers contributed $18,573.