Brandeis Alumni, Family and Friends
Edelstein Family Foundation Creates Possibilities for Brandeis Students
The legacy of a 1920s Broadway actress and her two brothers, members of one of the few Jewish families on the Minnesota prairie more than a century ago, today is reflected in the many Brandeis students who have gone to college aided by their generosity.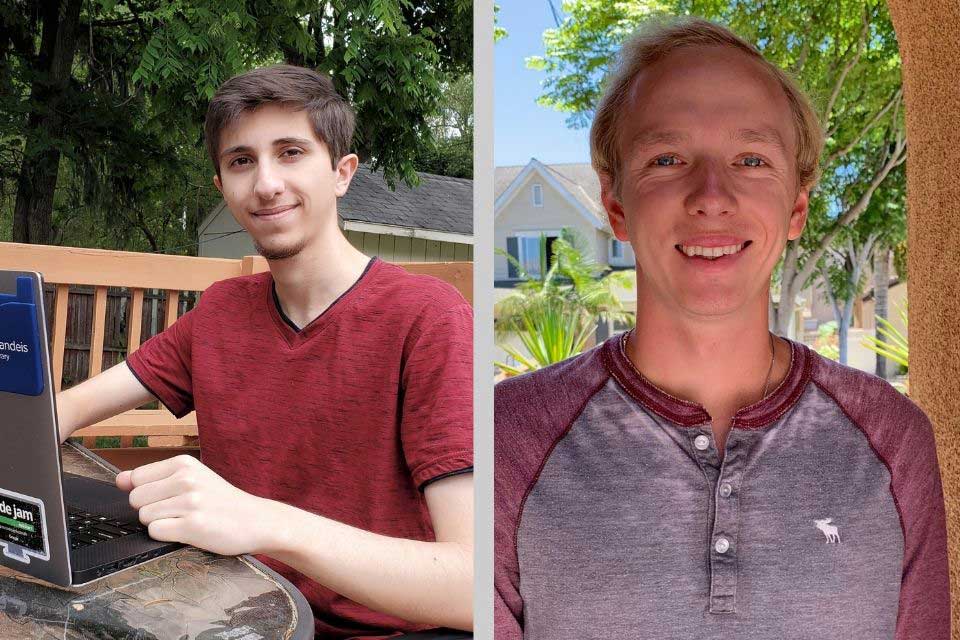 Ruth Easton, née Edelstein, a radio and theater actress in the '20s who appeared alongside such stars as Rudy Vallee, Eddie Cantor, Lionel Barrymore, and Al Jolson, gave up a promising Broadway career to care for her mother. She never married and had no children of her own. Neither did her brothers, Jacob and David Edelstein, successful businessmen back home in Minnesota.
Today, their legacy lives on in the Edelstein Family Foundation of Edina, Minnesota, which has given generously to Brandeis, among other charitable causes. A grant of nearly $300,000 made to Brandeis this spring brings to some $6 million the Edelstein Family Foundation has donated to the university over the course of nearly 65 years to benefit student financial aid.
"My family would not have been able to support my attendance at Brandeis without this scholarship," said one beneficiary, Matthew Arcemont '20, who graduated this spring with a degree in biology. The Santa Ana, California, native, a member of the men's swimming and diving team at Brandeis, plans to attend medical school.
Another, Vanessa Palomares '22, of Houston, Texas, also aspires to medical school. "Receiving this scholarship means everything," said the daughter of Mexican immigrants who is double-majoring in anthropology and biology. "It means being able to afford college in a place that accepts me and welcomes me."
They were among six students at Brandeis this past year who benefited from the Edelstein Family Foundation's support.
"The Edelstein Foundation's ongoing generosity enables this institution to admit the very best students regardless of their financial circumstances," said Zamira Korff, senior vice president of institutional advancement at Brandeis. "The gift of an education is truly meaningful."
These gifts are the legacy of Jacob, David, and Ruth Edelstein.
In the early 1900s, the Edelsteins' father, Samuel, operated a general store in North Branch, Minnesota, and this Jewish family was a pillar of the largely Scandinavian farming community.
Jacob (1893-1953), who was valedictorian of North Branch High School's first graduating class in 1907, graduated from the Massachusetts Institute of Technology and went on to own a wax-paper company in St. Paul, Minnesota. David (1895-1975) graduated from the University of Minnesota, was successful in the sugar business, and a civic leader and patron of the arts in Minneapolis-St. Paul.
Ruth (1900-1998), who attended the University of Minnesota and Macalester College, adopted the stage name of Ruth Easton while performing in summer stock theater in the 1920s, and went on to appear in five Broadway plays and in the radio drama programs the Rudy Vallee Hour and the Fleischmann's Yeast Hour. After leaving the stage to care for her mother, Ethel, she remained active in charitable organizations in Los Angeles.
The three siblings created the Edelstein Family Foundation to benefit the arts and education. Causes supported in addition to Brandeis include National Jewish Health, a Denver respiratory hospital; the Sholom Home for the elderly as well as various other Jewish charities in St. Paul; and the University of Minnesota. The foundation's Ruth Easton Fund supports new theatrical works.
A foundation spokesman said the Edelsteins, with no children of their own, took very seriously what they considered their duty to share their good fortune with deserving young people. Their Jewish faith was significant to them, and they saw education as a bulwark against anti-Semitism.
The Edelstein Family Foundation's mission aligns closely with Brandeis', and today, a diverse group of students at Brandeis benefits from the foundation's support.
"Receiving this scholarship means that I can focus on doing my best at Brandeis and enjoy my experience without having to worry if I am financially able to afford it," says Osamah Mandawi '21, of Baghdad, Iraq, an aspiring software engineer.