Brandeis Alumni, Family and Friends
'Out and Outspoken': A Rigorous Role Model Uplifts the LGBTQ+ Community
Attorney Jennifer Post '86 champions authenticity, visibility and professional success within the LGBTQ+ community by speaking her truth and working hard – very hard.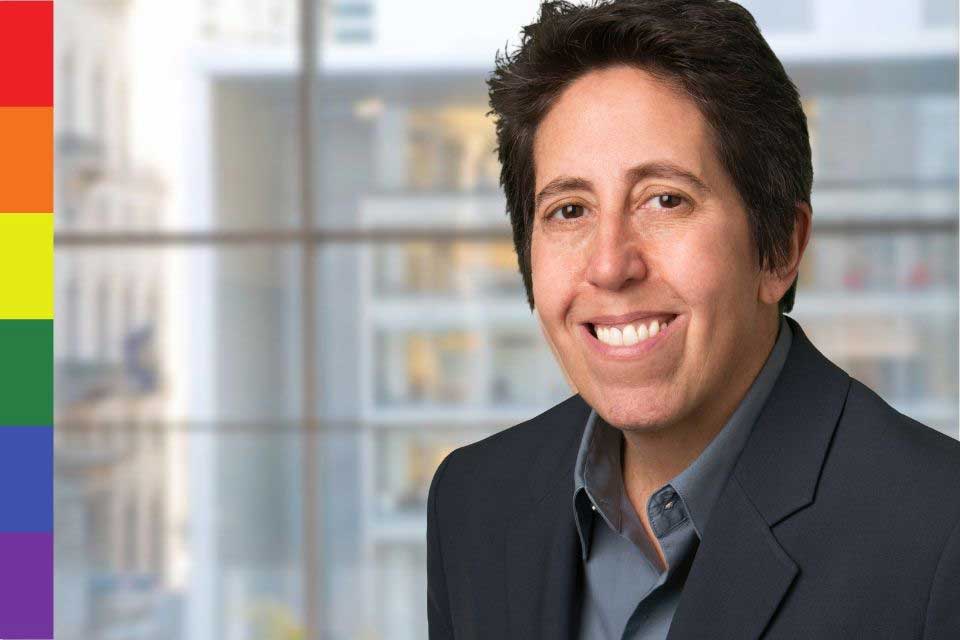 The first openly gay managing partner of the Los Angeles office of Thompson Coburn LLC, Jennifer Post '86 sits on its national management committee and is one of 18 lawyers who run the firm. As a longtime mentor to the LGBTQ+ community, Post helps LGBTQ+ professionals in start-ups, technology and real estate investment as an advisor to aspiring entrepreneurs, and hosts a monthly networking group for Los Angeles-based LGBTQ+ professionals and allies. She has received numerous accolades as an attorney and volunteer, most recently the Women of Influence award and the Los Angeles Top 100 Lawyers award from the Los Angeles Business Journal in 2022.
The Alumni Association recently caught up with Post to talk about her time on campus, her commitment to leading colleagues and community by example, and the breadth and depth of Pride.
What does Pride Month mean to you?
Pride Month has meant different things to me, over time. When I was younger and newly out, it was a time to re-up the commitment to creating equality and bearing witness to all the strength, joy and diversity visible during Pride events. Seeing everyone's unfiltered lives made me want that freedom for my community every other month of the year.  
Over time, Pride Month has remained a time to celebrate who we are as a community and to take stock in all the ways we've forged great progress in the face of deep and hostile resistance. I enjoy seeing Pride in social and mainstream media because I know it's reaching people who are still not permitted to be a part of Pride or to live authentically or envision community. Pride now means being visible for those who crave equality but are denied it. That visibility wasn't there or as accessible back in the day and was controlled by mainstream media. Today, Pride can be seen by almost everyone – and seeing is believing.
Can you talk about how your Brandeis beginnings led to who you are now?
One reason why I chose Brandeis was its open approach to political discourse, activism, critical thinking and different points of view. It empowered students and student bodies, whether LGBTQ+, feminist, social justice or other types of political activism. 
I was active in several groups, including the feminist group, and I co-lead Triskelion, which, at the time, was the only LGBTQ+ group on campus. We put on great events, initiated rallies and political discourse. We were not always met with a warm embrace, but we continued nonetheless and got a lot of people thinking about those issues.
Brandeis helped me blossom in my thinking and gave me the permission I needed to grow into a leadership role or to at least lead by example in those communities. 
How have you carried those influences and experiences forward in your life?
By the time I graduated from law school, I was very out and outspoken, and I'd developed a life with friends and community. I was fairly determined and cognizant that, in my career, I couldn't then just shut the door once I became a lawyer. So, I maintained a respectable level of activism, did pro bono cases that helped support the gay community and people affected by AIDS and, through that process, continued to be out and, somewhat unconsciously, a role model for younger lawyers. 
I developed further in my career and always had those foundational elements that I learned at Brandeis about free thinking and staking out a point of view. People measure success differently but having some level of meaning in my work, in addition to the usual accoutrements of success, continued to be important. Brandeis taught me that there's more to it than just getting an "A" on the exam – it's what you learn and how you enrich your life and the lives of people around you.
Fast forward 30-plus years and I have a strong practice, great clients and interesting work, which has been driven in part by my personal decision to not compartmentalize and to be genuine and outspoken. It doesn't mean I hit my clients or colleagues over the head with my personal view of the world, but it does mean I have a lot of self-confidence in how I present myself professionally.
Did you have mentors at Brandeis who helped you to learn about yourself?
Yes, one was a science professor who was a lesbian and out. She came to our meetings and rallies, and it was incredibly helpful to have an accomplished adult in those settings. She participated in conversations, asked questions and pushed back. It wasn't leadership but a form of soft mentorship, showing younger people that you can have this identity and be successful.
The other was a professor in the classics department, which was my major. We didn't talk about LGBTQ+ issues but she was doing fun stuff like reading Greek texts and talking about things that happened thousands of years ago and what it means for the world today. Just having an intellectual connection with someone who was living a life that I thought was interesting was really helpful. Being surrounded in different ways by people who were open about their political views and their lives and families was incredible. 
You work as a mentor by sharing your expertise with the LGBTQ+ business community. Can you talk about your mentorship experiences and motivations?
This has been an initiative of mine for a long time. The queer universe has been efficient at creating great outcomes for social issues, equality, benefits and healthchare. We now need to enhance the wealth generation of the LGBTQ+ community, to influence business from the inside, to develop wealth and use it in ways that can realize other community goals. We also need to get more LGBTQ+ investors involved in projects through professionalized funds, angel funds and seed funds.
To those ends, I'm involved in several non-profits, whose ethos is aligned with my own, including StartOut, which provides LGBTQ+ entrepreneurs with education, resources and access to capital, and Rainbow Capital, where I'm an advisory board member, which provides resources to underrepresented sponsors of commercial real estate products. I'm especially proud to represent the Womens' Venture Capital Fund, which provides capital to women-lead and diverse teams of founders of start-up companies. 
We've come a long way but have a long way to go. A lot of LGBTQ+ people simply don't have the resources to participate in what could be very interesting and rewarding financial projects. There is so much talent and capability but we need to continue to educate and support each other.
How did Brandeis inform your sensibilities around helping others?
The gift from Brandeis was the permission to think critically about what brings harmony and meaning and purpose, and learning that I could find that in a profession. I'm living a purposeful life, I'm not hiding, I'm helping my community and those are strengths and capabilities I got at Brandeis. 
About the Author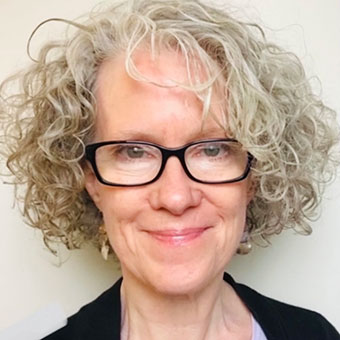 Annie is senior development writer in advancement communications. Before joining Brandeis in January 2022, she was a writer at Dartmouth College. As a longtime freelance journalist and radio commentator, she has covered art, culture, travel, and education for the New York Times, the Washington Post, the Boston Globe, Art in America, Art New England, NPR, and many other outlets. She is the lucky mom of two great kids.