Brandeis Alumni, Family and Friends
Alesdair H. Ittelson '08 Reflects on Pride Month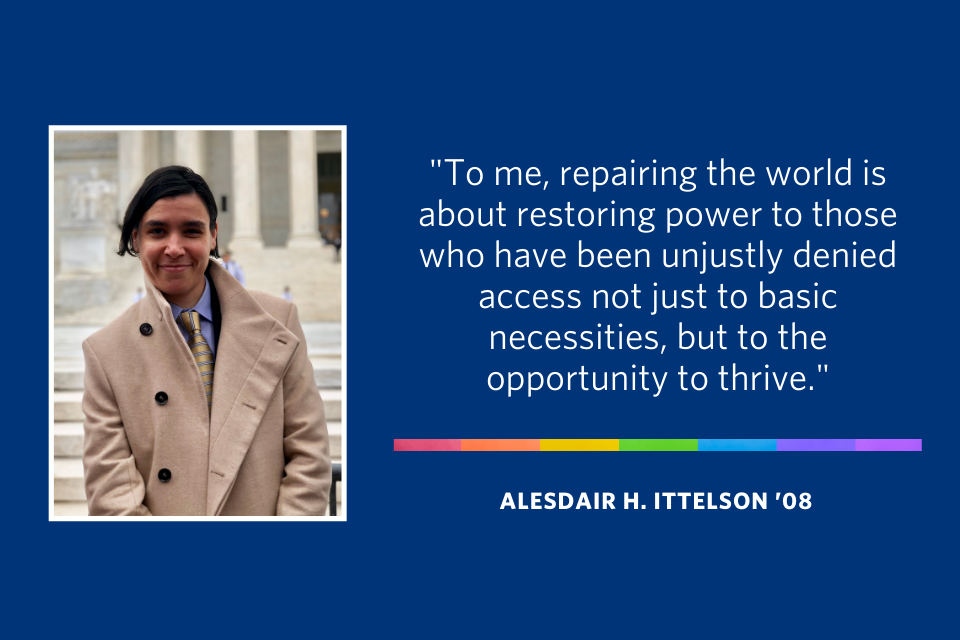 A nationally recognized human rights advocate, Alesdair H. Ittelson '08 of Providence, Rhode Island, is the acting executive director of interACT: Advocates for Intersex Youth and the first openly transgender recipient of a Skadden Fellowship. In 2018, the Berkeley Law graduate was named one of the United States' Best LGBT Lawyers Under 40 by the National LGBT Bar Association.
Alesdair's work at the vanguard of legal activism includes the first case challenging "conversion therapy" as consumer fraud; representation of transgender youth in educational and institutional settings throughout the Deep South; the first public case on behalf of an intersex person subjected to medically unnecessary "genital normalizing" surgery in infancy; and authoring the first-ever state legislation to successfully renounce the human rights violations facing children born with variations in their sex characteristics.
In honor of Pride Month, the Brandeis Alumni Association invited Alesdair to reflect on confronting injustice as part of a stated mission to "protect underserved youth who expand common conceptions of sex, gender and ability."
To me, repairing the world is about restoring power to those who have been unjustly denied access not just to basic necessities, but to the opportunity to thrive. Times of uncertainty heighten existing inequalities along axes of historical oppression—compounding suffering, but also offering an opportunity for those with privilege to be confronted by the depth of their own, often unwitting, complacency, and make concrete moves for change.

Pride is a beautiful time to make space for these struggles: To bring the voices that have been silenced for so long forward into the light. To me this approach is exemplified by decisions like that of Pride organizers who, following the murders of George Floyd, Breonna Taylor, Tony McDade, and so many others, reimagined this year's Pride march as a rally to support Black Lives Matter and its mission of combating white supremacy. As a disabled person I know the realities of quarantine can be alienating, but showing up for others, physically or otherwise, becomes even more vital when we are facing times of collective national challenge.

For most of us, the tools to combat these systems of oppression must be learned. At Brandeis I started in earnest, like so many of my peers, to take accountability for my role in the world and meaningfully examine the ways in which I could contribute to lasting change on behalf of vulnerable populations. My work today raising up the voices of young people who expand societal ideas of health, bodily diversity, and gender links directly to the time I spent counseling students as a director of the Queer Resource Center and later coordinator of Triskelion.

At Brandeis I realized more about the experience of intersex people, the 1.7% of the population born with bodies that transcend typical notions of male and female and the focus of my current work at interACT. I learned that intersex infants are often subjected to deeply harmful interventions to "normalize" their bodies before they are old enough to speak or stand, interventions deemed a form of torture by the United Nations, because of the same fear of difference that led Brandeis students to tearful confessions in the QRC office of a sexual orientation that they felt would alienate them from their friends and families. As a queer trans person with an invisible physical disability, I know all too well the fear of difference held by so many in our society.

The openness to challenge—intellectual and otherwise—is one of my prized takeaways from Brandeis and it informs every aspect of my career as a civil rights attorney. It was inspiring to counsel those students in the QRC as they confronted coming out just as it inspires me to engage with so many members of the LGBTQIA community and my team as we try to bring about a more just society collectively. I encourage all of us in the Brandeis community and beyond to use this Pride Month as an opportunity to make space for silenced voices and to consider what challenges we can take on in our own lives to change the world around us for the better.
---
Read additional Pride Month reflections from Brandeis alumni.
Published On: June 5, 2020