Brandeis Alumni, Family and Friends
Dr. Alex Blutinger '10 on the Front Line Against Coronavirus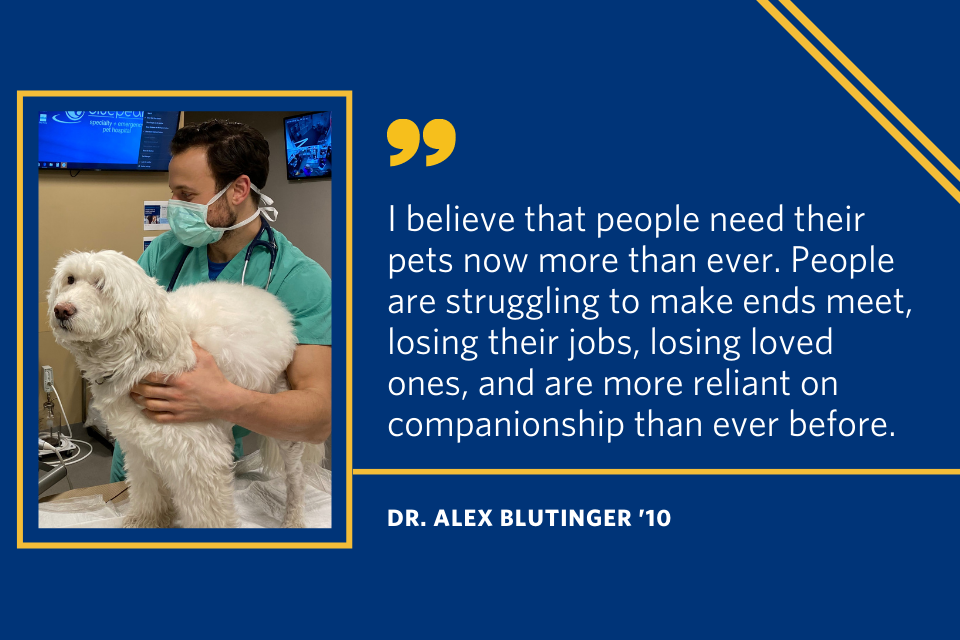 Dr. Alex Blutinger '10 is a veterinary small animal emergency and critical care specialist at BluePearl Veterinary Partners in New York City, and like his brother, emergency medicine physician Dr. Erik Blutinger '09, is immersed in the current medical crisis in New York.
The Brandeis Alumni Association asked him share his perspective with the Brandeis community.
It has been a big adjustment since COVID-19 rattled NYC. My work days are significantly longer and more stressful. Unfortunately, a large cohort of my colleagues are out sick, many with confirmed COVID infections, so I am trying to pick up some of the slack. My work days start early in the morning, around 7:30 a.m. I usually walk the mile from my apartment in Midtown East, Manhattan, to my hospital in Union Square. I see maybe 30 people total on the entire walk, even fewer cars. The walk home from work is equally quiet. The moment I walk into my apartment, I finally take off my mask, I take all my clothes off and throw them in the laundry, and immediately jump in the shower.
We don't think animals pose a significant risk of transmission, but the virus can live on their fur. Everyone at work wears masks and people try and keep their distance. I manage sick dog and cat patients in the ICU and receive emergency cases as they come through the door. Pet owners are no longer allowed in the hospital, and must transfer their pets to a staff member who brings the animal for evaluation. All communication between doctors and owners must be over the phone.
It has been hard living and working in a new reality where there is no longer the ability to develop a human connection. My job revolves around the ability to interact with people and show them, not just tell them, that I have compassion for their pet and empathize with their situation. This is especially true when discussing end-of-life decisions. I can't hug an owner, shake their hand, or make eye contact so they know when I tell them, "I really am sorry," that I mean it. People need their pets now more than ever, and not being able to provide that vital level of comfort to them, especially during those final moments, is more emotionally challenging than ever.
When you have family on the front lines, it becomes more real. Having a brother who is an emergency physician in Queens has inspired me to do everything in my power to use the resources at my disposal to help people in desperate need. With the help of my veterinary hospital organization, I was able to coordinate the distribution of all of our mechanical ventilators (the same models used in human medicine) to the local human hospitals in need. 
The irony of the term "essential personnel" is that every person is essential in bringing an end to this nightmare. Stay home. If you have to be on the street, have a destination, keep your distance and go back home. If every single person stayed in their home for two weeks, this would all be over.
This new reality has made my passion for helping animals and people more relevant than ever. I go to work every day like it's Game 7 of the NBA finals: I am energized and excited to help people in a time when they need me most. Part of this drive comes from seeing my brother, his colleagues, and all the people out there give everything they have to win this battle.
---
Read additional reflections from Brandeis alumni on the front line in New York City.
Published On: April 19, 2020