Brandeis Alumni, Family and Friends
Dr. Erik Blutinger '09 on the Front Line Against Coronavirus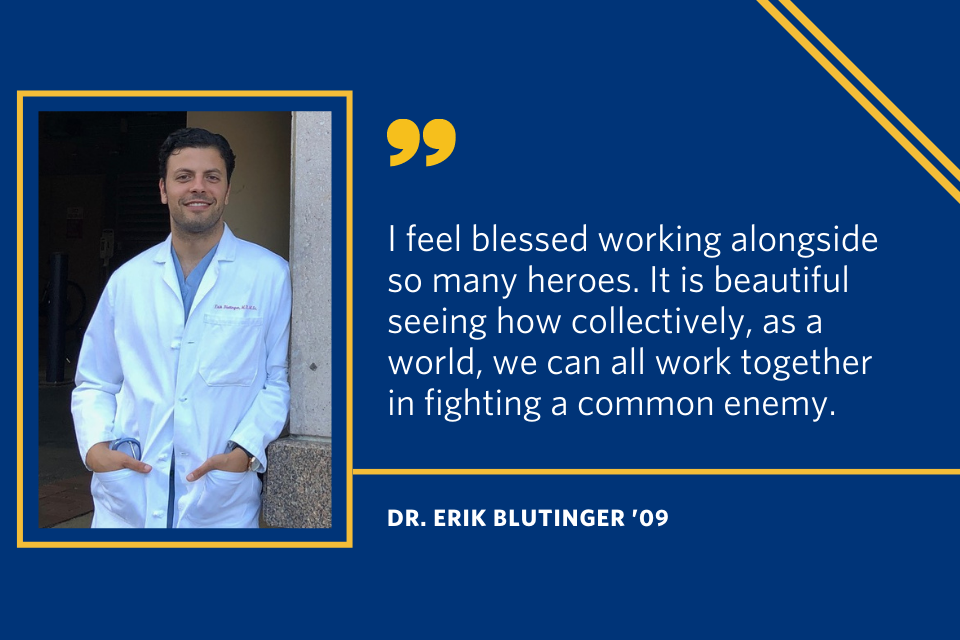 Dr. Erik Blutinger '09 has been treating COVID-19 patients as an emergency medicine physician at Mount Sinai Queens. This is his first year out of training. He shared a video diary in which he gave a behind-the-scenes glimpse of the battle against COVID-19 at his hospital on April 7.
The Brandeis Alumni Association asked him to share his experience with the Brandeis community:
My days are long, exhausting and stressful. Being on the frontline, we are expected to wear layers of personal protective equipment. It includes an N95 mask beneath a surgical mask, several layers of eye protection, hair bonnet and gown. Everything is contaminated in the emergency room so you cannot afford to remove any layers of clothing while working. Wearing an N95 mask makes it difficult to speak in full sentences without feeling short of breath.
Here in NYC, the streets feel empty. Central Park now feels like the Brandeis track field at night. People walk around with masks, awkwardly passing each other on the sidewalk several feet apart while hearing ambulance sirens. On the subway cars, people rarely talk on the phone or listen to music. Anyone coughing immediately gets stared down by fellow passengers. Meanwhile, inside the halls of our emergency room, stretchers span our hallways and the hissing sound of oxygen tanks dominate the room. Staff are working extremely hard together and feel motivated to really put a dent into the enemy: coronavirus.
The most challenging thing is fighting the emotional side of seeing people die, alone, on a frequent basis. Families are now forced to have painful end-of-life care discussions with their loved ones over webcam. Patients pass away without having a hand to hold onto. I can immediately predict which patients are likely to pass away over the next 24 hours being an emergency physician. How do you suppress these thoughts upon returning home? How do I transition to "home life" after working a grueling 10-hour shift? We are in unforgettable times.
You can really feel the love and support others feel for essential personnel and it is important for our morale. Every evening at 7 p.m., people stand on their high-rise balconies and cheer for essential workers with horns, clapping and hollering. Our hospital now plays "Here Comes The Sun" by The Beatles every time a COVID-positive patient gets discharged. Local restaurants bring food and drink to our staff on a daily basis.
Every day feels bittersweet and painful. Media outlets report successful "patient recovery" stories and some hospitals report a decreasing rate of COVID hospitalizations and deaths. But you think: Will this ever end? Where is the cure? How many more people will be affected by this illness? I remind myself to "stay balanced" now more than ever, spending time with loved ones even remotely. Tomorrow is no guarantee.
Brandeis provided so much opportunity and promise for me to pursue the medical path. This crisis has brought out the best and worst of our society, but it all goes back to why I chose emergency medicine: No day is quite like another, and every moment of crisis needs resolution. I feel blessed working along so many heroes -- across all disciplines, professions and communities. It is beautiful seeing how collectively, as a world, we can all work together in fighting a common enemy.
Stay vigilant and disciplined. It will be easy to let down your guard and revert back to "bad habits" when the weather gets nicer and media outlets provide less coverage on the severity of COVID. Many ask, "How can I help?" My answer is to spread good fortune; educate others on how to help others with day-to-day tasks, especially the elderly who badly need our help; and find ways to innovate. Our world will be drastically different in the post-COVID era. We should start planning for it now.
---
Read additional reflections from Brandeis alumni on the front line in New York City.
Published On: April 19, 2020