Brandeis Alumni, Family and Friends
Making Change Through Health Policy: Bishar Jenkins, MPP'20
To commemorate Black History Month amidst a global pandemic, the Brandeis Alumni Association spoke to Black alumni who are making a difference in the fields of healthcare and health policy.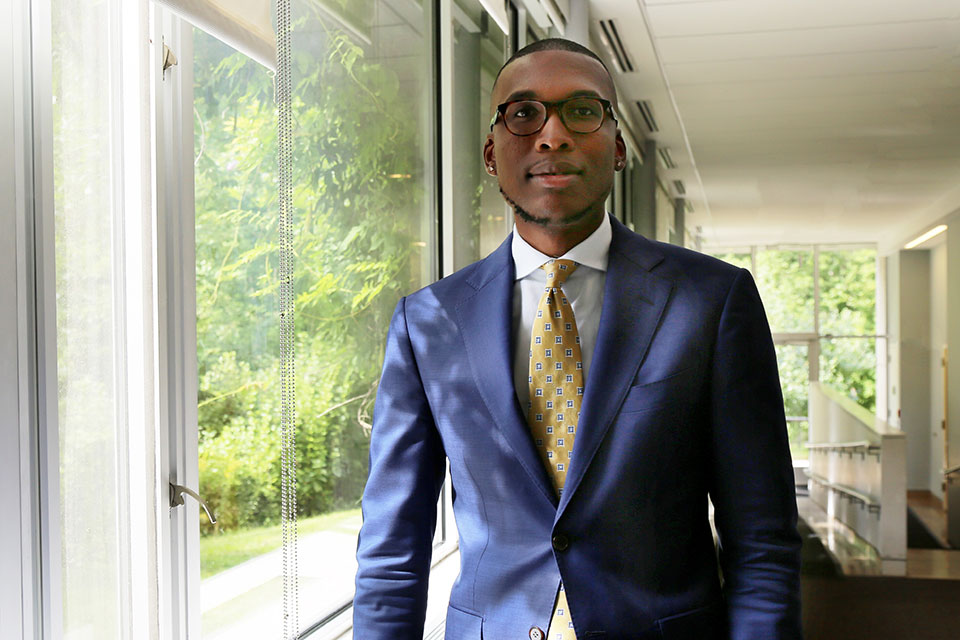 Bishar Jenkins, MPP'20, is a Congressional Black Caucus Foundation fellow in the office of U.S. Rep. Frederica Wilson (D-Florida), assisting on health policy. He has a particular interest in policies addressing HIV/AIDS, particularly in the Black LGBTQ community and other marginalized populations. He aspires to doctoral study and a career in public policy.
Jenkins was Commencement speaker for the Master of Public Policy program's Class of 2020 at the Heller School. Before coming to Brandeis, he worked for a nonprofit promoting redevelopment in his hometown of Trenton, New Jersey, a city that has undergone drastic changes due to deindustrialization and disinvestment. His role involved reaching out to different stakeholders to ensure the redevelopment process was inclusive and equitable.
He was invited by the Brandeis Alumni Association to reflect on his calling, on his efforts to address racial disparities in healthcare, and on the role that his family and his Brandeis experience played in shaping his professional path.
---
My work as a Health Policy fellow for a member of the US House of Representatives is really dynamic.
I have the opportunity to draft policy memos, opinion editorials, and portions of legislation, and to meet with constituents or stakeholder groups in a virtual capacity.
"This work is particularly inspiring because, even in the face of multiple pandemics, systematic disinformation and white supremacist domestic insurrection, this work continues day in and day out, and we will not be deterred."
We need to ensure that everyone has free healthcare. The irony is that the "care" Black people receive in healthcare settings is rather uncaring. For example, many Black women are not taken seriously by providers when they report unusual pain and, unfortunately, experience late diagnoses of conditions that would be manageable if caught early.
Racism has been a public-health calamity since 1619. I grew up in a neighborhood where the consequences of this were palpable. Strokes, heart attacks, and late diagnoses of cancer, among other health challenges, often beset folks in their 50s and 60s. But beyond the medical conditions, the weight of racism and white supremacy, coupled with daily indignities that Black people experience in this country, had a deleterious effect on the body, mind and spirit. The systematic underfunding of public health, a lack of investment in clean water and air in communities of color, and a dearth of affordable and healthy grocery options, are all the outcomes of racism in both public health and public policy.
I recently thought of my great-great aunt, who passed away in 2019 at the age of 102. She was insistent that I pursue a college education and she ensured that I received scholarship funding when I started college. What a legacy! She was born in the midst of grievous white supremacy and violence in the South and lived to see considerable progress. She wanted to ensure that I and many others in the community had opportunities that many of her generation were systematically denied.
My time at the Heller School was a formative experience, in that I gained a solid theoretical toolkit to examine health policy and inequality. I am forever grateful for my time at Brandeis.